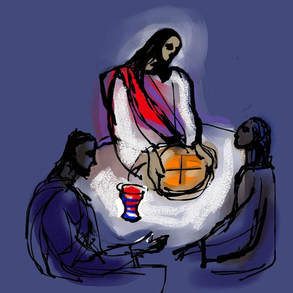 THIRD SUNDAY OF EASTER
SUNDAY, APRIL 15, LUKE 24:35-48
(Acts 3:13-15, 17-19; Psalm 24; 1 John 2:1-5a)
KEY VERSE: "With that their eyes were opened and they recognized him" (v. 31).
TO KNOW: As two disciples returned to their home in Emmaus from their Passover pilgrimage to Jerusalem, they discussed the meaning of the events they had witnessed there. As they journeyed along the road, the Risen Christ appeared to them, but they mistook him for another pilgrim. They told the "stranger" that Jesus was a mighty prophet, but their hope that "he was the one to redeem Israel" (Lk 24:21) was shattered at the crucifixion. They also told him of the rumor that some women went to the tomb and found it empty, but the apostles dismissed their story as nonsense. Jesus listened to their anguished tale, and then explained that God's plan had been revealed in Moses and the prophets (the Jewish scriptures), and that it was necessary that the Messiah should suffer so as to enter glory. At nightfall, the disciples urged Jesus to stay and share a meal with them. Though the disciples' eyes had been closed to Jesus' presence, they recognized him "in the breaking of the bread" (v. 35). Then he vanished from their sight. Unable to keep the good news to themselves, they hastened back to Jerusalem with great joy. There they discovered that the apostles had already experienced the Risen Christ. Although Jesus is physically absent, he continues to be with his followers through the Word and Eucharist.
TO LOVE: How can I help others discover Jesus on their spiritual journeys?
TO SERVE: Risen Lord, open my eyes to your presence in the scriptures and the sacrament.

---
MONDAY, APRIL 16, JOHN 6:22-29
Easter Weekday
(Acts 6:8-15; Psalm 119)
KEY VERSE: "Do not work for food that perishes but for the food that endures for eternal life" (v.27).
TO KNOW: After the miraculous multiplication of loaves, the crowd noticed that Jesus' disciples had departed by boat across the Sea of Galilee. Assuming that Jesus was nearby, they waited impatiently for his return. Failing to find him, they went in search of him across the lake to Capernaum. When they found him, Jesus said that they were looking for him for the wrong reasons. They desired the bread that he gave them in the wilderness, but they missed the true meaning of the sign, food that "endures for eternal life" (Jn 6:27). Jesus told the crowd that food appeased hunger momentarily; they should look to God to satisfy their spiritual needs. No one could work for this gift, deserve it, nor earn it. The only way to receive it was to believe in Jesus, the one whom God had sent to them.
TO LOVE: What can I do to feed someone who is spiritually hungry?
TO SERVE: Risen Lord, you are the life-giving nourishment that I desire.
​
TUESDAY, APRIL 17, JOHN 6:30-35
Easter Weekday
(Acts 7:51 ̶ 8:1a; Psalm 31)
KEY VERSE: "I am the bread of life; whoever comes to me will never hunger, and whoever believes in me will never thirst" (v.35).
TO KNOW: Even though the people had witnessed Jesus' multiplication of the loaves in the wilderness, they demanded another "sign" such as Moses gave their ancestors, the "manna" in the desert (Ex 16:15). By seeking signs, they were looking for perishable food and were missing the true nourishment that God had given them. The people were focusing on their physical hunger. They must look to Jesus who was the authentic sign of God's providential care. It was God, not Moses, who provided the "bread from heaven" (v.32). Jesus is the "Bread of Life" (v.35) who gives eternal salvation for all who believe in him.
TO LOVE: Is there someone who I can help to appreciate Jesus' presence in the Eucharist?
TO SERVE: Risen Lord, you are the bread that feeds my soul for life everlasting.​


WEDNESDAY, APRIL 18, JOHN 6:35-40
Easter Weekday
(Acts 8:1b-8; Psalm 66)
KEY VERSE: "For this is the will of my Father, that everyone who sees the Son and believes in him may have eternal life" (v.40).
TO KNOW: Jesus revealed God's word to the people, yet some refused to believe in him. They failed to comprehend the meaning of the miraculous sign of the bread that Jesus gave them in the wilderness (v.30-31). They did not understand that Jesus was the fullness of God's revelation and the source of eternal salvation. Jesus insists that he not only gives the bread from heaven, he actually is the life-giving "bread" sent by God who would satisfy the people's hunger and thirst forever. Jesus did not reject anyone who came to him in faith. He was careful not to lose a single fragment of the miraculous loaves. So too, none of the souls God entrusted to him would perish. They would share eternal life with him.
TO LOVE: Do I take time to be nourished by God's word?
TO SERVE: Risen Lord, feed me with your life-giving Sacrament so that I can live eternally with you.


THURSDAY, APRIL 19, JOHN 6:44-51
Easter Weekday
(Acts 8:26-40; Psalm 66)
KEY VERSE: "This is the bread that comes down from heaven so that one may eat it and not die" (v.50).
TO KNOW: On the Exodus journey through the wilderness, the people grumbled against God and Moses for having brought them into the desert only to die of starvation. Nevertheless, Moses fed them with the "manna" that God provided (Ex 16:2, 15). Jesus also fed the hungry people in the wilderness with miraculous loaves, and just like the people of the Exodus, they murmured against him when he told them that he was the "bread that came down from heaven" (v.41). The bread in the wilderness was only a foretaste of the true bread, Jesus, who came from God. The Israelites ate the manna in the desert, but they all died. Jesus is the life-giving bread who eternally sustains those who believe in him. Whoever listens to God's truth are drawn to Jesus who is Divine Wisdom incarnate.
TO LOVE: Do I help feed those who are physically and spiritually hungry?
TO SERVE: Risen Lord, feed me with your Eucharistic presence.
​​

FRIDAY, APRIL 20, JOHN 6:52-59
Easter Weekday
(Acts 9:1-20; Psalm 117)
KEY VERSE: "Whoever eats my flesh and drinks my blood has eternal life, and I will raise him on the last day" (v.54).
TO KNOW: In the sixth chapter of John's Gospel, there are two important elements in Jesus' pronouncement that he was the "bread of life" (v.35). He is both word and sacrament. In John 6:35-50, the "bread of life" is a figure of God's revelation in Jesus: the "word made flesh" (1:14). Beginning in verse 51, the sacramental theme comes to the fore. Jesus plainly says that his flesh is "true food" and his blood is "true drink" (v.55). The Greek word that John used was not merely symbolic (phago means to "eat" or "devour"). He speaks of the reality of Jesus' flesh and blood in his Eucharistic presence. Through word and sacrament, Jesus continues to feed us spiritually, transforming and uniting us to him so that we can worthily enter God's eternal reign.
TO LOVE: Am I aware of Christ's true presence when I participate in the Eucharist?
TO SERVE: Risen Lord, feed me at your table of eternal life.
​​

SATURDAY, APRIL 21, JOHN 6:60-69
Easter Weekday
(Acts 9:31-42; Psalm 116)
KEY VERSE: "The words that I have spoken to you are spirit and life" (v.63).
TO KNOW: Jesus' teaching that he was the "bread of life" (v.48) caused a division among those who had faith in him and those who did not. Some of Jesus' own disciples had misgivings about his teaching. Jesus did not retract his words but invited his followers to deeper faith in this mystery, which they could only understand through God's grace. If people could not believe that he was Gods' word become flesh (Jn 1:14), what would they think when he ascended to his Father in glory? Many of his disciples turned back and no longer followed him. Jesus then asked the Twelve if they too planned to leave him. Peter, the future leader of the Church, confessed his faith in the life-giving words of Jesus. There was no one else to whom he could go. The twelve apostles are mirrors of ourselves ̶ ̶ flawed but graced human beings.
TO LOVE: Do my words bring others to faith or drive them away?
TO SERVE: Risen Lord, help me to believe your words of everlasting life.
​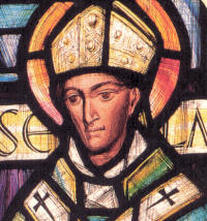 Optional Memorial of Saint Anselm, bishop and doctor of the Church
Alselm was a Benedictine monk who became the abbot of his community. He was made Archbishop of Canterbury, and was the counselor to Pope Gregory VII, Pope Urban II, and William the Conqueror,

King of England.
Alselm opposed slavery and obtained English legislation prohibiting the sale of human beings. He fought King William's son, King William Rufus', encroachment on ecclesiastical rights, advocated the independence of the Church, and was exiled. Alselm resolved theological doubts of the Greek bishops at the Council of Bari in 1098. He strongly supported a celibate clergy. King Henry I invited him to return to England, but they disputed over investitures, the struggle between church and state as to whether the pope or the monarch would name (invest) powerful local church officials such as bishops of cities and abbots of monasteries. Anselm was exiled again to return in 1106. One of the great philosophers and theologians of the middle ages, Anselm was made a Doctor of the Church in 1720 by Pope Clement XI. ​
---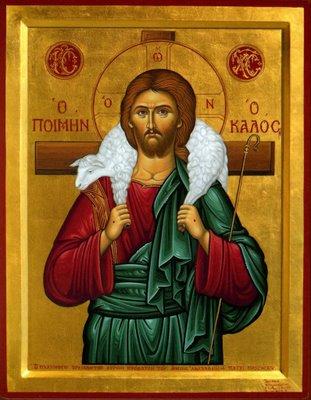 FOURTH SUNDAY OF EASTER
SUNDAY, APRIL 22, JOHN 10:11-18
(Acts 4:8-12; Psalm 118; 1 John 3:11-18)
KEY VERSE: "I came that they might have life and have it to the full" (v.10).
TO KNOW: The figure of God as a shepherd who guides and protects the flock was taken from Israel's pastoral life. Sheep that belonged to various shepherds were brought together in a sheepfold at night. At daybreak, the watchman would open the gate. The shepherd knew his own sheep and he would call each one by name as he led them out of the sheepfold. The sheep recognized the shepherd's voice and would follow no one else. The shepherd would walk ahead of his flock as they followed him to a place where they would be safe from thieves who might come to "steal and slaughter and destroy" (v.10). Jesus is the "gate for the sheep" (v.7). Those who enter through him will be saved.
TO LOVE: Do I pray for the Pope who shepherds God's people?
TO SERVE: Risen Lord, help me to follow you as you guide me day by day.

NOTE: Good Shepherd Sunday
The Fourth Sunday of Easter is referred to as Good Shepherd Sunday. In John 21:15-18, Jesus makes Peter the chief shepherd of the flock. This day was designated in 1964 as the World Day of Prayer for Vocations. Pope Benedict XVI calls for everyone to pray for vocations to the priesthood and the consecrated life. His Holiness would like to invite all the faithful to "cultivate an intimate relationship with Christ, Master and Pastor of His people, imitating Mary who guarded the divine mysteries in her heart and contemplated them assiduously." The Church's sanctity depends essentially on her union with Christ and her openness to the mystery of grace at work in the hearts of believers.


---

Earth Day
Earth Day is observed each year by the United Nations and by people around the world acting as responsible trustees of the earth. All individuals and institutions have a mutual responsibility to act as guardians of the earth, seeking the choices in ecology, economics and ethics that will eliminate pollution, poverty and violence, foster peaceful progress, awaken the wonder of life, and realize the best potential for the future of humanity.

God created man in his image; in the divine image he created him; male and female he created them. God blessed them, saying: "Be fertile and multiply; fill the earth and subdue it. Have dominion over the fish of the sea, the birds of the air, and all the living things that move on the earth." (Genesis 1:27-28).


---
MONDAY, APRIL 23, JOHN 10:1-10
Easter Weekday
(Acts 11:1-18; Psalm 42)
KEY VERSE: "I am the gate. Whoever enters by me will be saved, and will come in and go out and find pasture" (v.9).
TO KNOW: The figure of God as a shepherd who guides and protects the flock was taken from Israel's pastoral life. Sheep, which belonged to various shepherds, were brought together in a sheepfold at night. At daybreak, the watchman would open the gate. The shepherd knew his own sheep and he would call each one by name as he led them out to pasture. The sheep recognized the shepherd's voice and would follow no one else. The shepherd would walk ahead of his flock as they followed him to a place where they would be safe from thieves who might "steal and slaughter and destroy" (John 10:10a). Jesus is the gateway for the sheep. Those who enter through him will be saved and have abundant life.
TO LOVE: Pray for Pope Francis, the shepherd of God's people.
TO SERVE: Risen Lord, help me to follow you as you guide me day by day.
​​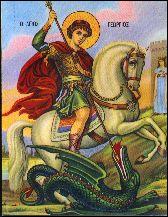 Optional Memorial of Saint George, martyr
The best known story attached to Saint George is the Golden Legend in which he fought a dragon that lived in a lake near Silena, Libya. Whole armies had gone up against this fierce creature, and had gone down in defeat. George made the sign of the cross, rode to battle against the serpent, and killed it with a single blow with his lance. Then, with a magnificent sermon, he converted the locals. He was given a large reward by the king, which he distributed to the poor. Due to his chivalrous behavior, devotion to Saint George became widespread in Europe. In the 15th century his feast day was as popular as Christmas. The celebrated Knights of the Garter are actually Knights of the Order of Saint George. He is one of the Fourteen Holy Helpers. ​
---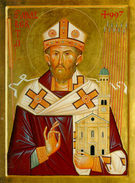 Optional Memorial of Saint Adalbert, bishop and martyr
Adalbert was the Bishop of Prague in 983. A friend of Emperor Otto III, he encouraged the evangelization of the Magyars, and worked alongside Saint Astricus. Opposed by the nobility in Prague, Adalbert withdrew to Rome and became a Benedictine; Pope John XV sent him back. Adalbert founded the monastery of Brevnov. Again he met more opposition from the nobility, and returned to Rome. There being no hope of his working in Prague, he was allowed to evangelize in Pomerania, Poland, Prussia, Hungary, and Russia. He and his fellow missionaries were martyred by Prussians near Koenigsberg or Danzig at the instigation of a pagan priest.

---
TUESDAY, APRIL 24, JOHN 10:23-30
Easter Weekday
(Acts 11:19-26; Psalm 87)
KEY VERSE: "But you do not believe, because you are not among my sheep" (v.26).
TO KNOW: As a faithful Jew, Jesus went to the Temple for the Feast of Dedication (Hanukkah). This feast commemorated the rededication of the Temple by the Maccabees after its desecration in 164 BCE by the Syrian King Antiochus IV.Epiphanes (1 Mc 4:36-59). While in the Temple, Jesus was confronted by those who demanded to know whether or not he claimed to be the Messiah. Jesus pointed to the works that he did as evidence that God had sent him. The words and works of Jesus were the words and works of God. The reason his adversaries did not recognize him was because they did not belong to his flock. Those who belonged to Jesus knew him and followed him. God gave these faithful ones to Jesus, the "good shepherd" (v.11), who kept careful watch over his own. No one could snatch them from his hand because he and the Father were one
TO LOVE: Do I follow Christ when he calls?
TO SERVE: Risen Lord, help me to discern your voice from the voices of those who would lead me astray.​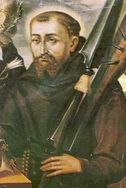 Optional Memorial of Saint Fidelis of Sigmaringen, priest and martyr
Disgusted by the greed, corruption, and lack of interest in justice by his fellow lawyers, Mark Rey abandoned the law. He became a Franciscan friar with his brother George. Mark Rey changed his name to Fidelis and gave away his worldly wealth to poor people and to poor seminarians. Fidelis served his friary as guardian, and worked during epidemics, especially healing soldiers. He led a group of Capuchins to preach to Calvinists and followers of Zwingli, a theologian whose sermons began the Reformation in Switzerland. The success of Fidelis' work, and lack of violence suffered by his mission was attributed his spending his nights in prayer. He was, however, eventually martyred for his preaching.

---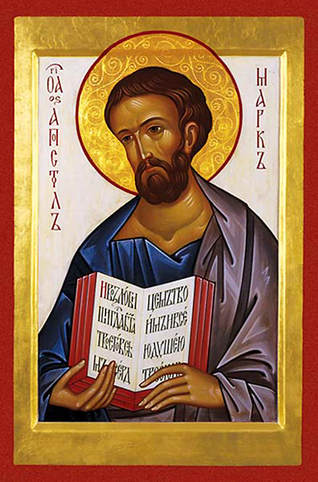 FEAST OF SAINT MARK, EVANGELIST
WEDNESDAY, APRIL 25, MARK 16:15-20
(1 Peter 5:5b-14; Psalm 89)
KEY VERSE: "Go into the whole world and proclaim the gospel to every creature" (v 15).
TO KNOW: Under the inspiration of the Holy Spirit, Mark wrote what is believed to be the first Gospel. It is thought that Mark wrote from Rome during the persecution by Nero Caesar in the late 60's shortly before the destruction of Jerusalem (70 CE). Mark wrote to Gentile Christians to encourage them to endure their sufferings, and urged them to continue to proclaim the Gospel of Jesus Christ. It is believed that Mark's gospel originally ended at Mk 16:8 with the women fleeing the empty tomb in fear. The concluding verses (9-20) were a later summary of other events and were not in any of the early manuscripts. This "longer ending" is a picture of the work committed to the Church by Jesus Christ. First, the Church has a preaching mission to tell the story of the good news of Jesus. Next, the Church has a healing task to bring health to the body and to the soul. Finally, the Church will never be left on its own to do its work. Christ works with and through the Church. But Mark's purpose in writing was complete; Jesus had been raised from the dead just as he told his followers. Mark wanted to challenge his readers to preach the gospel courageously with the power of Christ who was crucified and rose again.
TO LOVE: Is my life a "gospel" that others can read?
TO SERVE: Risen Lord, help me to be a messenger of good news wherever I go.​
---
THURSDAY, APRIL 26, JOHN 13:16-20
Easter Weekday
​(Acts 13:13-25; Psalm 89)
KEY VERSE: "No slave is greater than his master nor any messenger greater than the one who sent him" (v.16).
TO KNOW: Chapter one through twelve of John's gospel is called the "Book of Signs." Chapter thirteen begins the "Book of Glory" (13:1--20:31). On the threshold of Jesus' passion, resurrection and glorious ascension, he took the role of a lowly slave, washing the feet of his disciples (v.1-15). He told his followers that as servants and messengers of the gospel (Greek, apostolos), they must imitate his humility and love: "You also should do as I have done to you" (13:15). A disciple was one who learned from the master, and acted on his words. If his followers truly understood this, they would be blessed, and all who received Jesus' messengers would be blessed in turn. But Jesus' words were not received by all. In the midst of this outpouring of love, Judas prepared to betray his master. Jesus told his disciples this before it happened, "so that you will believe that I AM" (13:19). Jesus' "I AM" statement indicates that he was equating Himself with the "I AM" title of God revealed to Moses (Ex 3:14, Ego Eimi).
TO LOVE: How have I served the Lord and his people today?
TO SERVE: Risen Lord, help me to understand that the way to glory is through humble service.
​

FRIDAY, APRIL 27, JOHN 14:1-6
Easter Weekday
(Acts 13:26-33; Psalm 2)
KEY VERSE: "I am the way and the truth and the life" (v.6).
TO KNOW: As Jesus approached his impending death, he prepared his disciples for the work that he would hand over to them. He told them that it was necessary for him to go so that he could prepare a place for them. Jesus assured them that they would know the way to the place where he was going. His anxious disciples were troubled by Jesus' words, and Thomas plaintively asked, "How can we know the way?" (v.5). Jesus assured them that he was the "way" to God's "truth," which he revealed by his words and deeds. He was the bridge to the Father and to "life" eternal. Jesus likened heaven to a huge mansion in which there were many rooms. He promised his faithful followers that he would "return" and take them to live with him there (Greek, Parousia, the second coming).
TO LOVE: Is my life a light to show others the way to God's truth?
TO SERVE: Risen Lord, guide me to the Father by your eternal truth.
​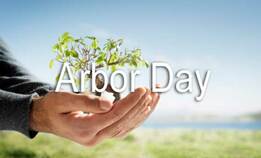 ARBOR DAY
The observance of Arbor Day was founded by J. Sterling Morton in Nebraska in 1872 (arbor means "tree" in Latin). Arbor Day is celebrated each year on the last Friday in April. The National Arbor Day Foundation encourages people to plant and care for trees and to advance global environmental stewardship for the benefit of this and future generations.
"Never doubt that a small group of thoughtful, committed citizens can change the world. Indeed, it is the only thing that ever has." - Margaret Mead
​

---
SATURDAY, APRIL 28, JOHN 14:7-14
Easter Weekday
(Acts 13:44-52; Psalm 98)
KEY VERSE: "Whoever has seen me has seen the Father" (v.9).
TO KNOW: Jesus came to reveal God the Father. His words and works testified to the life and truth that he shared with the Father. Philip asked for some manifestation (theophany) of God such as Moses experienced on Mount Sinai (Ex 33:18). Jesus said that if they really understood who he was, they would "see" the Father in him. Although God is Spirit, Jesus is the living revelation of God the Father who acts in and through him. If his disciples could not believe Jesus' words, at least they could believe in the works he had done. Jesus assured his followers that if they had faith in him, they would accomplish even greater works. He promised to empower the Church to act in his name through the coming of the Holy Spirit.
TO LOVE: In what ways do I see Jesus working through me? Am I able to see him working in others?
TO SERVE: Risen Lord, help me to understand the Divine mystery you came to reveal.
​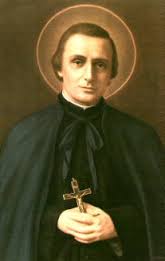 Optional Memorial of Saint Peter Chanel, priest and martyr
Peter Chanel was born in France and was ordained in 1827 at age 24. He was assigned to Crozet, a parish in decline, and brought about a spiritual revival. The reading of letters of missionaries in far-away lands inflamed his heart with
zeal
, and he resolved to devote his life to the Apostolate. He joined the Society of Mary (Marist Fathers) in 1831. He taught at the Belley seminary for five years, and led a band of missionaries to the New Hebrides in 1836, an area where cannibalism had only recently been outlawed. He learned the local language, and taught in the local school. He converted many, in part because of his ministry to the sick. Niuliki, a native king who was jealous of his influence. Thus, on April 28, 1841, three years after his arrival, Peter was seized and clubbed to death by those he had come to serve. Within five months the entire island was converted to Christianity. Peter Chanel became the first martyr in Oceania.
​
---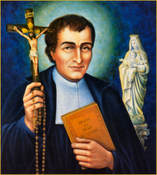 Optional Memorial of Saint Louis Grignion de Montfort, priest
Under the Blessed Virgin Mary's inspiration, to whom he was devoted, Louis Grignion de Montfort founded the Congregation of the Daughters of Divine Wisdom, a religious institute of women devoted to the care of the destitute. During this work, he began his apostolate of preaching the Rosary and authentic Marian devotion. He preached so effectively against the errors of Jansenism that he was expelled from several dioceses in France. In Rome Pope Clement XI conferred on him the title and authority of Missionary Apostolic, which enabled him to continue his work. Louis was one of the greatest apostles of the Rosary in his day, and by means of his inspiring book, The Secret of the Rosary, he is still so today. The most common manner of reciting the Rosary is the method that originated with Saint Louis's preaching. In 1715, he founded a missionary band known as the Company of Mary.
NOTE: Jansenism refers to the austere doctrines of Cornelius Jansen who denied free will, and held that human beings, depraved in nature, were unable to resist God's grace. Jansenist teaching was akin to Calvin's doctrine of predestination. Jansenism was condemned by Pope Innocent X in 1653, and by Clement XI in 1713. The strict and morally rigorous movement lingered on, and continued to have an influence on moral and spiritual writing.​
---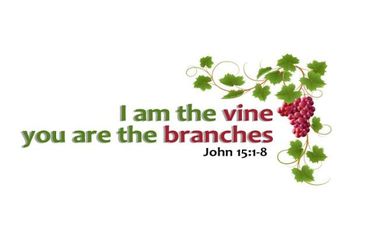 FIFTH SUNDAY OF EASTER
SUNDAY, APRIL 29, JOHN 15:1-8
(Acts 9:26-31; Psalm 22; 1 John 3:18-24)
KEY VERSE: "I am the true vine, and my Father is the vinegrower" (v.1).
TO KNOW: Few cultivated crops are richer in symbolism in the bible as the vine. The prophet Isaiah used this metaphor when he spoke of Israel as a vineyard that had been nurtured and cared for by God, the vinedresser, yet failed to bear fruit. Jesus used the image of the vine and the branches to talk about the community he had founded. The vine and the branches need one another. Just as a branch gets its sap from the tree, so we derive our life from God. Jesus declared himself to be the true vine whose Father was the vinegrower. Jesus' Church would be the new Israel who would bear good fruit only when united to him. Withered branches, which separated themselves from the vine, would be cut off; they were only good for fuel for the fire. Good branches would be pruned in order to increase their yield. Jesus spoke this discourse at the Last Supper. The "fruit of the vine" that Jesus gave us is his life-giving presence in the saving cup that nourishes the faithful.
TO LOVE: Is my ministry in the Church fruitful or unproductive?
TO SERVE: Risen Lord, prune any dead wood in my life so I may eternally abide in you.​
---
MONDAY, APRIL 30, JOHN 14:21-26
Easter Weekday
​(Acts 14:5-18; Psalm 115)
KEY VERSE: "Whoever has my commandments and observes them is the one who loves me" (v.21).
TO KNOW: As Jesus prepared to return to the Father, he comforted his fearful and bewildered disciples about his impending departure. The disciples were afraid that Jesus was abandoning them, but he assured them that he would not leave them orphans. He and the Father would send another "Advocate" (Greek, parakletos, an intercessor, one who defends someone as in a court of law) who would give them help in time of need. Jesus gave a "new commandment" to his followers, to "love one another" as he loved them (Jn 13:34). Judas (not the Iscariot) asked, "Master, why is it that you will reveal yourself to us and not to the world?" Jesus said that the unbelieving world could not accept this truth because they did not love him, nor did they keep his commands. Jesus' disciples would prove their love by obedience to his word and by loving one another. Jesus promised that he and the Father would make their dwelling within the hearts of believers. The Holy Spirit, or the "Advocate," would be sent by the Father in Jesus' name to remind his followers of everything that he taught them.
TO LOVE: Have I kept Jesus' command to love those who may be difficult to love?
TO SERVE: Holy Spirit, be my advocate when I face a difficult situation.
​

Optional Memorial of Saint Pius V, pope
Upon his ascension to the papacy, Pius V faced the task of enacting the reforms of the Council of Trent. Foundations were established to spread the faith and preserve the doctrine of the Church. New seminaries were opened, a new breviary, a new missal, and a new catechism were published. Pius spent much time personally working with the needy. He built hospitals and used the papal treasury to care for the poor. At the time of his death he was working on a Christian, European alliance to break the power of the Islamic states.


---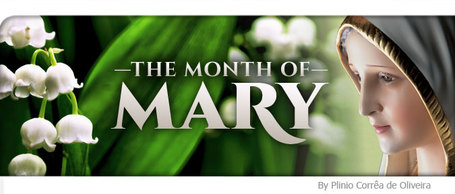 MAY IS MARY'S MONTH
The month of May, with its profusion of blooms, was adopted by the Church in the eighteenth century as a celebration of the flowering of Mary's spirituality. In Isaiah's prophecy of the Virgin birth of the Messiah, the figure of the Blossoming Rod, or Root of Jesse, the flower symbolism of Mary was extended by the Church Fathers, and, in the liturgy, by applying to her the flower figures of the Biblical books of Canticles, Wisdom, Proverbs and Sirach. In the medieval period, the rose was adopted as the flower symbol of the Virgin Birth, as expressed in Dante's phrase, 'The Rose wherein the Divine Word was made flesh,' and depicted in the rose windows of the great gothic cathedrals, from which came the Christmas carol, 'Lo, How a Rose 'ere Blooming.' Also, with the spread of the Franciscan love of nature, the rose of the fields, waysides and gardens, came to be seen as symbols of Mary.​
---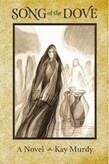 SONG OF THE DOVEA novel of Mary of Nazareth by Kay Murdy
Here is the story of a Jewish woman of the first century, Miryam of Nazareth, who lived in a tiny village nestled in the hills of Israel. She had parents, friends, a husband, a son, and she struggled to understand the strange things happening to her in a time and a place with more than its share of turmoil, both political and religious. What happened tested both her faith and courage. ACTA Publications. Order:
http://www.actapublications.com
or at
www.amazon.com
, paperback or Kindle versions.
---
TUESDAY, MAY 1, JOHN 14:27-31a
Easter Weekday
(Acts 14:19-28; Psalm 145)
KEY VERSE: "Peace I leave with you; my peace I give to you" (v.27).
TO KNOW: In anticipation of his passion and death, Jesus entreated his disciples to remain steadfast when they faced persecution and suffering. The enemy, though close at hand, held no power over them. Jesus' farewell gift to his disciples was "peace" (Hebrew, shalom). When Jesus ascended to his Father, his first gift of the resurrection would be the peace of the Spirit. The peace that he imparted was not to be understood in the worldly sense as a cessation of hostilities. Nor could it be achieved by arbitration and treaties. Jesus' peace is the indwelling Spirit. This peace would sustain his disciples in his absence, even in the midst of distress and fear. In their fearless proclamation of the gospel, the world would know that Jesus' followers were obedient to the Father's will despite pain and death.
TO LOVE: In what ways do I gift others with the peace of Christ?
TO SERVE: Risen Lord, grant your peace to this troubled world.
​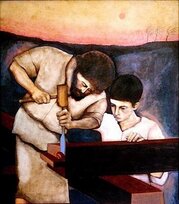 Optional Memorial of Saint Joseph the Worker
Despite his humble background, Joseph came from a royal lineage, a descendant of David, the greatest king of Israel. Joseph was chosen by God as the trustworthy guardian of his divine Son. Joseph was wholeheartedly obedient to God - in marrying Mary, in naming Jesus, in shepherding the family to Egypt, in bringing them to Nazareth, and in the undetermined number of years of quiet faith and courage. Joseph carried out this vocation with complete fidelity until at last God called him, saying: 'Good and faithful servant, enter into the joy of your Lord." There is much we wish we could know about Joseph - where and when he was born, how he spent his days, when and how he died. But Scripture has left us with the most important knowledge of who he was - "a righteous man" (Matthew 1:18)
Work is a good thing for one's humanity — because through work one not only transforms nature, adapting it to his or her own needs, but also achieves fulfillment as a human being and indeed, in a sense, becomes more a human being.'" — Saint Pope John Paul II​
---
WEDNESDAY, MAY 2, JOHN 15:1-8
(Acts 15:1-6; Psalm 122)
KEY VERSE: "I am the vine, you are the branches" (v.5).
TO KNOW: Isaiah used the metaphor of a vineyard to describe Israel's relationship with God, who was imaged as the vine grower (Is 5:1-7). Although Israel was tenderly nurtured by God, it failed to produce fruit. Jesus declared that he was the "true vine" that had been planted in his Father's vineyard. The life of the Father flowed through Jesus who in turn gave life to those who were united to him. Those who chose to separate themselves from him became like withered branches, which were only good for fuel for the fire. The good branches would be pruned so as to increase their yield. In union with Jesus, the Church would be the "new Israel" that glorified God when its members led fruitful lives.
TO LOVE: Do I produce good fruit in my life as a testimony to my union with Christ?
TO SERVE: Risen Lord, continue to nourish your Church to produce good fruit.​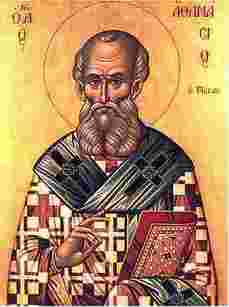 Memorial of Saint Athanasius, bishop and doctor of the Church
Athanasius was born in Alexandria, Egypt, towards the end of the third century, and from his youth was pious and deeply versed in the sacred writings. While still a deacon, he was chosen by Alexander, his bishop, to go with him to the Council of Nicea, A.D. 325. There Athanasius defended the Church against the Arian heresy, which denied the Divinity of Christ. When Alexander was dying, he recommended Athanasius to be his successor as Patriarch of Alexandria, and he served in that office for forty-six years. When the dispute over Arianism spilled over from theology to politics, Athanasius was exiled five times, and spent more than a third of his episcopate in exile. He is a biographer of Saint Anthony the Abbot, a Confessor of the faith and Doctor of the Church.
NOTE:
Arianism taught that Christ was a creation of the Father, a creature, and not part of God. Athanasius formulated the doctrine of homoousianism which said that Christ was "consubstantial with the Father," as we pray in the Nicene Creed.
​
​
---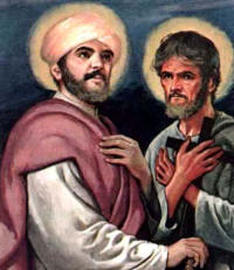 FEAST OF SAINTS PHILIP AND JAMES, APOSTLES
THURSDAY, MAY 3. JOHN 14:6-14
(1 Corinthians 15:1-8; Psalm 19)
KEY VERSE: "The one who believes in me will also do the works that I do" (v. 12).
TO KNOW: Jesus told his disciples that he was the "way" to God's "truth and life" (v.6). When Philip asked for some manifestation of the Father, Jesus told him that if he really understood who he was, he would "see" the Father. Jesus was the flesh and blood revelation of God. His words and works were not his alone; they came from his unity with the Father. If Jesus' disciples could not believe what he told them, then at least they should believe in the deeds that he did. He promised that those who had faith in him would be empowered by the Spirit to do even greater works than he had done. When Jesus returned to the Father, he would continually intercede on their behalf (Ro 8:34; Hb 4:14 - 5:10).
TO LOVE: Do I hand on the faith that I have received, just as the apostles did in their time?
TO SERVE: St. Philip and St. James, pray that the Church will have the grace to accomplish Christ's works on earth as you did.

---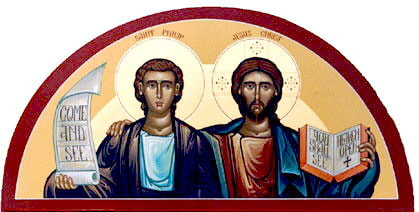 FEAST OF SAINTS PHILIP AND SAINT JAMES, APOSTLES
Philip was born in Bethsaida, Galilee, and may have been a disciple of Saint John the Baptist. Philip was called by Jesus (Jn 1:43-48) on the day after Peter and Andrew. Philip began his evangelizing efforts by bringing Nathaniel (Bartholomew) to Jesus. When Nathaniel asked, "Can anything good come from Nazareth?" Philip replied: "Come and see" (Jn 1:43). Philip was present at the miracle of the loaves and fishes (6:1-15), and was the Apostle approached by the Hellenistic Jews from Bethsaida to introduce them to Jesus (12:21ff). Just before the Passion, Jesus answered Philip's query to show them the Father (14:8ff), but no further mention of Philip is made in the New Testament beyond his listing among the apostles awaiting the Holy Spirit in the Upper Room (Acts 1:13). According to tradition, Philip preached in Greece and was crucified at Hierapolis in Phrygia under Emperor Domitian, c. 80 AD.

The names "James the Less" or "James the Younger" is usually applied to James the son of Alphaeus (Mk 15:40). He was favored by an appearance of the Risen Christ (I Cor 15:7). After the dispersion of the Apostles he was made Bishop of Jerusalem. He was visited by Saint Paul (Gal 1:19), and spoke after Peter at the meeting of the Apostles in Jerusalem (Acts 15:13). A tradition said that when James was ninety-six years old and had governed the Church for thirty years in a most holy manner, he refused to deny the Divinity of Christ. He was cast down from the terrace of the temple and clubbed to death. The Breviary contains a very moving description of his death. "As he lay there half dead, with legs broken by the fall, he lifted his hands toward heaven and prayed to God for the salvation of his enemies, saying: 'Lord, forgive them for they know not what they do!' While the Apostle was still praying, a fuller struck his head a mortal blow." His relics now rest next to those of Saint Philip in the church of the Holy Apostles in Rome, and their names are mentioned in the first list in the Canon of the Mass.

---
FRIDAY, MAY 4, JOHN 15:12-17
Easter Weekday
(Acts 15:22-31; Psalm 57)
KEY VERSE: "You are my friends if you do what I command you" (v.14).
TO KNOW: As Jesus anticipated his return to the Father, he prepared his disciples for the work that he would hand over to them. Jesus told his followers that to be God's servant (Greek, doulos, literally a slave) was not a title of shame. The great leaders of the past: Moses (Deut 34:5); Joshua (Josh 24:29); David (Ps 89:20); and later Paul (Ti 1:1) and James (Jas 1:1) all counted it an honor to be God's servants. But Jesus had something even greater in store for his disciples. He called them "friends" (Jn 14:15b). In the Old Testament, Abraham and Moses were each called a "friend of God" (2 Chr 20:7; Ex 33:11). The mark of friendship is an intimate knowledge of one another. Slaves did not have this kind of relationship with their masters. Jesus called his disciples "friends" because he shared with them everything he received from the Father. Jesus' followers must imitate his example by being servants of one another (Jn 12:26; 13:14-16). Their labors would be fruitful if they obeyed his command to love, which was not a burden, but a loving response to God who loved them.
TO LOVE: In what ways am I a servant to my community?
TO SERVE: Risen Lord, help me to willingly obey your command to love in all I say and do.
​
SATURDAY, MAY 5, JOHN 15:18-21
Easter Weekday
(Acts 16:1-10; Psalm 100)
KEY VERSE: "If the world hates you, realize that it hated me first" (v.18).
TO KNOW: Just as Jesus and his Father are one, Jesus and the believer are one. Because of this close union, Jesus' disciples must be willing to share his fate. If Jesus suffered persecution and hatred, so would they. If the world refused to listen to his words or believe in his works, the world would not believe his disciples' words and deeds. If the disciples had belonged to the world, perhaps the world would love them. Because these unbelievers did not know God, they despised Jesus and they would also despise his followers. Jesus said that "no slave was greater than his master" (v.20). Although the disciples were Jesus' friends (v.15), they were also obedient servants of God's will.
TO LOVE: In what ways am I both friend and servant to others?
TO SERVE: Risen Lord, give the Church the grace to speak your gospel to those who do not know you.
​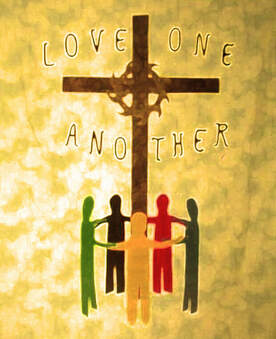 SIXTH SUNDAY OF EASTER
SUNDAY, MAY 6, JOHN 15:9-17
(Acts 10:25-26, 34-35, 44-48; Psalm 98; 1 John 4:7-10)
KEY VERSE: "This is my commandment, that you love one another as I have loved you" (v.12).
TO KNOW: Jesus taught his disciples about the intimate unity that existed between him and his Father. Everything that Jesus said and did was in obedience to his Father's word. The Father's love so filled Jesus that it overflowed to his followers through the Spirit. His disciples would remain in Jesus' love if they were obedient to his "new" command: to love one another as he loved them. Jesus' commandment to love God and to love one's neighbor as oneself fulfilled and summed up all the other commandments. There was no other commandment greater than these (Mk 12:31b). Jesus' disciples were loyal to the mission that he entrusted to them when they revealed his love to the world. They were his "friends" (Jn 15:14) if they demonstrated that love by their readiness to lay down their lives as he did. Jesus did not ask his followers to do anything that he himself was unwilling to do. He would prove his love on Calvary by offering his life for the sake of his friends (John 15:13).
TO LOVE: In what ways have I shown sacrificial love to my friends?
TO SERVE: Risen Lord, help me to love others as you do.
---