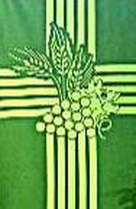 Ordinary Time is called "ordinary" because the weeks are numbered. The Latin word ordinalis, which refers to numbers in a series, stems from the Latin word ordo, from which we get the English word order. Thus, Ordinary Time is in fact the ordered life of the Church—the period in which we live our lives neither in feasting (as in the Christmas and Easter seasons) or in penance (as in Advent and Lent), but in watchfulness and expectation of the Second Coming of Christ There are two times we are in Ordinary Time. There are 28 weeks of Ordinary Time after Easter and 5 weeks of Ordinary Time after Christmas. However, this varies depending upon when Easter falls in a particular year. ​The actual number of weeks of Ordinary Time in any given year can total 33 or 34.
---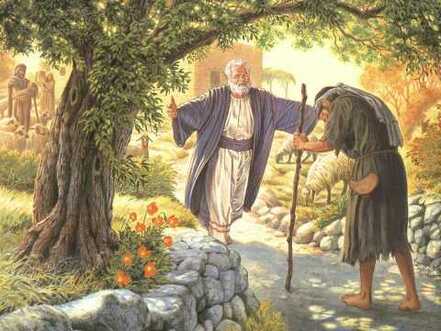 TWENTY-FOURTH SUNDAY IN ORDINARY TIME
SUNDAY, SEPTEMBER 15, LUKE 15:1-31 or LUKE 15:1-10
(Exodus 32:7-11, 13-14; Psalm 51; 1 Timothy 1:12-17)
KEY VERSE: "This son of mine was dead, and has come to life again; he was lost, and has been found" (v. 24).
TO KNOW: Luke said that the "sinners were all drawing near" to Jesus, while the Pharisees and the scribes were complaining: "This fellow welcomes sinners and eats with them." (Lk 15:1). Through a parable, Jesus reminded them of God's unconditional love for the wayward and lost. In this story of God's amazing grace, the prodigal son (a symbol for the pagan Gentiles) came to his senses after he had squandered his inheritance in dissolute living. When he returned to the waiting arms of his father, they celebrated with a feast (the Eucharistic banquet). The elder son (Israel) protested that he had been faithful all his life yet never received such a reward. The father reminded his firstborn son that everything had always belonged to him. He asked his son to rejoice because his brother was once lost, but had returned home to his loving embrace. This parable might be titled the story of "The Two Sons" to emphasize the younger son's repentance (the tax collectors and sinners) and the envy and narrow-mindedness of the elder son (the religious leaders). It might better be called the "Parable of the Loving Father" to express the unconditional love and grace of God toward all his children. Bishop Robert Barron says, "God looks for us, comes running after us, never relents, never gives up. The more we run, the more he runs after us; the more we hide, the more he looks; and the more we resist, the more he persists."
TO LOVE: Have I forgiven my brothers and sisters their wrongdoings, and welcomed them with joy?
TO SERVE: Lord Jesus, give me the grace to come back to our Father when I have strayed.​

---
MONDAY, SEPTEMBER 16, LUKE 7:1-10
​MEMORIAL OF SAINT CORNELIUS, POPE AND MARTYR
(1 Timothy 2:1-8; Psalm 28)
KEY VERSE: "I tell you, not even in Israel have I found such faith" (v. 9).
TO KNOW: A centurion was a high ranking officer in the Roman army who commanded a force of up to 100 men. This centurion was stationed in Capernaum, and was a member of Herod's peacekeeping force rather than a member of the Imperial army. When the officer's servant became ill, he sent the Jewish elders of the synagogue to entreat Jesus to come and heal him. The Jews were grateful to the centurion for having built their synagogue, and they urged Jesus to go and heal the man's servant. But the centurion sent word that he was not worthy to have Jesus enter his home (Jews regarded Gentile homes to be "unclean"). The officer knew how to use authority and he recognized this power in Jesus' word. He had confidence that Jesus could heal his servant with a word of command. Jesus marveled at the man's faith, which contrasted with the disbelief of his own people. When the Centurion's messengers returned home, they found the centurion's servant healed.
TO LOVE: Do I use the power of intercessory prayer to help others in need?
TO SERVE: Lord Jesus, only say the word and my soul shall be healed.

NOTE: In the Mass, right before receiving Communion we as Catholics say this: "Lord, I am not worthy that you should enter under my roof, but only say the word and my soul shall be healed." We recognize that Jesus is Lord and that his mighty word and the Eucharist dwelling within us will in fact heal us of all unworthiness.
​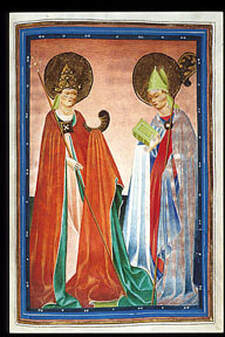 Memorial of Saint Cornelius, pope and martyr
Cornelius was the Twenty-First pope, elected during a period of persecutions when papal ascension was often a death sentence. Cornelius worked to maintain unity in a time of schism and apostasy. He fought Novatianism, a heresy that held that lapsed Christians might not be received again into communion with the Church, and second marriages were unlawful. Cornelius was exiled by Roman authorities to punish Christians who were said to have sent the plague against Rome. A document from Cornelius shows the size of the Church of Rome in his papacy: 46 priests, 7 deacons, 7 sub-deacons, approximately 50,000 Christians. He died a martyr in 253 and is buried at the cemetery of Saint Callistus, Rome.
Memorial of Saint Cyprian, bishop and martyr
Cyprian was born in the early third century to a rich pagan family in North Africa. Soon after converting to Christianity, he was ordained a priest and in 249 was made Bishop of Carthage. He was exiled during the persecutions of Valerian, which was especially severe at Carthage. Many Christians fell away, and were thereafter referred to as "lapsi" (the fallen). Cyprian was involved in the argument over whether apostates should be readmitted to the Church. Cyprian believed they should, but under stringent conditions. It was their reinstatement that helped the Church progress in its understanding of the Sacrament of Penance. A martyr, Cyprian was beheaded September 258. He is a Latin Father of the Church. "You cannot have God for your Father if you do not have the Church for your mother." (Saint Cyprian, The Unity of the Catholic Church).​
---
TUESDAY, SEPTEMBER 17, LUKE 7:11-17
Weekday
(1 Timothy 3:1-13; Psalm 101)
KEY VERSE: "Young man, I tell you, arise!" (v. 14).
TO KNOW: Soon after healing the centurion's servant, Jesus went to a town called Nain, which was a day's journey from Capernaum. His disciples and a large crowd followed him. Luke compared Jesus' ministry to that of two prophets in the Hebrew Testament: Elijah, who raised to life the only son of the widow of Zarephath (1 Kgs 17:8-24), and Elisha, who resuscitated the only son of a Shunammite woman (2 Kgs 4:8-37). When Jesus entered the village of Nain, he saw a widow accompanying the bier of her dead son. Jesus was moved with compassion, since, with no husband or son to support her, the woman would soon find herself destitute. Risking ritual impurity for touching a corpse (Nm 19:11), Jesus placed his hand on the litter of the dead man, and with a word of authority commanded him to rise to life. When Jesus gave the young man back to his grateful mother, the people praised God for sending a new prophet to them.
TO LOVE: In what ways can I offer Christ's compassion to the bereaved?
TO SERVE: Lord Jesus, thank you for your healing touch, which gives me new life.​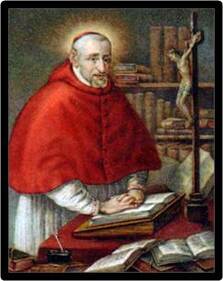 Optional Memorial of Saint Robert Bellarmine, bishop and doctor of the Church
Robert Bellarmine became a Jesuit in 1560. He taught Greek, Hebrew and theology at Louvain, Florence. Robert became college rector in 1592, Provincial of Naples in 1594, Cardinal in 1598, and Archbishop of Capua in1602. He lived an austere life in Rome, giving most of his money to the poor. He wrote exhaustive works against heresies of the day. Robert took a fundamentally democratic position – the authority that originated with God was vested in the people, who entrusted it to rulers, a concept that brought him trouble with the kings of both England and France. Robert was the spiritual father of Saint Aloysius Gonzaga. He helped Saint Francis de Sales obtain formal approval of the Visitation Order. He opposed severe action against Galileo. He revised Bible translations and wrote two catechisms. He was theological adviser to Pope Clement VIII and Pope Paul V, and taught catechism to children. He was proclaimed a Doctor of the Church in 1931.

---
WEDNESDAY, SEPTEMBER 18, LUKE 7:31-35
Weekday
(1 Timothy 3:14-16; Psalm 111)
KEY VERSE: "But wisdom is vindicated by all her children" (v. 35).
TO KNOW: Jesus praised John the Baptist who Herod had imprisoned because of his faithful witness to the gospel (Lk 7:24-28). Those who benefited from John's ministry gave praise to God, but the religious leaders stubbornly refused to accept John's baptism, and were closed to God's action in Jesus, the long-awaited Messiah. Jesus compared them to obstinate children who were never satisfied. They despised John because of his ascetic life-style and austere message of repentance. At the same time, they believed that Jesus was a glutton and a drunkard because he associated with outcasts and sinners. In the end, those who embraced Jesus as God's messenger of salvation would be justified by Divine Wisdom.
TO LOVE: Do I behave like a spoiled child when things go contrary to my plans?
TO SERVE: Lord Jesus, give me the wisdom to understand the truth that you reveal.​
THURSDAY, SEPTEMBER 19, LUKE 7:36-50
Weekday
(1 Timothy 4:12-16; Psalm 111)
KEY VERSE: "Her many sins have been forgiven; hence, she has shown great love" (v. 47).
TO KNOW: As Jesus reclined at table in the home of a Pharisee (Simon the Leper in Mk 14:3-9), a woman entered the room and anointed him with oil. She was weeping in gratitude for the forgiveness she had received. The Pharisee was critical of Jesus for allowing this woman, a known sinner, to touch him. Jesus told his host a story of a money lender who forgave the debts of two people. The one who was most in debt was more grateful to his creditor than the one who owed less. Jesus reminded his self-righteous host that he had not provided the normal courtesies due a guest: giving a kiss of peace and bathing his feet. By contrast, the woman graciously kissed Jesus' feet and poured out her love by anointing him. Because her many sins had been pardoned, she was able to be generous in return. Her deed prefigured Jesus' role as God's "anointed one" (Greek, Christos, Hebrew, Mashiach). Her action can also be viewed as preparation for Jesus' death and burial.
TO LOVE: What acts of kindness is the Lord asking me to do today?
TO SERVE: Lord Jesus, help me to be grateful for the mercy you have shown to me.
​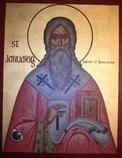 Optional Memorial of Saint Januarius, bishop and martyr
Januarius was a Fourth century bishop of Benevento, Italy during the Emperor Diocletian's persecution. He was arrested while visiting imprisoned deacons, and later martyred with his companions, c.304 at Naples or Pozzuoli (sources vary). Januarius was first thrown to wild beasts, and when the animals would not attack him, he was beheaded. Januarius' body was brought to Naples, and there interred in the church. His blood was kept in a phial of glass, which was set near his head. Since at least 1389, it is said that the blood liquefies on his feast day.​
---

Optional Memorial of

Our Lady of La Salette
On September 19, 1846, Mary appeared to two young cattle herders, Melanie Mathieu and Maximin Giraud, on the mountain of La Salette in the French Alps. Speaking tearfully, she told the children that people must repent of their sins or endure coming chastisements. She promised Divine Mercy if they amended their lives. The distinctive La Salette Cross with the hammer and pincers is the unique sign of the Missionaries of La Salette. Worn by Mary at her apparition, it symbolizes the La Salette's work of reconciliation, helping people turn from sin and letting the world know of God's peace and compassion. Mary's call for reconciliation with God inspires us to be reconcilers ourselves: to heal hurts and deepen awareness of God's call to repentance.

---
FRIDAY, SEPTEMBER 20, LUKE 8:1-3
Memorial of Saint Andrew Kim Tae-gŏn, priest and martyr; ​Saint Paul Chŏng Hasang, martyr, and their Companions, martyrs
(1 Timothy 6:2c-12; Psalm 49)
KEY VERSE: "Accompanying him were the Twelve and some women" (vs 1, 2).
TO KNOW: Jesus journeyed from one village to another proclaiming the good news. He was accompanied by his Twelve Apostles and several women who "provided for them out of their own resources" (v. 3). This was very radical as these were the most basic social divisions of the ancient world: free men were a better off than slaves; Jews had an advantage over Greeks; and males were seen as superior to females. But not in the Kingdom of God that Jesus announced. These women disciples had experienced the healing love of Jesus' mercy, and they expressed their gratitude through generous service. Jewish tradition forbade a rabbi to associate with women in public, but Jesus went beyond the cultural customs of his day. He declared that the Gospel was for all people regardless of gender. These faithful women stood by Jesus at the cross (Lk 23:49), were present at his burial (23:55), were privileged witnesses of his resurrection (24:1-10), and among those waiting with the Twelve for the outpouring of the Spirit at Pentecost (Acts 1:14).
TO LOVE: Is my attitude toward women in ministry like that of Jesus?
TO SERVE: Lord Jesus, help me to show my love for you through serving others.
​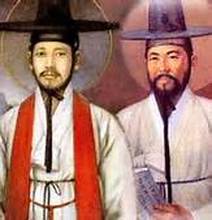 Memorial of Saint Andrew Kim Tae-gŏn, priest and martyr; ​Saint Paul Chŏng Hasang, martyr, and their Companions, martyrs
During the 19th century, Andrew Kim Tae-gŏn was Korea's first native priest, and the first priest to die for the faith in Korea. As leader of the community, Andrew was tortured and beheaded in 1846 at Seoul, Korea. Also martyred was Paul Chŏng Hasang, a layman, who was one of the founders of the Catholic Church in Korea. Hasang had reunited the scattered Christians, and encouraged them to keep their faith despite persecution. He died in the Gi Hye persecution of 1839 before he could be ordained. Three bishops and seven priests, were also put to death, but most of the martyrs were heroic lay men and women, married and single of all ages. These martyrs were canonized by Pope John Paul II on May 6, 1984.
NOTE:
The Korean Church is unique because it was founded entirely by zealous laypeople in the 17th century. This fledgling Church, so young and yet so strong in faith, withstood wave after wave of fierce persecution. Thus, in less than a century, it could boast of 10,000 martyrs. The death of these many martyrs became the leaven of the Church and led to the flowering of the Church in Korea. Even today their undying spirit sustains the Christians of the "Church of Silence" in the north of this tragically divided land. ​
---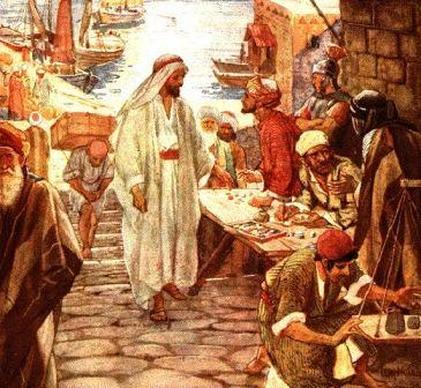 FEAST OF SAINT MATTHEW, APOSTLE AND EVANGELIST
SATURDAY, SEPTEMBER 21, MATTHEW 9:9-13
(Ephesians 4:1-7, 11-13; Psalm 19)
KEY VERSE: "He said to him, 'Follow me' (v. 13).
TO KNOW: Matthew, one of the Twelve apostles, is called Levi (perhaps a tribal designation) in Mark and Luke's gospel (Mk 2:14, Lk 5:27). Matthew was a collector of taxes, a "publican," so-called because he dealt with public funds. A tax collector purchased the right to collect taxes in a certain area, and was allowed to keep a commission on anything he collected over and above the agreed sum. Pious Jews looked upon tax collectors as sinners because they collaborated with the occupying Roman forces. Moreover, they were suspected of extorting money from their own people. Though aware of Matthew's reputation, Jesus invited him to be a disciple. In turn, Matthew invited Jesus to dine with him and some friends who were also social outcasts. The Pharisees were shocked at Jesus' apparent disregard for the law. They ask Jesus' disciples, "Why does your teacher eat with tax collectors and sinners?" The answer is that Jesus loves sinners, and he doesn't require perfection before he calls them.
TO LOVE Do I respond eagerly to Jesus' call to reform my life?
TO SERVE: St. Matthew, help me to answer Jesus' invitation as you did.​
---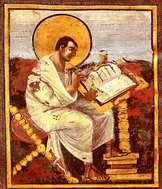 FEAST OF SAINT MATTHEW, APOSTLE AND EVANGELIST
Matthew, son of Alphaeus, lived at Capenaum on Lake Genesareth (Sea of Galilee). Matthew was a tax-collector and must have been hated by the Jews for having entered the civil service of their Roman conquerors. As Matthew sat at his customs post, Jesus called him, and he rose up and followed him, leaving everything behind him except one thing — his pen. Matthew used his literary skills to compile an account of the teachings of Jesus Christ. He wrote especially for members of the Jewish people to show them that the prophecies of the Old Testament were fulfilled in Jesus. Matthew's Gospel is given pride of place in the canon of the New Testament.

---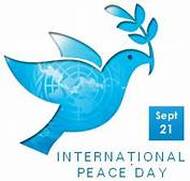 UNITED NATIONS INTERNATIONAL DAY OF PEACE
The United Nations General Assembly decided that, beginning in 2002, the International Day of Peace should be observed on 21 September each year. The Assembly declared that the day be observed as an invitation to all nations and people to honor a cessation of hostilities during the day. All Member States, organizations of the United Nations system, regional and non-governmental organizations and individuals were invited to commemorate the day in an appropriate manner, including education and public awareness, and to cooperate with the United Nations in establishing a global ceasefire.

---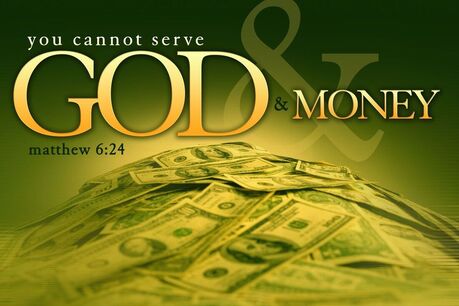 TWENTY-FIFTH SUNDAY IN ORDINARY TIME
SUNDAY, SEPTEMBER 22, LUKE 16:1-13 or 16:10-13
(Amos 8:4-7; Psalm 113; 1 Timothy 2:1-8)
KEY VERSE: "You cannot serve God and mammon" (v. 13).
TO KNOW: One of the important themes in Luke's Gospel is the right use of material goods. In the parable of the dishonest steward, Jesus contrasted the shrewdness of worldly people in planning for the future with the apparent indifference of the children of the kingdom. In the story, a steward mismanaged his master's funds. Faced with loss of employment, and knowing that he was unused to physical labor and too proud to beg, he devised a scheme. He forfeited his own commission, thereby reducing the amount owed by the debtors, thus ingratiating himself to both debtor and master. Jesus praised the enterprising steward for acting prudently, but he challenged his own disciples to consider whether they were as wise in the use of their goods as those who acted without the guiding light of the Holy Spirit. Jesus warned his disciples that they could not serve both the god of materialism (mammon) and the God of the universe. One cannot be a servant of God and a slave to material goods at the same time.
TO LOVE: Is money my servant or am I slave to money?
TO SERVE: Lord Jesus, help me to use my resources for building your kingdom on earth.
---
MONDAY, SEPTEMBER 23, LUKE 8:16-18
Memorial of Saint Padre Pio of Pietrelcina, priest
(Ezra 1:1-6; Psalm 126)
KEY VERSE: "For nothing is hidden that will not be disclosed, nor is anything secret that will not become known and come to light" (v. 17).
TO KNOW: A lamp was the only source of illumination in the dark windowless houses of Jesus' day. This clay vessel was filled with oil and placed on a stand where it burned night and day. Jesus used this ordinary household object to illustrate the radiance that should occur naturally in the life of every Christian. Through their words and deeds, others should be enlightened by God's truth. If so, even the deep mysteries of Christ's revelation would come to light. Those who proclaimed God's word found that the more Christ was shared, the brighter their own spiritual illumination would become. If they failed to persevere in responding to God's word, they would discover that whatever enlightenment they had obtained would fade and grow dim.
TO LOVE: Do what I say and do help to dispel the darkness in the world?
TO SERVE: Lord Jesus, help me to share your light with others.
​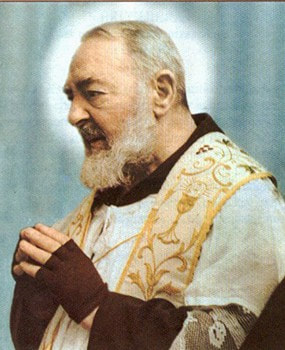 ​Memorial of Saint Padre Pio of Pietrelcina, priest
Francesco Forgione, Padre Pio of Pietrelcina, entered the novitiate of the Capuchin friars at age 15, and was ordained at age 22 in 1910. While praying before a cross, he received the stigmata, the first priest ever to be so blessed. American soldiers brought home stories of Padre Pio following WWII, and the priest himself became a point of pilgrimage for both the pious and the curious. He would hear confessions by the hour, reportedly able to read the consciences of those who held back. Padre Pio founded the House for the Relief of Suffering in 1956, a hospital that serves 60,000 a year. His canonization miracle involved the cure of Matteo Pio Colella, age 7, the son of a doctor who worked in the hospital founded by Padre Pio. During a prayer vigil attended by Matteo´s mother and some Capuchin friars, the child's condition improved suddenly. When he awoke from a coma, Matteo said that he had seen an elderly man with a white beard and a long, brown habit, who said to him: "Don´t worry, you will soon be cured." The miracle was approved by the Congregation and Pope John Paul II canonized him 16, June, 2002.​
---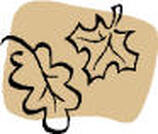 THE FIRST DAY OF AUTUMN
Autumn (also known as Fall in North American English) is one of the four temperate seasons. Autumn is the period between summer and winter, usually in September (northern hemisphere) or March (southern hemisphere). In the temperate zones, autumn is the season during which most crops are harvested, and deciduous trees lose their leaves. It is also the season in which the days rapidly get shorter and cooler (especially in the northern latitudes), and of gradually increasing precipitation in some parts of the world.
---
TUESDAY, SEPTEMBER 24, LUKE 8:19-21
Weekday
(Ezra 6:7-8, 12b, 14-20; Psalm 122)
KEY VERSE: "My Mother and my brothers are those who hear the word of God and act on it" (v. 21).
TO KNOW: Jesus' mother and his relatives were concerned about his itinerant lifestyle. They wanted to restrain him because they thought he had gone out of his mind (3:21). They went to the house where he was teaching, but because of the large crowd they were unable to get through. When Jesus was informed that his family wanted to see him, he took the opportunity to teach his followers about the spiritual relationship that should exist between Christians. Blood ties do not constitute membership in the family of God. The tie that binds Christians together is their response to the word of God. The Hebrew word 'shema' means 'to hear' (Deut. 6:4 - "Hear, O Israel, the Lord your God is one"). But it also has the connotation of obeying (Deut. 11:13 - "Listen obediently to my commandments"). Jesus' mother Mary was blessed because she heard the word of God and obeyed it (Lk 11:28). All who hear God's word and are obedient to it are brothers and sisters of Christ.
TO LOVE: In what ways can I imitate Mary's submission to God's word?
TO SERVE: Lord Jesus, help me to hear your word and act upon it.
​
WEDNESDAY, SEPTEMBER 25, LUKE 9:1-6
Weekday
​(Ezra 9:5-9; Psalm: Tobit 13)
KEY VERSE: "Take nothing for the journey" (v. 3).
TO KNOW: Jesus summoned the twelve men he had chosen to be his disciples and empowered them with his authority, sending them forth to overcome the forces of evil by proclaiming the reign of God. Jesus advised his disciples to imitate him in his total dedication to God. On their journey, they were to trust in divine providence and depend on the hospitality and good will of the people they met. If the disciples were welcomed, they were to remain in that place to preach and heal. If Jesus' disciples were not received they were to shake the dust from their feet when they left the town. (A custom of Jews before entering the Holy Land after a journey to a Gentile land). Whoever did not receive Jesus' disciples were to be treated as a heathen. They condemned themselves for refusing to hear God's Word. They were warned that there might not be another opportunity for them to hear the good news of salvation in Jesus.
TO LOVE: Do I help support missionaries in foreign lands?
TO SERVE: Lord Jesus, help me to rely on your power to proclaim the Gospel by my words and deeds.
​
THURSDAY, SEPTEMBER 26, LUKE 9:7-9
Weekday
(Haggai 1:1-8; Psalm 149)
KEY VERSE: "Who then is this about whom I hear such things?" (v. 9).
TO KNOW: Herod Antipas, Tetrarch of Galilee and Perea, was the son of Herod the Great, the bloody ruler who ordered the slaughter of the innocents (Mt 2:16-18). Contrary to Jewish law, Herod Antipas divorced his wife and married Herodias, the wife of his half-brother Philip. At the bidding of Herodias, Herod put John the Baptist to death for protesting their illicit marriage (Mk 6:17-29). When Herod heard the reports circulating about Jesus, he wondered who he was. Some said that Jesus was John who had risen from the dead. Others said that Elijah had returned, a sign announcing the arrival of the Messiah (Mal 3:23). Herod was curious and expressed a desire to meet Jesus, but like his ambitious father, his real motive was to eliminate this threat to his own power. Jesus spoke to the crowds of his kingdom, not the earthly realm of domination belonging to Pilate, Caesar, and Herod, but a spiritual dominion of mercy and healing.
TO LOVE: Am I committed to serving the Lord no matter what the cost?
TO SERVE: Lord Jesus, help me to know you personally, not just what others say about you.
​​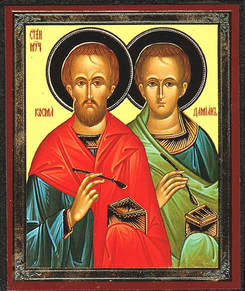 Optional Memorial of Saint Cosmas and Saint Damian, martyrs
Cosmas and Damian were twin brothers and Christian physicians. They were born in Arabia, and practiced medicine in Cilicia, Asia Minor, and attained a great reputation. They accepted no pay for their services and were, therefore, called "the silverless." In this way they brought many to the Catholic faith. When the Emperor Diocletian's persecution began, Cosmas and Damian were arrested, and ordered to renounce their faith. They remained constant under torture, and, in a miraculous manner suffered no injury. They were finally beheaded with the sword, probably in the year 287. The remains of the martyrs were buried in the city of Cyrus in Syria. The Emperor Justinian I (527-565), having been cured of a dangerous illness through the intercession of Cosmas and Damian, rebuilt and adorned their church at Constantinople, and it became a celebrated place of pilgrimage. Cosmas and Damian are regarded as the patrons of physicians and surgeons and are sometimes represented with medical emblems.
NOTE: The Roman Emperor Diocletian's name is associated with the last and most terrible of all the ten persecutions of the early Church (called the Era of the Martyrs). This persecution was occasioned partly by the increasing number of Christians, and the hatred of Galerius, the adopted son of Diocletian. Encouraged by his mother, a bigoted pagan, he never ceased trying to persuade the emperor to continue the persecution, until he had accomplished his purpose. Credible research has reached the conclusion that every year an estimate of more than 100,000 Christians are killed because of some relation to their faith.​
---
FRIDAY, SEPTEMBER 27, LUKE 9:18-22
Memorial of Saint Vincent de Paul, Priest
(Haggai 2:1-9; Psalm 43)
KEY VERSE: "But who do you say that I am?" (v. 20).
TO KNOW: Jesus wanted his disciples to understand his role and mission, so he took them to the pagan territory of Caesarea Philippi in northern Israel near Banias, where there was the Cave of Pan honoring the Roman god Faunus, half-goat, half-man. There may also have been a Temple built by Herod to honor the Emperor Augustus. At that place, Jesus was praying (a typical theme in Luke), and then he asked his disciples who the people believed him to be. They answered that some thought he was John the Baptist raised from the dead, others said that Elijah had returned, still others believed that he was one of the prophets who had arisen. Then Jesus asked them who they personally believed him to be. Peter, speaking for the Twelve, declared that Jesus was the "Messiah of God" (v. 20). Jesus warned them not to reveal his identity as many expected the Messiah to be a political leader who would liberate Israel from Roman oppression. Jesus taught them the true meaning of what it meant to be the Messiah. He must suffer and die, but he would be raised from the dead.
TO LOVE: Reflect on who Jesus is in your life.
TO SERVE: Pray the Jesus' prayer: Lord Jesus Christ, Son of God, have mercy on me a sinner.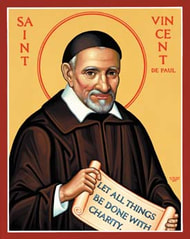 Memorial of Saint Vincent de Paul, priest
Vincent de Paul was born in 1581 in southwest France to a peasant family. Vincent was a highly intelligent youth. He spent four years with the Franciscan friars getting an education. He began divinity studies in 1596 at the University of Toulouse and was ordained at age 20. Vincent was taken captive by Turkish pirates to Tunis, and sold into slavery. He was freed in 1607 when he converted one of his owners to Christianity. Returning to France, he served as parish priest near Paris where he started organizations to help the poor, nurse the sick, and to find jobs for the unemployed. With St. Louise de Marillac, he founded the Congregation of the Daughters of Charity. Vincent de Paul always worked for the poor, the enslaved and the abandoned. He died in 1660 at Paris, France. His body is incorrupt.
NOTE:
The Society of St Vincent de Paul is an international voluntary organization in the Catholic Church, founded in 1833 for the sanctification of its members by personal service of the poor. Among its efforts to offer help to the poor or needy, the Society has thrift stores which sell donated goods at a low price and raise money for the poor. There are a great variety of outreach programs in parishes sponsored by the local conferences and councils, addressing needs for social services.​
---
SATURDAY, SEPTEMBER 28, LUKE 9:18-22
Weekday
(Zechariah 2:5-9, 14-15a; Jeremiah 31)
KEY VERSE: "The Son of Man is to be handed over to men" (v. 44).
TO KNOW: The people were amazed by the power of God at work in Jesus. In the midst of this adulation, Jesus told his disciples that he was the suffering "Son of Man" (v. 44), his most characteristic way of speaking of himself. In saying this, he identified himself with the figure in the book of Daniel, which speaks of one like a 'son of man' coming on the clouds from heaven (Dn 7:9-10). When Jesus used the term, he was referring not only to himself, but also to all those who believed in him. As "the son of man" (Hebrew, ben Adam) Jesus is the new and true son of Adam. Where Adam failed and led the entire human race into captivity to sin and death, Jesus brought life and freedom. Like the people of Israel who opposed the "beast-like" kingdoms of the world (Dn 7:1-8), Jesus triumphed over his enemies. In Luke's gospel, this is Jesus' second prediction of his passion (see Lk 9:22), yet his disciples still failed to understand his meaning.
TO LOVE: Do I pay attention to what Jesus is telling me?
TO SERVE: Lord Jesus, help me to be faithful to you in adversity and in victory.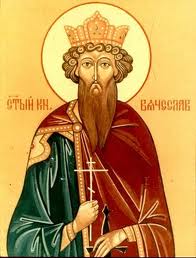 Optional memorial of Saint Wenceslaus, martyr
At the death of King Vratislaus, who was killed during a pagan backlash against Christianity, the people of Bohemia made his son Wenceslaus their king (907–935). He was a man of utmost faith, charitable to the poor, offered hospitality to travelers, and would not allow widows to be treated unjustly. He loved all his people, both rich and poor. Boleslaus, his brother, no longer successor to the throne, joined a group of Czech dissenters. They invited Wenceslaus to a religious festival, trapped and killed him on the way to Mass. Wenceslaus is the patron saint of Bohemia. Although he was killed for political reasons, he is normally listed as a martyr since his politics arose from his faith. Miracles have been reported at his tomb.
NOTE:
"Good King Wenceslaus" is a popular Christmas carol that tells a story of a Bohemian king going on a journey and braving harsh winter weather to give alms to a poor peasant on the Feast of Stephen (December 26, the First Day of Christmas). During the journey, his page is about to give up the struggle against the cold weather, but is enabled to continue by following the king's footprints, step for step, through the deep snow. English hymn writer John Mason Neale wrote the "Wenceslaus" lyrics, in collaboration with his music editor Thomas Helmore, and the carol first appeared in Carols for Christmas-Tide, 1853.
​
---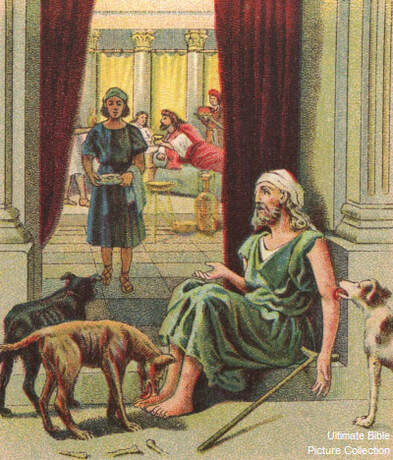 TWENTY-SIXTH SUNDAY IN ORDINARY TIME
SUNDAY, SEPTEMBER 29, LUKE 16:19-31
(Amos 6:1a, 4-7; Psalm 146; 1 Timothy 6:11-16)
KEY VERSE: "If they do not listen to Moses and the prophets, neither will they be persuaded if someone should rise from the dead" (v. 31).
TO KNOW: Jesus addressed a parable to those who were rich in material goods yet ignored the needs of the poor. In the story, a wealthy man feasted in luxury while Lazarus, a poor man, was outside his house, lying in agony, suffering from disease and starvation. When the two men died, their fortunes were reversed. Lazarus was taken to the "bosom of Abraham" (Lk 16:22) where the just awaited resurrection, while the rich man ended up in torment in the netherworld (Hebrew, She'ol; Hades in Greek, not synonymous with "Hell"). It is a place hopelessly separated from eternal happiness. The rich man still thinks of Lazarus as his errand boy, asking that he bring a drop of water to cool his tongue, then telling him to go and warn his brothers lest they ended up sharing a similar fate. But it is too late. Jesus said, if they did not listen to "Moses and the prophets" (the scriptures) they would not believe anyone else, even if that person should rise from the dead (an image of Jesus' own resurrection).
TO LOVE: Do I ignore the suffering people who are right at my doorstep?
TO SERVE: Lord Jesus, open my eyes to the "Lazarus" in my life.
​
---