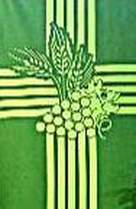 ​ORDINARY TIME
Ordinary Time is called "ordinary" because the weeks are numbered. The Latin word ordinalis, which refers to numbers in a series, stems from the Latin word ordo, from which we get the English word order. Thus, Ordinary Time is in fact the ordered life of the Church—the period in which we live our lives neither in feasting (as in the Christmas and Easter seasons) or in more severe penance (as in Advent and Lent), but in watchfulness and expectation of the Second Coming of Christ. There are two times we are in Ordinary Time. There are 28 weeks of Ordinary Time after Easter and 5 weeks of Ordinary Time after Christmas. However, this varies depending upon when Easter falls in a particular year. The actual number of weeks of Ordinary Time in any given year can total 33 or 34. ​
---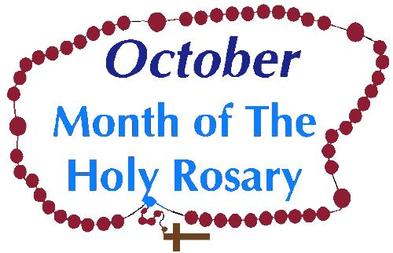 October has been traditionally known as the month of the Rosary. The feast of "Our Lady of the Rosary" is attributed to a vision of the Blessed Mother to Saint Dominic. The Rosary ("rose garden") is called the "Psalter of Mary" because its 150 "Aves" (all 15 decades) correspond to the number of psalms. The Rosary has been called the "Jesus Prayer" of Western Catholicism. While saying the prayers of each decade, the person meditates on the mysteries of our Lord and Lady's life. In addition to the Joyful, Sorrowful, and Glorious mysteries, Pope John Paul II recommended that the Luminous Mysteries be recited on Thursdays. These "Mysteries of Light" are drawn from the life of Christ, and the public revelation of his divine nature and mission.
---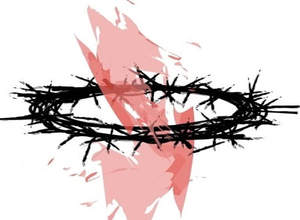 TWENTY-NINTH SUNDAY IN ORDINARY TIME
SUNDAY, OCTOBER 21, MARK 10:35-45 or 10:42-45
(Isaiah 53:10-11; Psalm 33; Hebrews 4:14-16)
KEY VERSE: "For the Son of Man did not come to be served but to give his life as a ransom for many" (v 45).
TO KNOW: On three occasions, Jesus taught his disciples about his impending death, yet they were blind to the reality of what he was saying. Two disciples, James and John, approached Jesus to ask him if he would guarantee them a place of honor in his kingdom. Were they thinking of the popular notion of the Messiah as one who would overcome Roman oppression and reclaim the throne of Jerusalem for his earthly kingdom? Jesus' concept of the Messiah was not one of power and greatness, but that of the "Suffering Servant" who suffered chastisement for the salvation of his people (Is 53: 5). Jesus told his disciples that they did not understand what they were asking. Were they willing to share in his suffering as well as his glory? His disciples were not to imitate earthly rulers. They must become servants who, like Jesus, would give themselves for others.
TO LOVE: Do I serve with prestige and power or meekness and humility?
TO SERVE: Lord Jesus, help me to grow in your lowly likeness. ​
---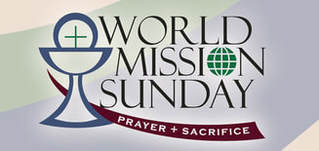 Pope Pius XI instituted World Mission Sunday in 1926 at the request of the Society for the Propagation of the Faith. It calls us to a renewed commitment to our responsibility to spread the Gospel message. Since the Church is by her very nature missionary, evangelization constitutes a duty and a right for every one of her members (cf. Vatican II Documents: Lumen gentium, n. 17; Ad gentes, nn. 28, 35-38). The Lord calls us to go beyond ourselves and to share with others the blessings we have received, beginning with the gift of faith, which cannot be considered as a private privilege but must be seen as a gift to be shared with those who have not yet received it. Such activity will benefit faith itself since faith is strengthened when it is shared. (Pope John Paul II, 1992).​
---
MONDAY, OCTOBER 22, LUKE 12:13-21
Weekday
Romans 4:20-25; Psalm: Luke 1)
KEY VERSE: "You fool, this night your life will be demanded of you; and the things you have prepared, to whom will they belong?" (v. 20).
TO KNOW: When an argument arose between brothers regarding their family inheritance, Jesus refused to intervene. Instead, he told a parable about the foolishness of focusing on material wealth. In the story, a rich man's barns were full, so he made plans to build even larger ones to store his harvest. The man presumed that he would have many years to enjoy his prosperity, but he gave no thought to God's plans. (Count the number of times the man says "I" and "my"). When death came unexpectedly, the man's earthly riches counted for nothing. He was a "fool" because he was so absorbed in his worldly goods that he lost sight of God's treasures, which have eternal value (Mt 6:20).
TO LOVE: What are the "barns" I am building to hold my earthly treasures?
TO SERVE: Lord Jesus, you are more precious than any wealth I might possess.
​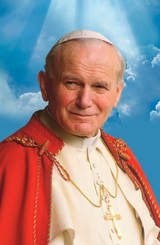 Optional Memorial of Saint John Paul II, pope
John Paul II, born Karol Józef Wojtyła in Poland, was pope of the Catholic Church from 16 October 1978 until his death on 2 April 2005. He was the second longest-serving pope in modern history after Pope Pius IX who served for nearly 32 years. In light of countless requests from every part of the world, Pope Francis I approved the placing of Saints John Paul II and John XXIII on the church's universal calendar. Pope John Paul II's feast day is observed on Oct. 22, the day of his Inaugural Mass as Bishop of Rome. During his 27 year papacy, the popular pope became remembered for his charismatic nature, zeal for families, young people and the sick, and his role in the fall of communism in Europe. He is also noted for his promotion of the Catechism of the Catholic Church and the new Code of Canon Law. In his homily at his inauguration as pope, he stressed "Do not be afraid, Open, I say open wide the doors for Christ." The message became one of the signature statements of his papacy. "Totus Tuus" (Latin meaning "totally yours") was Pope John Paul II's apostolic motto. It expressed his personal Consecration to Mary based on the spiritual approach of Saint Louis de Montfort.​​
---
TUESDAY, OCTOBER 23, LUKE 12:35-38
​Weekday
(Ephesians 2:12-22; Psalm 85)
KEY VERSE: "Blessed are those servants whom the master finds vigilant on his arrival" (v. 37).
TO KNOW: The early Church expected the imminent return of Jesus Christ. In speaking of his second coming (parousia), Jesus emphasized that the time of his return would be a surprise. He made the comparison to the return of a master coming home from a wedding, expecting to find his servants vigilant on his arrival, and to the coming of a thief, when his return would be uncertain (1Thes 5:2). He pointed to the uncertain hour of his arrival by telling his disciples to be prepared whenever he might come. The faithful servants who watched over the household (the Church) would be rewarded for their fidelity when the master returned. Unfaithful servants would be punished for their shameful behavior. Jesus warned these future leaders of the Church that they would be held more accountable than those who acted out of ignorance. Christian leaders today must continue to exercise care for the Church, which has been entrusted to them. They should never leave a task undone that ought to be finished before Christ's return.
TO LOVE: Do I use the time, treasure and talents the Lord has given me?
TO SERVE: Lord Jesus, help me to be your faithful and trustworthy servant. ​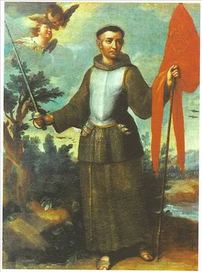 Optional Memorial of Saint John of Capistrano, priest
John was born at Capistrano, Italy in 1385, the son of a former German knight. He studied law and practiced as a lawyer in the courts of Naples. King Ladislas of Naples appointed him governor of Perugia. During a war with a neighboring town, John was betrayed and jailed. During his imprisonment he came to the decision to change vocations. He became a Franciscan on 4 October 1416. John was a noted preacher while still a deacon. Ordained a priest, he preached to tens of thousands throughout Italy, Germany, Bohemia, Austria, Hungary, Poland, and Russia. It was reported that he healed the sick by making the Sign of the Cross over them. John wrote extensively, mainly against the heresies of the day. After the fall of Constantinople to the Muslim Turks, John was commissioned by Pope Callistus II at age 70 to lead a Crusade against them. At the head of 70,000 Christian soldiers, he won the great battle of Belgrade in the summer of 1456, but he died in the field a few months later.

---
WEDNESDAY, OCTOBER 24, LUKE 12:39-48
​Weekday
(Ephesians 3:2-12; Psalm:Isaiah 12:2-3, 4, 5-6)
KEY VERSE: "Much will be required of the person entrusted with much" (v. 48).
TO KNOW: Jesus told his disciples a parable about being prepared for his coming, which would occur when they least expected. In his story, a master's servants were waiting for his return from a wedding banquet. Though he was delayed, the prudent servant did not neglect his tasks. In contrast, the wicked servants took advantage of their master's absence by indulging in scandalous behavior, mistreating their fellow "menservants and maidservants" (v. 45). Jesus warned that such misconduct would be severely punished. He reminded his disciples, the future leaders of the Church, who had been entrusted with a great responsibility to hand on his authentic teachings. Therefore, they would be held more accountable than those who acted out of ignorance of their "master's will" (v. 47).
TO LOVE: Pray for the leaders of the Church to be faithful and responsible stewards?
TO SERVE: Lord Jesus, help me to be diligent in my tasks while awaiting your coming glory. ​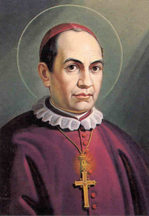 Optional Memorial of Saint Anthony Mary Claret, bishop
Anthony Mary Claret was ordained to the priesthood in 1835, and assigned as pastor in Catalonia, Spain. His apostolate consisted of rural preaching, conferences for the clergy and publications (he wrote more than 150 books). In 1849 Anthony gathered together five priests who formed the basis of the Missionary Sons of the Immaculate Heart of Mary (popularly known as the Claretians). At the suggestion of the Queen of Spain, Isabella II, Anthony was named archbishop of Santiago, Cuba (1850). For the next seven years he made pastoral visitations, preached against the slavery of the Africans, and regularized numerous marriages. As a result of his activity he was frequently threatened with death and on one occasion an attempt was actually made on his life. In 1857 he was recalled to Spain as confessor to the queen. He followed Isabella II into exile and was placed under house arrest in the Cistercian monastery at Fontfroide, France, where he died at the age of 63. His remains were ultimately returned to Spain. He was canonized in 1950 by Pope Pius XII.​
---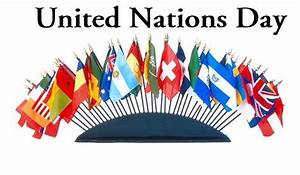 UNITED NATIONS DAY
United Nations Day was established by Presidential Proclamation to commemorate the founding of the United Nations in 1945. It is generally recognized by all states and American possessions, and by countries that are members of the United Nations. United Nations Day is celebrated for the purpose of informing all people of the world as to the aims, purposes, and achievements of the UN, such as UNICEF (International Children's Emergency Fund), UNESCO (U.N. Educational, Scientific and Cultural Organization) and WHO (World Health Organization).​
---
THURSDAY, OCTOBER 25, LUKE 12:49-53
Weekday
(Ephesians 3:14-21; Psalm 33)
KEY VERSE: "There is a baptism with which I must be baptized, and how great is my anguish until it is accomplished!" (v. 49).
TO KNOW: John the Baptist told his followers that the Messiah would baptize with the purifying fire of the Holy Spirit (Lk 3:16). The fire that consumed Jesus was a passion to redeem humanity from their sins ̶ a fire that would be ignited on the cross on Calvary. St. Paul knew that baptism was not just a symbolic ritual. In baptism, the Christian died to the old life and was raised to a new life in Christ (Ro 6:4). The rite of the early Church demonstrated this truth. Proselytes entered the baptismal pool stripped of their old clothing and then were totally immersed in water. When the new Christian came out of the water, he or she was clothed in a white garment, a symbol of having risen with Christ (Rev. 19:8). Jesus demanded radical conversion and total commitment from his disciples. Their attachment to him might even require a separation from family members who did not share their Christian faith. This dissension was described by the prophet Micah who said that a person's enemies might be of one's own household (Micah 7:6). Jesus wants to burn away everything that is opposed to God's reign.
TO LOVE: Do I share my faith with my family even though I might face rejection?
TO SERVE: Lord Jesus, help me to live my baptismal call in everything I do.


FRIDAY, OCTOBER 26, LUKE 12:54-59
Weekday
(Ephesians 4:1-6; Psalm 24)
KEY VERSE: "Why do you not judge for yourselves what is right?" (v. 57).
TO KNOW: Jesus warned the people that they were facing God's coming judgment, yet they refused to make a decision for or against him. He chastised them for being able to observe the weather signs that predicted rain or shine, yet they ignored the signs of the coming of God's reign. Jesus told his followers that God's judgment was already taking place. There might be little time left to be reconciled to God and to put one's affairs in order. He said that it would be much easier to settle "out of court" than to face the ominous judgment of Almighty God. At such time they would be required to pay the full price for their misdeeds. Then they would regret that they did not heed Jesus' words.
TO LOVE: What are the signs of the times that I must pay attention to today?
TO SERVE: Lord Jesus, help me to listen to your words while there is still time to act on them.


SATURDAY, OCTOBER 27, LUKE 13:1-9
Weekday
(Ephesians 4:7-16)
KEY VERSE: "But I tell you, if you do not repent, you will all perish as they did" (v. 3).
TO KNOW: Jesus cited two tragic events of his day in order to urge people to reform their lives while there was still time. The first case occurred when Pontius Pilate ordered the cold-blooded massacre of some Galileans who were offering sacrifice in the Temple at Passover. The other misfortune was the accidental death of several construction workers when a water tower fell on them. These victims were no more sinful than anyone else, yet they perished, perhaps before they had time to reconcile themselves with God. Jesus then told a parable of God's patience. God gives us every chance to bear good fruit in our lives. But time eventually runs out. Hopefully, we will repent before it is too late.
TO LOVE: Am I able to see the trials in my life as opportunities for growth?
TO SERVE: Lord Jesus, help me to heed your warning to repent of any sin in my life.



OPTIONAL MEMORIAL OF THE BLESSED VIRGIN MARY
Chapter V of the Directory on Popular Piety and the Liturgy, issued by the Holy See in December 2001, describes the Church's traditional dedication of Saturday to the Virgin Mary. "Saturdays stand out among those days dedicated to the Virgin Mary. These are designated as memorials of the Blessed Virgin Mary" (218). The chapter also describes the importance of Mary, the Mother of Jesus, in Catholic devotional life, in the Liturgy, and reflections on popular devotions to Mary, her feast days, and the Rosary. ​
---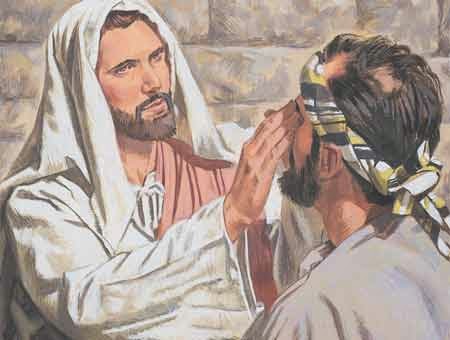 THIRTIETH SUNDAY IN ORDINARY TIME
SUNDAY, OCTOBER 28, MARK 10:46-52
(Jeremiah 31:7-9; Psalm 126; Hebrews 5:1-6)
KEY VERSE: "Master, I want to see" (v 51).
TO KNOW: As Jesus and his disciples journeyed to Jerusalem, they passed through Jericho, the city of Israel's triumphant victory over their enemies through God's intervention (Joshua 6:20). Jesus had been teaching his disciples about the necessity of renunciation and of his sacrificial death (Mk 9:43-10:45). But they still did not understand the meaning of Jesus' words and were blind to his message and mission. As they entered Jericho, a blind beggar cried out to Jesus for pity, according him the Messianic title "Son of David." Although some people ordered him to be quiet, Bartimaeus called out all the more. His faith was rewarded when Jesus beckoned him to come. Casting aside his cloak, his sole position, Bartimaeus rushed to Jesus for healing, and he was cured immediately. Indeed, the blind man had greater faith than Jesus' disciples, and he followed him on "the way" (v 52, an early name for the Christian faith).
TO LOVE: What prevents me from seeing Jesus today?
TO SERVE: Lord Jesus, open my eyes to your presence in my life.

---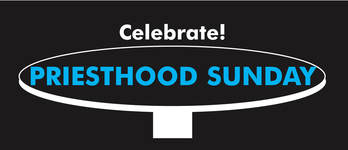 PRIESTHOOD SUNDAY
Priesthood Sunday, the last Sunday of October, is a special day set aside to honor the priesthood in the United States. It is a day to reflect upon and affirm the role of the priesthood in the life of the Church as a central one.
Priesthood Sunday sends a message to all that the sins of a few do not reflect the innocent majority, and that the parish priest, as the instrument of Christ's ministry on earth, is loved and respected by those in the parish community. This nationwide event is coordinated by the USA Council of Serra International. It is sponsored by the USA Council of Serra International and the Serra International Foundation.​
---
MONDAY, OCTOBER 29, LUKE 13:10-17
Weekday
(Ephesians 4:32--5:8; Psalm 1)
KEY VERSE: "Woman, you are set free of your infirmity" (v. 12).
TO KNOW: This is the last time in Luke's gospel where we hear of Jesus teaching in a synagogue on the Sabbath. Jesus' opponents were watching his every move to see if he was guilty of violating the Law of Moses, especially the Sabbath law. When Jesus noticed a crippled woman in the synagogue who was unable to stand upright, he healed her. This woman was a symbol of God's people who labored under the heavy burden of the law while the religious leaders did nothing to lighten their load (Lk 11:46). When Jesus cured the woman, setting her free from the bonds that constrained her, she stood erect and glorified God. But his opponents were outraged. Jesus had healed on the Sabbath, and healing was considered work. The indignant synagogue leader told Jesus that there were six other days on which "work should be done" (v. 14), and he ought to heal then. Jesus' answered that they were hypocrites since the law allowed them to care for their animals on the Sabbath. He asked them if they had as much concern for this "daughter of Abraham" (v. 16).
TO LOVE: Is there someone I can assist who is bowed low with infirmities?
TO SERVE: Lord Jesus, help me to use your Sabbath to lift the burdens that someone carries.​
​

TUESDAY, OCTOBER 30, LUKE 13:18-21
Weekday
(Ephesians 5:21-33 or 5:2a, 25-32; Psalm 128)
KEY VERSE: "What is the kingdom of God like? To what can I compare it?" (v. 18).
TO KNOW: In Jesus' time, Israel had neither king nor kingdom. Some people hoped for a leader with political power to rid them of Roman occupation and restore the rule to Israel. Others hoped for a priestly leader who would bring about spiritual transformation. Jesus announced that the kingdom of God had begun in him. He used images to show that God's reign would not be manifested in sudden or dramatic ways, but in hidden, mysterious ways. When a tiny mustard seed was planted in a garden, it grew to be nine to twelve feet high. A few grains of yeast could alter the whole mass of dough. Although God's reign had insignificant beginnings, it had the capability to become great and powerful, and be the means whereby the whole world would be renewed.
TO LOVE: What are the seemingly unimportant things in my life that have potential for growth?
TO SERVE: Lord Jesus, help me to trust that all things will be brought to fulfillment in your time.
​​

WEDNESDAY, OCTOBER 31, LUKE 13:22-30
Weekday
(Ephesians 6:1-9; Psalm 145)
KEY VERSE: "Strive to enter through the narrow door; for many, I tell you, will try to enter and will not be able" (v. 24).
TO KNOW: As Jesus traveled on his journey toward his passion in Jerusalem, someone asked him, "Lord, are those who are to be saved few in number?" (Lk 13:23). The assumption was that the kingdom of God was for the Jews and that the Gentiles would be shut out. Jesus shocked his questioner by saying that the door to the kingdom was narrow and would not remain open indefinitely. He stressed the urgency of God's call. He said that many would put off their conversion until it was too late. After the master had locked the door, they would beg to enter, but they would hear the Lord pronounce the dreadful words: "I do not know you!" Those faithless ones would be cast out, while the faithful would be welcomed from the four corners of the earth to share fellowship with the saints of old. Although the Gentiles were called last, they would take precedence over the ones who were called first, but had rejected the invitation.
TO LOVE: Am I over-confident that Jesus will welcome me into his reign?
TO SERVE: Lord Jesus, help me to be converted to your will each day.​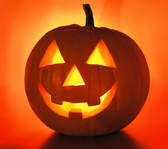 HALLOWEEN -- "All Hallows"
The word "Halloween" comes from the words "All Hallow's Eve," literally, the evening before the "Feast of All Saints." According to many scholars, All Hallows' Eve is a Christianized feast initially influenced by Celtic harvest festivals, with possible pagan roots. Typical festive Halloween activities include trick-or-treating, attending costume parties, decorating, carving pumpkins into jack-o'-lanterns, lighting bonfires, apple bobbing, and visiting haunted attractions.
A woman was asked, "What is it like to be a Christian?" She replied, "It is like being a pumpkin. God picks you from the patch, brings you in and washes all of the dirt off of you. Then God cuts off the top and scoops out all the seeds of doubt, hate and greed, and replaces them with seeds of faith, hope and love. Then God carves a smiling face and His light shines inside of you for all of the world to see.

---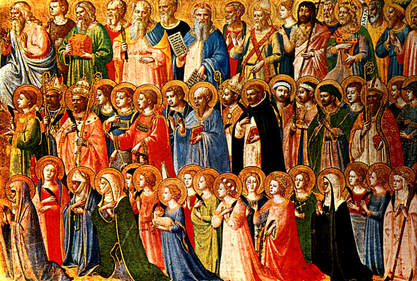 SOLEMNITY OF ALL SAINTS
Holy Day of Obligation
THURSDAY, NOVEMBER 1, MATTHEW 5:1-12a
(Revelation 7:2-4, 9-14; Psalm 24; 1 John 3:1-3)
KEY VERSE: "Rejoice and be glad, for your reward will be great in heaven" (v. 12).
TO KNOW: In his Sermon on the Mount, Jesus revealed the character that he expected from his followers. The "Beatitudes," which Jesus exalted, was the attitude of trust and humility represented by the poor, the suffering and persecuted. At the time of Jesus, affliction was thought to be punishment for one's sins, and good health and material prosperity were seen as rewards for one's righteousness. Jesus reversed human expectations of those who were thought to be fortunate. He announced that true happiness (Greek: makarios – blessed) was not found in wealth and power. Jesus promised eternal reward for all who humbly sought God's will despite hardships. But the "blessedness" that the disciples received is not some future glory; it is the blessedness that exists in the here and now. Jesus exemplified every Beatitude. He was poor (Mt 8:20) and gentle and meek (11:29). He grieved over sin and hungered and thirsted for God's justice (12:18). He was merciful (12:16-21) and single-hearted in his desire to do God's will (26:39). Jesus suffered persecution and died to bring about God's kingdom (27:50). He gave us the ideal that every Christian should constantly pursue in order to be holy people, worthy of God's reign. Pope Francis said, "There is no Saint without a past, and there is no sinner without a future."
TO LOVE: Which of the Beatitudes do I most need to put into practice today?
TO SERVE: Saints of God, help me to imitate your righteous and holy lives.


---
SOLEMNITY OF ALL SAINTS
In the New Testament, all baptized Christians are called "saints" (Greek, hagiois, 2 Cor 1:2). Saints are made holy by the sanctifying power of the Holy Spirit. After their death, some Christians are officially recognized by the Church as "Saints" for their exemplary sanctity. These individuals are models of a virtuous life. They give us hope for the blessed state that we all strive to attain. The spiritual union between all the faithful, living and dead, is called the "Communion of Saints." About the year 1000, people started seeking the Pope's authority in the matter of canonization of individuals that they deemed worthy of being named Saints. Over the years, procedures for canonization have become more complex. The first step towards Sainthood is when a person is declared "venerable," a Servant of God. This stage requires that a candidate has lived a life of faith and high morals. The second stage, with the title of "Blessed," is beatification. For this stage, the candidate must have influenced an extraordinary event, which the Church recognizes as "miraculous," meaning it cannot be explained by laws of human science. Advocates for the nominee collect the evidence, a biography, while a "devil's advocate" researches evidence that the nominee may not deserve the title Saint. The third stage, carrying the title "Saint," requires evidence of a second miracle. The person is then officially recommended to the entire church for veneration (deep respect). The Saint is assigned a feast day and churches can be named after them.​
---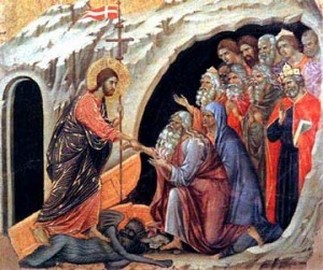 THE COMMEMORATION OF ALL THE FAITHFUL DEPARTED (ALL SOULS)
​FRIDAY, NOVEMBER 2, JOHN 6:37-40
(Wisdom 3:1-9; Psalm 25; Romans 5:5-11 or Romans 6:3-9; or any readings taken from the Masses for the Dead)
KEY VERSE: "Everything that the Father gives me will come to me, and I will not reject anyone who comes to me" (v.37).
TO KNOW: Jesus came into the world to reveal God's reign, yet some refused to believe in him. They did not understand that he was the fullness of God's revelation and the source of eternal salvation. They failed to comprehend the meaning of the miraculous sign of the bread that Jesus gave the people in the wilderness (v.30-31). He was the life-giving "bread" sent by God who would satisfy the people's hunger and thirst forever. Jesus did not reject anyone who came to him in faith. Just as he was careful not to lose a single fragment of the miraculous loaves, none of the souls God entrusted to him would perish; they would share in his resurrection. For believers, life was changed at death, not ended. The souls of the just who lived the Paschal mystery of Christ's dying and rising share in his eternal life. All the faithful live in hope of enjoying the fullness of life with Jesus. Today, we join with our departed loved ones in their celebration of victory over death.
TO LOVE: Do I pray for the souls of my deceased loved ones?
TO SERVE: Lord Jesus, reveal your glory to all who are alive in you.
NOTE: Historically, the custom of praying for the dead dates as far back as 2 Maccabees 12:42-46. The custom of setting apart a special day of intercession for the faithful departed was first established in 998, and soon spread. While November 2 remains the liturgical celebration, the entire month of November is associated in the Western Catholic tradition with prayer for the departed. Lists of names of those to be remembered are often placed near the altar on which the sacrifice of the mass is offered.
---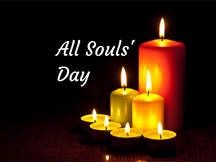 THE COMMEMORATION OF All THE FAITHFUL DEPARTED (ALL SOULS)
​All Souls' Day is a Roman Catholic commemoration of the faithful departed or those baptized Christians believed to be in purgatory. It is celebrated on November 2 unless this date falls on a Sunday. When this happens, All Souls' Day is celebrated on November 3. Odilo, abbot of Cluny, established All Souls' Day in the eleventh century. The day purposely follows All Saints' Day in order to shift the focus from those in heaven to those in purgatory. On this day, three requiem masses are celebrated: one for the celebrant, one for the departed, and one for the pope.
---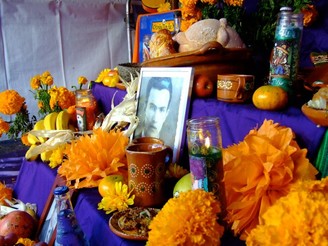 DIA DE LOS MUERTOS, or Day of the Dead
More than 500 years ago, when the Spanish Conquistadors landed in what is now Mexico, they encountered natives practicing a ritual that seemed to mock death. Unlike the Spaniards, who viewed death as the end of life, the natives viewed it as the continuation of life. Instead of fearing death, they embraced it. However, the Spaniards considered the ritual to be sacrilegious, barbaric and pagan. To make the ritual more Christian, the Spaniards moved it so it coincided with All Saints' Day and All Souls' Day (Nov. 1 and 2), which is when it is celebrated today. The ritual is known as Día de los Muertos, or Day of the Dead, celebrated in Mexico and certain parts of the United States. People don skull masks and dance in honor of their deceased relatives. People visit the cemetery where their loved ones are buried. They decorate gravesites with marigold flowers and candles. In the United States and in Mexico's larger cities, families build altars in their homes, dedicating them to the dead. They surround these altars with candles, flowers, food and pictures of the deceased.
---
SATURDAY, NOVEMBER 3, LUKE 14:1, 7-11
Weekday
(Philippians 1:18b-26; Psalm 42)
KEY VERSE: "For everyone who exalts himself will be humbled, but the one who humbles himself will be exalted" (v. 11).
TO KNOW: Jesus shared a Sabbath meal at the home of a leading Pharisee, and he used the opportunity to teach a lesson on humility to both host and guests. Noticing the competition for the seat of honor at table, he suggested that the guests take the lowest place. Should the host move them to a higher position they would be honored, and they would not be embarrassed by being asked to take a lower place. Jesus reminded his host not to invite only the wealthy and important people to his home; he should also open his doors to the weak and powerless. Although these poor were in no position to repay their host for his generosity, he would be richly rewarded at the "resurrection of the just" (v. 14).
TO LOVE: What is my attitude toward the underprivileged?
TO SERVE: Lord Jesus, teach me to imitate your charity toward all people.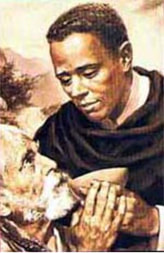 Optional Memorial of Saint Martin de Porres, religious
Martin de Porres is the first black American saint. He was the illegitimate son of a Spanish nobleman and a young freed black slave. He grew up in poverty, and spent part of his youth with a surgeon-barber from whom he learned some medicine and care of the sick. At age 11 he became a servant in the Dominican priory. He begged more than $2,000 a week from the rich to support the poor and sick of Lima, Peru. Placed in charge of the Dominican's infirmary, Martin was known for his tender care of the sick and for his spectacular cures. His superiors abandoned the stipulation that "no black person may be received to the holy habit or profession of our order" and Martin took vows as a Dominican brother. Martin established an orphanage and children's hospital for the poor children of the slums. He was venerated from the day of his death. Many miraculous cures, including raising the dead were attributed to Brother Martin. He was canonized in 1962 by Pope John XXIII.


---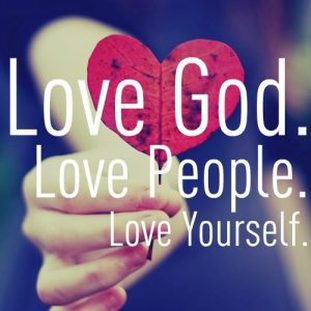 THIRTY-FIRST SUNDAY IN ORDINARY TIME
SUNDAY, NOVEMBER 4, MARK 12:28b-34
(Deuteronomy 6:2-6; Psalm 18; Hebrews 7:23-28)
KEY VERSE: "There is no other commandment greater than these" (v 31).
TO KNOW: The scribes were the learned interpreters of the Law of Moses. They expanded the Law into 613 greater and lesser rules and regulations. One scribe recognized Jesus' skill as a teacher, and asked him which one of the Mosaic Laws was the greatest. Jesus recognized the scribe's sincere search for truth. He summed up the entire Law with two basic decrees that he saw as inseparable. They were the Laws upon which all the other commandments were based: to love God with one's entire being (Deut 6:2), and to love one's neighbor as oneself (Lev 19:18). The scribe saw how Jesus has combined two commands given to Israel by Moses, and he declared that the love of God and love of neighbor was worth more than any religious acts that one could perform. Because the scribe understood this principle, he moved a step closer to God's reign.
TO LOVE: Is my love of God demonstrated by the way I love my neighbor? Do I have a healthy self-love?
TO SERVE: Lord God, help me to serve you with all my heart, soul, mind and strength.
---