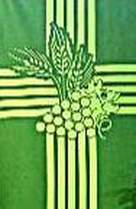 ​ORDINARY TIME
Ordinary Time is called "ordinary" because the weeks are numbered. The Latin word ordinalis, which refers to numbers in a series, stems from the Latin word ordo, from which we get the English word order. Thus, Ordinary Time is in fact the ordered life of the Church—the period in which we live our lives neither in feasting (as in the Christmas and Easter seasons) or in more severe penance (as in Advent and Lent), but in watchfulness and expectation of the Second Coming of Christ. There are two times we are in Ordinary Time. There are 28 weeks of Ordinary Time after Easter and 5 weeks of Ordinary Time after Christmas. However, this varies depending upon when Easter falls in a particular year. The actual number of weeks of Ordinary Time in any given year can total 33 or 34. ​
---
SATURDAY, AUGUST 11, MATTHEW 17:14-20
(Hebrews 1:12 -- 2:4; Psalm 9)
KEY VERSE: "Nothing will be impossible for you" (v. 20).
TO KNOW: No sooner had Jesus come down from the heavenly glory on the mountain of the Transfiguration (Mt 17:1-13), than he was confronted with an earthly problem. He encountered a lack of faith, even among his own disciples. They were unable to heal a young man suffering from epilepsy, and his father begged Jesus to cure him. Jesus reproached the unbelievers in the same way that Moses rebuked the people when he returned from the mountain of Sinai and saw the people's lack of faith (Ex 32:19). Jesus healed the boy with a simple command, and then told his disciples that with enough faith, they could move mountains, a well-known metaphor for removing difficulties in one's life. Jesus meant that with faith in God, even the hardest tasks could be accomplished. He told his humbled disciples that they only needed the smallest amount of faith, the size of a tiny mustard seed, to remove immense obstacles that blocked their path to God.
TO LOVE: What obstacles stand in the way of my serving the Lord?
TO SERVE: Lord Jesus, increase my faith when I face overwhelming problems.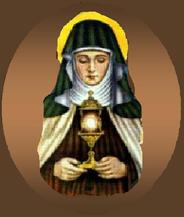 Memorial of Saint Clare, virgin
Clare was the eldest daughter of Favorino Scifi, a wealthy member of an ancient Roman family. From her earliest years Clare was devoted to prayer and to practices of mortification. As she grew older, her yearning for a more spiritual life increased. She was eighteen years of age when Saint Francis came to preach in the church of San Giorgio at Assisi. Francis kindled a flame in the heart of Clare, and she begged him to help her live "after the manner of the holy Gospel". By Francis's advice, Clare secretly left her father's house, and, accompanied by her aunt Bianca and another companion, proceeded to the chapel of the Porziuncula, where Francis and his disciples met her. Clare then laid aside her rich dress, and Francis cut off her hair and clothed her in a rough tunic and a thick veil, and she vowed herself to the service of Jesus Christ. Eventually, Clare founded the Order of Poor Ladies (Poor Clares) at San Damiano, and led it for 40 years. Clare's mother and sisters later joined the order, and today there are thousands of members living lives of prayer in silence.​
---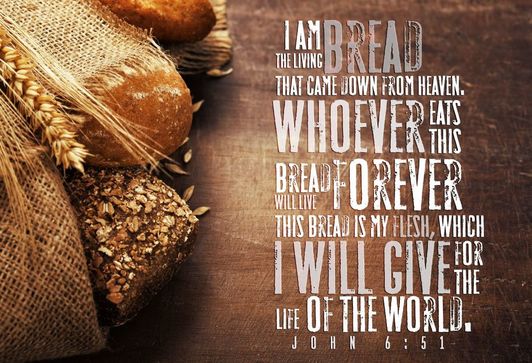 NINETEENTH SUNDAY IN ORDINARY TIME
SUNDAY, AUGUST 12, JOHN 6:41-51
(1 Kings 19:4-8; Psalm 34; Ephesians 4:30 ̶ 5:2)
KEY VERSE: "The bread that I will give is my flesh for the life of the world" (v.51).
TO KNOW: The people claimed to know Jesus' human origin, but they did not understand his divine origin. When Jesus declared: "I am the bread that came down from heaven" (John 6:41), they murmured against him. In a similar way, their ancestors grumbled against Moses when they were hungry on their exodus journey, and he fed them with "bread from heaven" (Ex 16:2-8). The bread in the wilderness was only a foretaste of the true bread, Jesus, who came from God, his Heavenly Father. The Israelites had eaten the manna in the desert, but they all died. Jesus is the life-giving bread who eternally sustains those who believe in him. All who respond to God's grace and believe in Jesus have the fullness of divine revelation. By partaking of this "living bread" (v.51), God's people are nourished by Jesus who eternally feeds them on life's journey.
TO LOVE: When have I experienced the life-giving power of the Sacrament of the Eucharist?
TO SERVE: Lord Jesus, your body and blood gives me strength on my journey through life.​
---
MONDAY, AUGUST 13, MATTHEW 17:22-27
Weekday
(Ezekiel 1:2-5, 24-28c; Psalm 148)
KEY VERSE: "The Son of Man is to be handed over to men" (v. 22).
TO KNOW: Following Jesus' glorious manifestation on the Mountain of the Transfiguration, he and his disciples arrived in Capernaum where they were met with opposition. The tax collectors came to Peter and asked Jesus why he had not paid the annual tax for the upkeep of the Temple (Ex 30:11-16). Jesus used this incident as an analogy of the spiritual realm. If the kings of the earth demanded tolls from foreigners, then the "sons" of the kingdom should be exempt. Yet to avoid scandal, Jesus told Peter that he would find a coin worth twice the tax in the mouth of the first fish he caught. The Musht fish, popularly known as "St. Peter's fish," keeps the eggs of their young in their mouths until they are hatched. Then it takes in pebbles and possibly a coin to prevent their offspring from entering the mouth again. This may have happened when Peter found a coin in the fish's mouth to pay the tax. A fish is the oldest Christian symbol. The Greek word for fish, Ichthus, is used as an acrostic for the words that translate "Jesus Christ Son of God Savior" [Iesous (Jesus) Christos (Christ) Theou (God) Uiou (Son) Soter (Savior)].
TO LOVE: Do I protest when tax dollars are used for things that conflict with our Christian values?
TO SERVE: Lord Jesus, thank you for making us sons and daughters of your kingdom.
​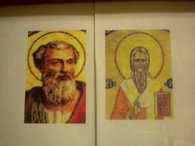 Optional of Saints Pontian, pope and martyr, and Hippolytus, priest and martyr
Pontian was ordained bishop of Rome in 231 but was banished from his diocese to the island of Sardinia four years later by Emperor Maximinus. While exiled on Sardinia, he resigned his office so a new pope could be elected. In the year 235, Hippolytus was banished to Sardinia with Pontian. On the island, they were treated harshly working in the mines and died later that year. During his lifetime, Hippolytus was an adamant advocate for orthodoxy. He had vocal disagreements with several popes. The writings of Hippolytus are one of the most important sources for information on liturgy and the structure of the Church in the second and third centuries. After their deaths, the bodies of Pontian and Hippolytus were taken back to Rome and buried along the Via Tiburtina. ​
---
TUESDAY, AUGUST 14, MATTHEW 18:1-5, 10, 12-14
​(Ezekiel 2:8--3:4; Psalm 119)
KEY VERSE: "Whoever humbles himself like this child is the greatest in the kingdom of heaven" (v. 4).
TO KNOW: When one of Jesus' disciples asked him who was the greatest in God's reign, he answered with a living parable. He placed a small child in their midst to demonstrate that membership in God's kingdom was not measured by social status or power. The child represented those who trusted God for their needs in the way children depended upon their parents. Jesus' admonished his followers not to despise the insignificant members of the community as being unimportant. The angels in heaven interceded on behalf of God's little ones who were like lost sheep with no means to protect themselves. Jesus cautioned his disciples to be good shepherds who would watch over their flocks and guard them from every evil.
TO LOVE: Do I stand up for the rights of helpless children?
TO SERVE: Lord Jesus, help me to come to you with childlike confidence.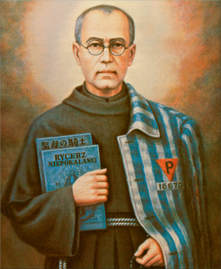 MEMORIAL OF SAINT MAXIMILIAN KOLBE, PRIEST AND MARTYR
Maximilian Kolbe was ordained in 1918 in Rome, and returned to Poland to teach history in the Crakow seminary. He founded a new monastery of Niepokalanow. By 1939 the monastery housed a religious community of nearly 800 men, the largest in the world in its day, and was completely self-sufficient including medical facilities. During World War II, Maximilian Kolbe and his brothers housed 3,000 Polish refugees, two-thirds Jewish. Their publications included materials considered anti-Nazi, and the congregation was suppressed, and the brothers dispersed. Maximilian was imprisoned in Warsaw, Poland. On 28 May 1941 he was transferred to Auschwitz and branded as prisoner 16670. He was assigned to a group staffed by priests and supervised by abusive guards. His calm dedication to the faith brought him the worst jobs available, and more beatings than anyone else. In July 1941 there was an escape from the camp, and ten men were to be slaughtered in retribution for each escaped prisoner. Francis Gajowniczek, a married man with young children was one of the ten chosen to die. Maximilian volunteered to take his place, and died as he had always wished - in service of Jesus Christ. Maximilian Kolbe was canonized by Pope John Paul II on October 10, 1982. "Greater love has no man that this, that a man lay down his life for his friends." (John 15:13)​
---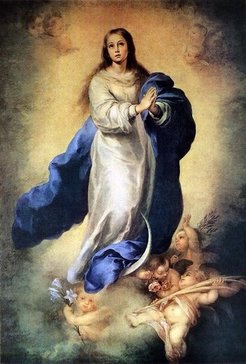 SOLEMNITY OF THE ASSUMPTION OF THE BLESSED VIRGIN MARY
WEDNESDAY, AUGUST 15, LUKE 1:39-56, HOLY DAY OF OBLIGATION
(Revelation 11:19a, 12:1-6a, 10ab; Psalm 45; 1 Corinthians 15:20-27)
KEY VERSE: "He has thrown down the rulers from their thrones but lifted up the lowly" (v. 52).
TO KNOW: When Mary visited her kinswoman Elizabeth, the infant John leaped for joy in his mother's womb before the divine presence within Mary's womb. Similarly, King David danced in jubilation before the presence of God when he brought the Ark of the Covenant to Jerusalem (2 Sm 6:14). Elizabeth was overwhelmed that Mary, the mother of her Lord, should come to her. She proclaimed that Mary was "blessed among women" for trusting that the Lord's promises to her would be fulfilled (Luke 1:42, 45). In an exultant hymn of praise, Mary rejoiced in the saving promises of her Mighty God. Through Mary's son, the meek and poor would be exalted, and the proud and powerful would be cast down. Mary recognized her own lowliness before God. She was God's humble handmaid, "servant Israel" (v. 54), obedient to the Lord's command. It is our hope as Christians that one day we will be raised by God to join Mary and her son in heaven.
TO LOVE: Does Mary's assumption offer me hope in my own union with God?
TO SERVE: Mary my mother, pray for me now and at the hour of my death.
​
NOTE: The Feast of the Assumption of Mary is a centuries-old tradition in the Church. The Dogma of the Assumption was officially defined by Pope Pius XII in 1950 who declared that Mary was "full of grace" (Lk1:28) from the time of her conception, and was thus preserved from the consequences of sin and corruption after death (Munificentissimus Deus). As an infallible pronouncement, the Dogma of the Assumption is thus a mandatory belief for Roman Catholics. The Catechism of the Catholic Church states that "The Assumption of the Blessed Virgin is a singular participation in her Son's Resurrection and an anticipation of the resurrection of other Christians" [# 966]. The Feast of the Assumption is commemorated on August 15 as a holy day of obligation.

---
THURSDAY, AUGUST 16, MATTHEW 18:21--19:1
Weekday
(Ezekiel 12:1-12; Psalm 78)
KEY VERSE: "Should you not have had pity on your fellow servant, as I had pity on you?" (v. 33).
TO KNOW: Jesus gave the Church the power to exercise divine authority in his name. But this authority had to be tempered by compassion. As a leader of the Christian community, Peter asked Jesus how often he must forgive a fellow disciple. In the Old Testament, Lamech, a descendant of Cain, exacted a "seventy-sevenfold" vengeance, or unlimited retaliation for injury (Gn 4:23-24). The rabbis of Jesus' time taught that forgiveness should be offered another person at least three times as it was better to err on the side of mercy than judgment. Peter increased the number to seven. However, Jesus told him that Christian forgiveness must be "seventy-seven times" (Matt 18:22). Jesus is not saying that we should forgive 490 times. In the Bible, the number "7" symbolizes completeness, while the number "70" signifies 'perfect.' Therefore, 70 x 7, signifies perfection and completeness. Jesus illustrated this with a parable in which a master forgave his servant a staggering debt. Yet the same servant refused to forgive a much smaller amount owed by a fellow servant. When the master heard this, he had his hardhearted servant punished until he agreed to pay the debt. At the final judgment, God's compassion will be withheld from those who have not forgiven the offenses of others.
TO LOVE: Who have I offended? Am I willing to ask their forgiveness?
TO SERVE: Lord Jesus, grant me the grace to forgive those who have offended me.​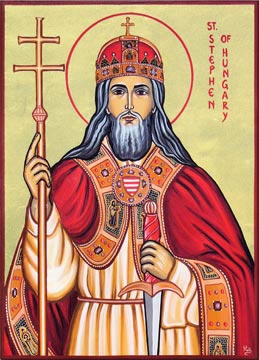 Optional Memorial of Saint Stephen of Hungary
Stephen, the first Christian King of Hungary, was born in 975 AD and died in 1038. He was a son of the Hungarian chief Géza and was baptized, together with his father, by Archbishop Saint Adalbert of Prague in 985. On this occasion, he changed his pagan name Vajk to Stephen. In 995, Stephen married Gisela, a sister of Duke Henry of Bavaria, the future Emperor Saint Henry II, and in 997 ascended to the throne of Hungary. In order to make Hungary a Christian nation and to establish himself more firmly as ruler, Stephen sent Abbot Astricus to Rome to petition Pope Sylvester II for the royal dignity and the power to establish episcopal sees. The pope acceded to his wishes and, in addition, crowned him as king on August 17, 1001. In 1031, his only son, Emeric, lost his life on a boar hunt. Thus, Stephen's cherished hope of transferring the reins of government into the hands of a pious Christian prince was shattered. At Stephen's death, he was buried beside his son and both were canonized together in 1083. The Holy Crown of Saint Stephen and other Coronation Jewels are considered national relics, currently on display in the Parliament of Hungary, in Budapest.​
---
FRIDAY, AUGUST 17, MATTHEW 19:13-15
Weekday
(Ezekiel 16:1-5, 60, 63 or 16:59-63; Psalm: Isaiah 12)
KEY VERSE: "So they are no longer two, but one flesh" (v. 6).
TO KNOW: The Pharisees deliberately tried to involve Jesus in controversy in order to entrap him. At one point they questioned him about his views on the grounds for divorce. In effect, the Pharisees asked Jesus whether he favored the strict view of the school of Shammai, which held that a man could divorce his wife if he found "some indecency in her" (Deut 24:1). Shammai made it clear that "indecency" meant fornication, and a wife could be put away for no other cause. Or did Jesus favor the laxer view of the school of Hillel that divorce could be obtained on the most trivial of grounds? Jesus said, although Moses permitted divorce in certain instances, this was not God's original purpose when man and woman were joined into "one body" (Gn 2:24). What God united, no one should divide. The disciples were astonished by Jesus' strict interpretation of the law, and they asked if it was better to remain celibate. Jesus replied that not everyone had been given this special "gift from God" (1 Cor 7:7). While some embraced celibacy "for the sake of the kingdom" (v. 12), each person should serve God by following his or her unique call.
TO LOVE: Do I live my vocation as a sign of Christ's commitment to his Church?
TO SERVE: Lord Jesus, help me to be faithful to my call.
​

SATURDAY, AUGUST 18, MATTHEW 19:13-15
Weekday
(Ezekiel 18:1-10, 13b, 30-32; Psalm 51)
KEY VERSE: "Let the children come to me, and do not prevent them" (v. 14).
TO KNOW: Jesus taught his disciples about the necessity of serving God "for the sake of the kingdom" (Mt 19:12). When some parents brought their children to be blessed by Jesus, his disciples scolded them. Jesus told them not to prevent these little ones from coming to him. Jesus was never too tired or too busy to give of himself to the humblest person or the smallest child. These little ones exemplified the attitude needed to enter God's reign. They were simple and trusting, and more open to God's revelation than those who were sophisticated and wise (Matt 11:25). This account of Jesus blessing the children is understood by the Church as justifying the practice of infant baptism. In the earliest baptismal liturgies, the people were warned not to "hinder" anyone from coming to the Lord (Acts 8:36).
TO LOVE: In what ways do I need to become more child-like?
TO SERVE: Lord Jesus, thank you for blessing my family in so many ways.
​

OPTIONAL MEMORIAL OF THE BLESSED VIRGIN MARY
Chapter V of the Directory on Popular Piety and the Liturgy, issued by the Holy See in December 2001, describes the Church's traditional dedication of Saturday to the Virgin Mary. "Saturdays stand out among those days dedicated to the Virgin Mary. These are designated as memorials of the Blessed Virgin Mary" (218). The chapter also describes the importance of Mary, the Mother of Jesus, in Catholic devotional life, in the Liturgy, and reflections on popular devotions to Mary, her feast days, and the Rosary.​
---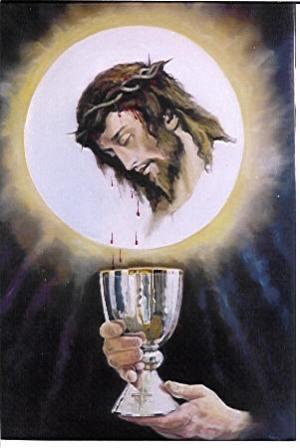 TWENTIETH SUNDAY IN ORDINARY TIME
SUNDAY, AUGUST 19. JOHN 6:51-58
(Proverbs 9:1-6; Psalm 34; Ephesians 5:15-20)
KEY VERSE: "Those who eat my flesh and drink my blood have eternal life, and I will raise them up on the last day" (v.54).
TO KNOW: Jesus is both word and sacrament. In the sixth chapter of John's Gospel, there are two important elements in Jesus' pronouncement that he was the "bread of life" (v.35). In John 6:35-50, the "bread of life" is a figure of God's revelation in Jesus ̶ the "word made flesh" (1:14). Beginning in verse 51, the sacramental theme comes to the fore. Just as God fed the Israelites with heavenly manna on their wilderness journey in the Exodus (Ex 16:4), Jesus nourished the faithful with his own body and blood on their spiritual journey. Jesus plainly said that his flesh was "true food" and his blood was "true drink" (v.55). The reality of these words was emphasized by the Greek word for eating (trogos) that meant to "gnaw" or to "munch." Ordinary bread sustained human life, but "heavenly bread" enabled those who ate it to receive divine life. In the Eucharist we are spiritually transformed by Christ's body and blood so that we can worthily enter God's eternal reign.
TO LOVE: In what ways am I Christ's presence to those I meet today?
TO SERVE: Lord Jesus, help me to appreciate your presence in the Eucharist.

---
MONDAY, AUGUST 20, MATTHEW 19:16-22
(Ezekiel 24:15-24; Psalm: Deuteronomy 32)
KEY VERSE: "Give to the poor, and you will have treasure in heaven" (v. 21).
TO KNOW: On his journey toward his destiny in Jerusalem, Jesus' left Galilee and went south to the region of Judea beyond the Jordan. Large crowds followed him, and he cured many. A young man approached him and asked what he might do to inherit eternal life. The man was thinking in terms of keeping rules and regulations. So Jesus tried to correct his view. He told him that righteousness flows from a personal relationship with God. It is lived out by obeying the commandments, which reflect divine goodness. The man remarked that he had observed the entire law, yet still felt there was something more that he could do. Jesus told him that if he wished to be 'perfect' (In Greek, teleios means 'reaching a goal'), he should share his wealth with the poor and commit himself totally to God's service. The young man went away sad because he was unable to relinquish his many possessions. Obeying God's commands is a step on the road to perfection, but following Jesus demands total commitment of one's life.
TO LOVE: Do I use my gifts for the sake of God's kingdom?
TO SERVE: Lord Jesus, help me to let go of anything that stands in the way of following you.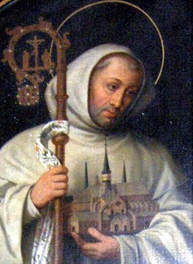 Memorial of Saint Bernard, abbot and doctor of the Church
In the year 1111, at the age of 20, Bernard left his home to join a monastic community. His five brothers, two uncles and some 30 young friends followed him into the monastery. A Benedictine, Bernard founded and led the monastery at Clairvaux, as abbot. His ability as arbitrator and counselor became widely known, and the valley was soon renamed Clairvaux, the valley of light. Bernard attended the Second Lateran Council, fought the heresy Albigensianism, and helped end the schism of the Anti-Pope Anacletus II. Rome prevailed on Bernard to preach the Second Crusade throughout Europe. His eloquence was so overwhelming that a great army was assembled and the success of the crusade seemed assured, but the project ended as a complete failure. Bernard felt responsible in some, which possibly hastened his death in 1153. He was the first Cistercian monk placed on the calendar of saints. He was proclaimed a Doctor of the Church by Pope Pius VIII.
NOTE: Albigensianism was a Christian heresy prevalent in Western Europe, particularly in southern France and northern Italy, during the 12th and 13th centuries. The Albigenses followed the Manichaean sect, which sought purification from bodily and material things in its attempt to solve the problem of evil. They asserted the co-existence of two ultimate principles, a good deity (the God of the New Testament) who created Spirit and Light, and a bad deity (the God of the Old Testament) who created Matter and Darkness. Accordingly, they condemned marriage and the procreation of children as demonic. Yet concubinage and desertion of husband or wife was tolerated.
---
TUESDAY, AUGUST 21, MATTHEW 19:23-30
(Ezekiel 28:1-10; Deuteronomy 32)
KEY VERSE: "Amen, I say to you, it will be hard for one who is rich to enter the kingdom of heaven" (v. 23).
TO KNOW: Jesus told a wealthy man that to follow the path to perfection, it was necessary to surrender his material possessions and give to the poor. When the young man was unable to do this, it provided Jesus with an opportunity to teach his disciples about wealth. He said that riches could be an obstacle to entering the reign of God. He used the humorous metaphor of a camel trying to pass through the narrow eye of a needle to illustrate the difficulty of this task. The disciples were overwhelmed by what seemed impossible and cried out, "Who then can be saved?" (v. 25b). Jesus answered that nothing was impossible with God. Peter boasted that he and the disciples had given up everything to follow Jesus, and asked how they would be rewarded. Jesus explained that the reign of God was freely given; it was a gift that could not be earned. But he promised them that in the age to come they would share his authority and sit with him in judgment of God's people.
TO LOVE: Is there anything I am unwilling to relinquish for the sake of God's reign?
TO SERVE: Lord Jesus, you are more precious than any earthly possession I have.​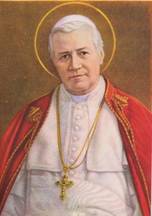 Memorial of Saint Pius X, pope
Giuseppe Melchore Sarto was born in 1835, in Riese near Venice. He entered the seminary in Padua, and was ordained at the age of 23. Due to his pastoral and administrative abilities, his bishop named him spiritual director of the diocesan major seminary and chancellor of the archdiocese. After nine years as bishop he was transferred to Venice as the city's patriarch and cardinal. After the death of Leo XIII the conclave of 1903 elected pope despite his hesitancy to accept the office. The new pope assumed the name Pius X taking as his motto the passage from Paul, "To restore all things in Christ, that Christ might be all and in all" (I Cor. 15:28), a goal which was particularly important during that period of the Church's emergence into the modern world. His profound devotion to the Blessed Sacrament prompted a universal appeal to all Catholics to a frequent reception of Holy Communion. He also exhorted catechists to prepare the young for an early reception of the Eucharist. It was his love for the liturgy which caused him to be remembered as the pope who began modern liturgical reform. Pius also founded the Pontifical Biblical Institute in Rome which, to this day, is an important source of scholarship. His sorrow over the international conflict that led to Word War I led to his death on August 20, 1914, at the age of 79. He was the first pope in modern times to be canonized. His will read: "I was born poor; I lived poor; I wish to die poor."​
---
WEDNESDAY, AUGUST 22, MATTHEW 20:1-16
Ezekiel 34:1-11; Psalm 23)
KEY VERSE: "Thus, the last will be first, and the first will be last" (v. 16).
TO KNOW: The grape harvest in Israel ripened toward the end of September, and was soon followed by the rains. If the harvest was not gathered before the rain came, it was ruined. Any worker was welcome, even if he could give only an hour. The men who stood in the market-place were waiting for work. These men were hired laborers and were at the mercy of chance employment. The pay was a denarius or a drachma, the normal day's wage for a working man. Jesus told his disciples a parable about divine justice in which God was compared to a landowner who called forth workers for his vineyard. The first to respond were promised the expected day's wages. Those who came later were promised "what is just" (v. 4). When it was time to pay the workers, the owner began with the last and paid them a full day's wages. When those who worked all day were paid the same amount, they complained that they had been treated unfairly. The vineyard owner told them that he had done them no injustice. What God gives is not pay, but a gift; it is not a reward, but grace offered from the goodness of God's heart.
TO LOVE: In what ways do I work for justice in the marketplace?
TO SERVE: Lord Jesus, thank you for your generosity to all your children.
NOTE: On May 15, 1891, Pope Leo XIII issued his encyclical Rerum Novarum ("Condition of Labor"), the Church's position on modern day labor. Although the Encyclical follows the lines of the traditional teaching concerning the rights and duties of those possessing property and the relations of employer and employee, it applies the old doctrines specifically to modern conditions. As the years go by, an increasing number of persons look upon this statement of Leo XIII as the most fruitful and effective principle of industrial justice that has ever been enunciated.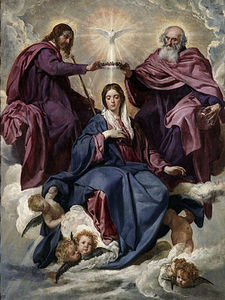 Memorial of the Queenship of the Blessed Virgin Mary
On October 11, 1954, four years after Pope Pius XII declared the dogma of the Assumption of Mary in an encyclical letter, Ad Caeli Reginam, decreed the feast of the Queenship of the Blessed Virgin Mary. The Pope formalized the Church's tradition from the earliest centuries, which rested on both Holy Scripture and Tradition. The coronation of Mary as Queen of Heaven fulfilled her own prophecy that "all generations will call me blessed." On another level, it prophesizes the triumph of Mary yet to come. The Book of Revelation states that, at the end of the world, Mary, crowned with twelve stars, will crush the head of the serpent beneath her feet [Rev 12:1-18]. Pope Paul VI wrote, "The Solemnity of the Assumption is prolonged in the celebration of the Queenship of the Blessed Virgin Mary, which occurs seven days later. On this occasion we contemplate her who, seated beside the King of ages, shines forth as Queen and intercedes as Mother" (Marialis Cultus - For the Right Ordering and Development of Devotion to the Blessed Virgin Mary - 2 February 1974).​
---
THURSDAY, AUGUST 23, MATTHEW 22:1-14
Weekday
(Ezekiel 36:23-28; Psalm 51)
KEY VERSE: "Many are invited but few are chosen" (v. 14)
TO KNOW: The parables found in the Bible are short stories designed to teach moral lessons. Allegories are extended metaphors where almost every character represents a particular idea, person or event. Jesus told a parable that served as an allegory of those who rejected God's reign. A king (God) sent his servants (the prophets) to summon the guests (God's chosen people) to the wedding banquet of his son (Jesus). When the invitation was ignored, the servants were sent a second time. This time they were mistreated and killed. Angered, the king sent his army to burn the city (Jerusalem was destroyed by the Romans in 70 CE). Because the privileged guests proved unworthy, the invitation was sent to others (the Gentiles). The guest who came without a "wedding garment" (v. 12; "virtuous deeds," or a baptismal garment, see Rv.19:8) represented those who refused to repent, a necessary condition for entering God's kingdom. Whoever rejected God's offer of divine grace, would find themselves excluded from the reign of God.
TO LOVE: Have I failed to heed God's call in my life?
TO SERVE: Lord, Jesus, help me to prepare myself for your heavenly banquet.​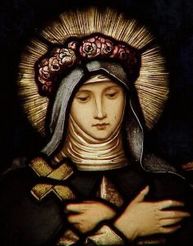 Optional Memorial of Saint Rose of Lima, virgin
Rose was born in Peru to Spanish immigrants to the New World. Her real name was Isabel, but she was such a beautiful baby that she was called Rose. As she grew older, she became more and more beautiful, and one day, her mother put a wreath of flowers on her head to show off her loveliness to friends. But Rose had no desire to be admired, for her heart had been given to Jesus. Rose worked hard to support her poor parents and she humbly obeyed them, except when they tried to get her to marry as she was devoted to her vow of chastity. Rose was a mystic, visionary, and claimed to have received an invisible stigmata, the pain of wounds with no external marks. She had many temptations and there were times when she suffered loneliness and sadness. When God seemed far away, she offered her troubles to God. Many miracles followed her death. She was a lay member of the Dominican Order, and was canonized in 1671 by Clement X, the first person born in the Americas to be so honored by the Catholic Church. Rose of Lima is the patroness of Latin America and the Philippines and is represented wearing a crown of roses. ​
---
FEAST OF SAINT BARTHOLOMEW, APOSTLE
FRIDAY, AUGUST 24, JOHN 1:45-51
(Revelation 21:9b-14; Psalm 145)
KEY VERSE: "Philip said to him, 'Come and see'" (Jn 1:46).
TO KNOW: Nathanael (called "Bartholomew" in the synoptic gospels) was skeptical when Philip told him that Jesus was the promised Messiah of God. The scriptures said that the Messiah would come from David's city, Bethlehem in Judah (Mi 5:1), not from a lowly place like Nazareth in Galilee. Philip invited Nathanael to come and judge for himself. Jesus overcame Nathanael's doubts by a demonstration of supernatural knowledge: "Before Philip called you, I saw you under the fig tree" (v.48). Jesus said that Nathanael was guileless, a "true Israelite" like Jacob, the first to bear the name "Israel" (Gn 32:29). Even though Jacob was a man of deception, he witnessed angelic beings ascending and descending to heaven (Gn 28:12). Nathanael would see even greater things in the death and resurrection of Jesus.
TO LOVE: Have I responded to Jesus' invitation to follow him today?
TO SERVE: St. Bartholomew, help me to overcome any doubts that I might have.​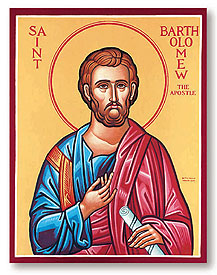 FEAST OF SAINT BARTHOLOMEW, APOSTLE
In the Gospel of John, Bartholomew is not mentioned in the list of the Apostles. In the other gospels, Nathanael is not mentioned, but the place after Philip is accorded to Bartholomew. Hence, many Scripture scholars believe Bartholomew is the Nathanael in question. Nathanael bar Tolomai (or Bartholomew) was probably a close friend of Philip as his name is always mentioned in the Gospels in connection with him, and it was Philip who brought Bartholomew to Jesus. After the Resurrection he was favored by becoming one of the few apostles who witnessed the appearance of the risen Savior on the sea of Galilee (John 21:2). Following the Ascension Bartholomew is said to have preached in Greater Armenia and to have been martyred there. While still alive, his skin was torn from his body. Nathanael may have written a gospel, now lost, as it is mentioned in other writings of the time. The Armenians honor him as the apostle of their nation. ​
---
SATURDAY, AUGUST 25, MATTHEW 23:1-12
Weekday
(Ezekiel 43:1-7b; Psalm 85)
KEY VERSE: "Whoever exalts himself will be humbled; but whoever humbles himself will be exalted" (v. 12).
TO KNOW: Jesus denounced the hypocritical behavior of the scribes and Pharisees. Although he acknowledged that their teaching authority rested on the "chair of Moses" (the "chair of Peter" is a similar term for Church authority), he warned his disciples not to follow the example of those religious leaders. The Pharisees enjoyed their titles of honor, and they liked to call attention to their phylacteries (Hebrew: tefillin) as evidence of their piety. These small leather boxes contained essential passages of the Torah, and were worn on the forehead and on the left arm (closest to the heart) during prayer. The tassels sewn on the corners of their garments (Hebrew: tzi-tzit) were a symbolic reminder to keep the Law of Moses. While the religious leaders demanded obedience to the minute details of the law, their deeds did not always correspond to their words. In contrast, Jesus was a humble servant and faithful teacher of the law of God's love and mercy.
TO LOVE: Are my religious practices motivated by piety or a desire for admiration?
TO SERVE: Lord Jesus, teach me to imitate your humility as I strive to serve your people.​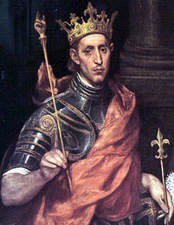 Optional Memorial of Saint Louis of France
At age 12, Louis IX was crowned as the King of France. Louis bound himself by oath to behave as God's anointed, as the father of his people and feudal lord of the Jesus, the King of Peace. His mother ruled as regent until he reached age 22. Married at age 19, he was the father of 11 children. Louis was devoted to his people, founding hospitals, visiting the sick and, like his patron Saint Francis, caring even for people with leprosy (He is one of the patrons of the Secular Franciscan Order). Louis united France—lords and peasants, priests and knights—by the force of his personality and holiness. For many years the nation was at peace. Louis "took the cross" for a Crusade when he was 30, but perhaps he deserves greater credit for his extending justice in civil administration. Louis died on foreign soil at the age of 44. He was canonized 27 years later.​
---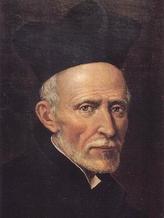 Optional Memorial of Saint Joseph Calasanz, priest
Joseph Calasanz, a member of the Confraternity for Christian Doctrine, opened a small, free school for poor children, many of them orphans and/or homeless. In 1621 the community was recognized as a religious order called Le Sciole Pie (Religious Schools), also known as the Piarists. Some of the ruling class objected that educating the poor would cause social unrest. Other Orders that worked with the poor were afraid they would be absorbed by the Piarists. In his old age, Joseph saw his Order torn apart. When eighty years old, he was led by the Inquisition as a criminal through the streets of Rome. A papal commission charged with examining the Order acquitted Joseph of all accusations, and in 1645, returned him as superior of the Order. When the struggle within the institute persisted, the Piarists were suppressed. Only after Joseph's death were they formally recognized as a religious community. The Piarists were restored as a religious order in 1669, and continue their good work today.​
---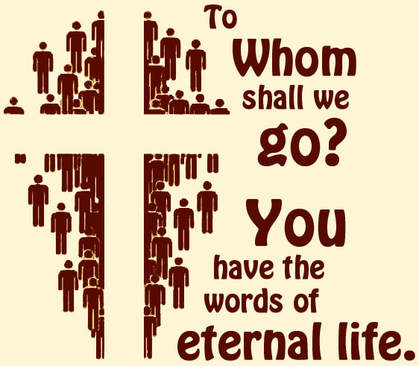 TWENTY-FIRST SUNDAY IN ORDINARY TIME
SUNDAY, AUGUST 26, JOHN 6:60-69
(Joshua 24:1-2a, 15-17, 18b; Psalm 34; Ephesians 5:21-32 or 5:2a, 25-32)
KEY VERSE: "Lord, to whom can we go? You have the words of eternal life" (v.68).
TO KNOW: Jesus' pronouncement that he was the "bread of life" (v.48) caused division between those who had faith in him and those who did not. The unbelievers murmured against Jesus' teaching, and some of Jesus' own disciples doubted his words. Jesus did not retract his teaching but invited his followers to a deeper faith in this mystery, which could only be understood through God's grace. If they could not believe that he was God's Word become flesh, what would they think when he ascended to his Father in glory? Jesus asked the twelve apostles if they too planned to leave him. Peter, the leader of the future Church, confessed his faith in the life-giving words of Jesus. There was no one else to whom he could go. The twelve apostles are mirrors of ourselves, flawed but graced human beings.
TO LOVE: Do my words help to bring others to faith or lead them astray?
TO SERVE: Lord Jesus, help me to believe your word of life.​
---
MONDAY, AUGUST 27, MATTHEW 23:13-22
(2 Thessalonians 1:1-5, 11-12; Psalm 96)
KEY VERSE: "Woe to you, scribes and Pharisees, you hypocrites" (v. 13).
TO KNOW: Jesus pronounced seven "woes" to the Scribes and Pharisees for their hypocritical behavior. He expressed grief for their sorry state and warned them of the serious consequences to follow. He accused them of keeping people from the kingdom of heaven, perhaps by their opposition to Jesus as the Messiah of God. These religious leaders made human rules more important than God's Word. They went to great lengths to win Gentile converts to Judaism, but they required them to submit to all the demands of the Mosaic Law (the early Church struggled with this same issue). These religious leaders constructed an elaborate system of oaths, a way of making a promise while keeping their fingers crossed behind their back. Those who took oaths, swearing by the gold of the temple or the gifts on the altar, did not realize that the greater importance was the sanctity of the one who dwelt in the temple and the one whom they worshiped at the altar.
TO LOVE: Have I examined my behavior to see if it conforms to Jesus' gospel?
TO SERVE: Lord Jesus, help me to be consistent in all I say and do.​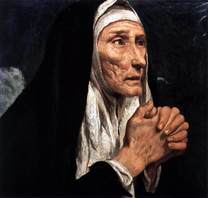 Memorial of Saint Monica
Monica, a Christian from birth, was married by arrangement to a pagan official in North Africa who was much older than she. Although generous, he had a violent temper, which proved a constant challenge to Monica. She had three children; Augustine, Navigius, and Perpetua. Through her patience and prayers, she was able to convert her husband to the Catholic faith in 370. He died a year later. Perpetua and Navigius entered the religious life. Augustine was much more difficult. Monica had to pray for him for 17 years, begging the prayers of priests. One priest consoled her by saying, "it is not possible that the son of so many tears should perish." This thought, coupled with a vision that she had, strengthened her. Augustine was baptized by Saint Ambrose in 387, whose preaching greatly influenced him. Monica died later that same year. She is the patron of alcoholics, abuse victims, difficult marriages, disappointing children, victims of adultery, of unfaithfulness, of verbal abuse, and of mothers and widows.
---
TUESDAY, AUGUST 28, MATTHEW 23:23-26
(2 Thessalonians 2:1-3a, 14-17; Psalm 96)
KEY VERSE: "Blind guides, who strain out the gnat and swallow the camel!" (v. 24)
TO KNOW: Jesus lamented the false standards of the scribes and Pharisees who scrupulously adhered to the letter of the law while refusing to obey its spirit. The Mosaic Law commanded that a tithe be paid on the important crops of corn, oil and wine in gratitude for God's blessings (Dt 14:22-23). The religious leaders applied the law to the smallest garden herb. They took great pains with matters that had little importance (a "gnat") while neglecting justice, mercy and fidelity, the law's weightier purpose (a "camel"). Jesus condemned their preoccupation with external purification rituals while ignoring inner holiness. Because they were blind and corrupt, they could not lead others to faith.
TO LOVE: Am I concerned more with my outer appearance than with inner holiness?
TO SERVE: Lord Jesus, cleanse me of all unrighteousness.​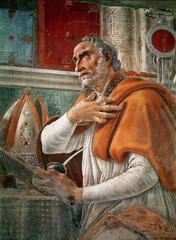 Memorial of Saint Augustine, bishop and doctor of the Church
Augustine was trained in the Christian faith by his mother Monica, however, he lost his faith and led a wild life. He lived with a Carthaginian woman from age of 15 through 30, and fathered a son whom he named Adeotadus (the gift of God). After investigating and experimenting with several philosophies, he became a Manichaean, which taught of a great struggle between good and evil, and featured a lax moral code. A summation of Augustine's thinking at the time comes from his Confessions: "God, give me chastity and continence - but not just now." Augustine finally broke with the Manichaeans and was converted by the prayers of his mother and the help of St. Ambrose of Milan. In 387 Augustine was baptized at Easter along with his son, who died soon afterwards. After the death of his mother, Augustine returned to Africa, sold his property, gave the proceeds to the poor, and founded a monastery. Augustine oversaw his church as Bishop of Hippo during the fall of the Roman Empire to the Vandals. His later thinking can also be summed up in a line from his writings: "Our hearts were made for You, O Lord, and they are restless until they rest in you." Augustine is a Doctor of the Church.
"To late have I loved you, O Beauty, ancient yet ever new. Too late have I loved you! And behold, you were within, but I was outside, searching for you there . . . You were with me, but I was not with you. . . You breathed fragrant odors on me, and I held back my breath, but now I pant for you. I tasted, and now I hunger and thirst for you. You touched me, and now I yearn for your peace" (Augustine, Book X, n. 27).
NOTE: Mani was an Iranian born in 216 in the Parthian Empire. Manichaean theology presented an elaborate description of the conflict between the spiritual world of light and the material world of darkness. A key belief in Manichaeism is that the powerful, though not omnipotent good power (God), was opposed by the semi-eternal evil power (Satan). Therefore, the Manichaean worldview explained the existence of evil by positing a flawed creation in the formation of which God took no part and which constituted rather the product of a rebellion by Satan against God.

---
WEDNESDAY, AUGUST 29, MARK 6:17-29
(2 Thessalonians 3:6-10, 16-18; Psalm 128)
KEY VERSE: "I want you to give me at once the head of John the Baptist on a platter" (v 25).
TO KNOW: Between the incidents of Jesus' sending forth the Twelve and their return, Mark inserted the story of the death of John the Baptist. Perhaps Mark wanted to indicate the fate that awaited the Apostles. Similarities can be seen between the death of John and Jesus. Both Herod and Pilate noted the holiness of the men whom they sentenced to death (Mk 6:20; Mt 27:24). Both John and Jesus were executed for speaking the truth and the disciples of both men came for their bodies and laid them in tombs (Mk 6:29; Mt 27:69-70). John suffered martyrdom for speaking against the illicit marriage of Herod and Herodias, the wife of his half-brother (Lv 18:16; 20:21). Out of spite, Herodias found the opportunity to have John put to death. During a banquet in honor of her husband's birthday, she told her daughter to ask for the head of the Baptist. Jesus said that from the days of John, the kingdom of God would suffer violence (Mt 11:11-12), which was fulfilled in Jesus' own passion and death.
TO LOVE: Am I willing to speak truth no matter how difficult the circumstances?
TO SERVE: Lord Jesus, give me the courage to speak when others oppose me.​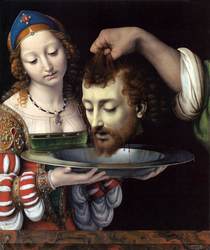 Memorial of the Passion of Saint John the Baptist
John the Baptist was a Jewish prophet who stood between the close of the Old Testament and the opening of the New Testament. He was a preacher in the time of Pontius Pilate (CE 26-36), announcing the coming of the Messiah of God. Like the prophet Elijah, John called the people to repentance and to a renewal of their covenant relationship with God. He was imprisoned and eventually put to death by Herod Antipas (son of Herod the Great, the Jewish king when Jesus was born). John denounced Herod's marriage to Herodias, the wife of his still-living half-brother Philip. In order to marry Herodias, Herod had divorced his first wife, the daughter of King Aretas of Damascus. The king subsequently made war on Herod, a war which, the Jewish historian Josephus tells us, was regarded by devout Jews as a punishment for Herod's murder of the prophet John. ​
---
THURSDAY, AUGUST 30, MATTHEW 24:42-51
Weekday
(1 Corinthians 1:1-9; Psalm 145)
KEY VERSE: "Therefore, stay awake! For you do not know on which day your Lord will come" (v. 42).
TO KNOW: Jesus' parable of the unfaithful servant was an indictment against Israel's religious leaders, but it also served as a warning to his disciples. As future leaders of the Church, these servants would be responsible for the Christian community during Christ's physical absence. They were instructed to be vigilant and to be prepared for his sudden return. The prudent servant must faithfully perform the task of caring for the Church, the members of God's household. By contrast, the wicked servant took advantage of his master's absence and acted shamefully toward his fellow servants. The slothful, sinful servants would be punished severely for their infidelity, whereas, the reliable, trustworthy servants would be rewarded for their faithfulness.
TO LOVE: Can others depend on me in performing my ministry?
TO SERVE: Lord Jesus, help me to be your faithful servant in all I do.
​​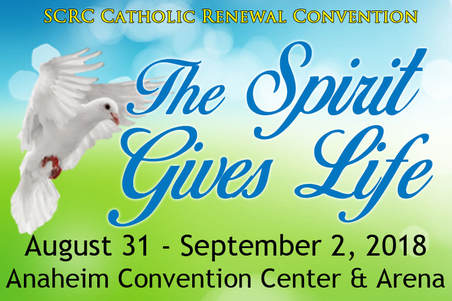 For almost four decades, hundreds of thousands of people have experienced Catholic Charismatic Renewal through the SCRC Ministry. SCRC's goal is to help people be transformed by discovering a new openness to the reality of the Holy Spirit. Pope Francis as well as our last three popes — Pope Benedict XVI, Pope John Paul II, and Pope Paul VI — have strongly endorsed the Charismatic Renewal as being a precious resource for the life of the Church. The SCRC Catholic Renewal Convention in Anaheim, California, seeks to fulfill the promise of the Charismatic Renewal and provide an atmosphere that is energized by unified praise and worship, solid Catholic teaching, and powerful prayer, while inviting the Holy Spirit to be present. For information contact SCRC.org
---
FRIDAY, AUGUST 31, MATTHEW 25:1-13
​Weekday
(1 Corinthians 1:17-25; Psalm 33)
KEY VERSE: "Therefore, stay awake, for you know neither the day nor the hour" (v. 13).
TO KNOW: Using the imagery of a wedding, Jesus told his followers a parable about the necessity of being prepared for his final coming. In Jesus' day, the bridegroom went to the bride's house in order to bring the bride to his own home where the wedding feast would be held. The bridesmaids were expected to meet the bridegroom as he approached the bride's house. The foolish bridesmaids did not expect the bridegroom to arrive at night, but the wise ones believed that he could arrive at any time. The foolish bridesmaids were caught by surprise and were unable to obtain oil for their lamps in time for the beginning of the wedding feast. When they finally arrived, the door had been locked, and they were refused entrance (vv. 11–12). The point of this parable was vigilance. Jesus was continually telling people to wake up and to stay awake. Obtaining the oil of sanctity is the responsibility of each individual. No one can borrow the spiritual wealth that others had acquired. Jesus said that he would welcome the faithful servants, but those who foolishly left these matters to the last would be excluded from the wedding feast in God's kingdom.
TO LOVE: Am I wise or foolish in my service to the Lord?
TO SERVE: Lord Jesus, fill me with your grace so that I may be prepared to meet you when you come in glory.
​
SATURDAY, SEPTEMBER 1, MATTHEW 25:14-30
Weekday
(1 Corinthians 1:26-31; Psalm 33)
KEY VERSE: "Well done, my good and faithful servant" (v. 23).
TO KNOW: Jesus' parable of the talents was an allegory on good stewardship and the last judgment. In the story, each servant was given a different sum of money to invest. (A talent was a Greek coin worth about 6,000 denarri, equal to a year's wages. A talent's modern-day meaning of a special aptitude or gift is derived from the use of the word in this parable.) The first two servants made wise investments and doubled their money. The third servant, fearing his master's rebuke should he fail, buried the money for safe-keeping. When the master returned, each individual was asked to give an account of their investments. The wise servants were rewarded for their fidelity. They were given even greater responsibilities, and were invited to the heavenly banquet. The third servant was punished, losing the gift that had been given to them.
TO LOVE: In what ways do I use my time, treasure and talents for the kingdom of God?
TO SERVE: Lord Jesus, help me to use your gifts for the good of all.​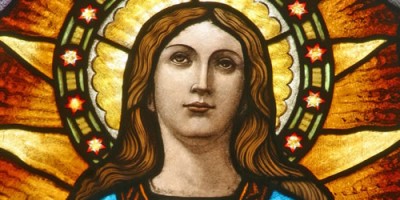 OPTIONAL MEMORIAL OF THE BLESSED VIRGIN MARY
Chapter V of the Directory on Popular Piety and the Liturgy, issued by the Holy See in December 2001, describes the Church's traditional dedication of Saturday to the Virgin Mary. "Saturdays stand out among those days dedicated to the Virgin Mary. These are designated as memorials of the Blessed Virgin Mary" (218). The chapter also describes the importance of Mary, the Mother of Jesus, in Catholic devotional life, in the Liturgy, and reflections on popular devotions to Mary, her feast days, and the Rosary. ​
---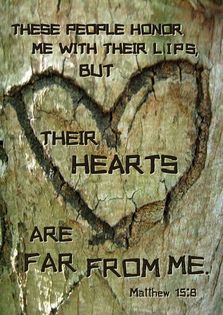 TWENTY-SECOND SUNDAY IN ORDINARY TIME
SUNDAY, SEPTEMBER 2, MARK 7:1-8, 14-15, 21-23
(Deuteronomy 4:1-2, 6-8; Psalm 15; James 1:17-18, 21b-22, 27)
KEY VERSE: "This people pays me lip service but their heart is far from me" (v 6).
TO KNOW: The religious leaders of Israel had developed elaborate rituals to separate themselves from those who did not believe in God ("putting a fence around the Law). These oral traditions were regarded as having the same binding force as the Law of Moses. Jesus and his disciples were criticized by the religious leaders for their failure to perform the market and kitchen purification rites. Jesus quoted the prophet Isaiah who faced hypocrisy in his own day. Jesus said that external acts should reflect the moral intent of God's Law and not be mere pious observances. It was not food or objects that defiled a person. It was the sinful motives of the heart that led to immoral acts. Jesus asks them to look to the various ways they are living in relationship with others to see if they are responding to God "from within" (with their whole being) or merely with "lip service" (with superficial nods to tradition).
TO LOVE: What is my attitude toward people whose religious observances are different than my own?
TO SERVE: Holy Spirit, help me to examine my motives for the things I do. ​
---
MONDAY, SEPTEMBER 3, LUKE 4:16-30
(1 Corinthians 25:1-5; Psalm 119)
KEY VERSE: "For with authority and power he commands the unclean spirits, and they come out" (v. 36).
TO KNOW: After Jesus was rejected by the people of his hometown, Nazareth (Lk 4:29-30), he went to Capernaum on the northwest coast of Lake Gennesaret (Sea of Galilee). Once again, Jesus taught in the synagogue on the Sabbath, and this time the people were impressed by his authoritative words. Jesus was suddenly interrupted by the demonic shriek of a man possessed by an evil spirit. Although many did not recognize who Jesus truly was, the demon knew that he was the "Holy One of God" who had come to destroy evil and restore God's supremacy over humankind. With a powerful command, Jesus exorcised the evil spirit and healed the man. The people were in awe of the power of Jesus' words, and his fame spread throughout the area.
TO LOVE: What sort of evil needs to be cast out of my life?
TO SERVE: Lord Jesus, heal me with your life-giving word. ​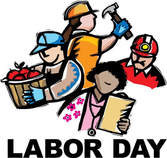 LABOR DAY (USA) First Monday in September
Labor Day is a creation of the labor movement dedicated to the contributions that workers have made to the strength, prosperity, and well-being of our country. The first Labor Day was celebrated on Tuesday, September 5, 1882, in New York City, in accordance with the plans of the Central Labor Union. In 1884 the first Monday in September was selected as a "workingman's holiday." The idea spread with the growth of labor organizations, and in 1885 Labor Day was celebrated in many industrial centers of the country.

​On May 15, 1891, Pope Leo XIII issued his encyclical Rerum Novarum ("Condition of Labor"), the Church's position on modern day labor. Although the Encyclical follows the lines of the traditional teaching concerning the rights and duties of those possessing property and the relations of employer and employee, it applies the old doctrines specifically to modern conditions. As the years go by, an increasing number of persons look upon this statement of Leo XIII as the most fruitful and effective principle of industrial justice that has ever been enunciated.​
---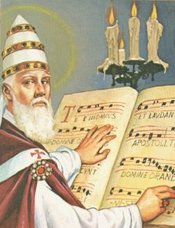 Memorial of Saint Gregory the Great, pope and doctor of the Church
Gregory was the son of a wealthy Roman senator. He was educated by the finest teachers in Rome and became Prefect of Rome for a year. Then he sold his possessions, turned his home into a Benedictine monastery, and used his money to build six monasteries in Sicily and one in Rome. Upon seeing English children being sold in the Roman Forum, he became a missionary to England. Gregory was elected Pope by unanimous acclamation on 3 September 590, the first monk to be chosen. He sent St Augustine of Canterbury and a company of monks to evangelize England, and other missionaries to France, Spain, and Africa. Gregory wrote seminal works on the Mass and Office. He collected the melodies and plain chant that became associated with him, known as Gregorian Chants. Gregory is one of the four great Doctors of the Latin Church. ​
---
TUESDAY, SEPTEMBER 4, LUKE 4:31-37
Weekday
(1 Corinthians 2:1-5; Psalm 145)
KEY VERSE: "For with authority and power he commands the unclean spirits, and they come out" (v. 36).
TO KNOW: After Jesus was rejected by the people of Nazareth, his hometown (Lk 4:29-30), he went to Capernaum on the northwest coast of Lake Gennesaret (Sea of Galilee). Once again, Jesus taught in the synagogue on the Sabbath, and this time the people were impressed by his authoritative words. Jesus was suddenly interrupted by the demonic shriek of a man possessed by an evil spirit. Although many did not recognize who Jesus truly was, the demon knew that he was the "Holy One of God" who had come to destroy evil and restore God's supremacy over humankind. With a powerful command, Jesus exorcised the evil spirit and healed the man. The people were in awe of the power of Jesus' words, and his fame spread throughout the area.
TO LOVE: What sort of evil needs to be cast out of my life?
TO SERVE: Lord Jesus, heal me with your life-giving word. ​
WEDNESDAY, SEPTEMBER 5, LUKE 4:38-44
Weekday
(1 Corinthians 3:1-9; Psalm 33)
KEY VERSE: "To other towns also I must proclaim the good news of the kingdom of God, because for this purpose I have been sent" (v. 43).
TO KNOW: Jesus Christ is Soter, healer of both body and spirit. God's power was at work in Jesus whose divine authority over all forms of evil came from within his very being. After curing the demoniac in the synagogue at Capernaum (Lk 4:33-35), he went to the home of Simon Peter. With a powerful word he cured Simon's mother-in-law who lay ill with a severe fever. As a true servant of God, she arose and waited on Jesus and his disciples. At sunset, the Sabbath ended and the people were free to bring their sick to Jesus. He laid hands on them, curing those who were ill and driving out evil spirits. In the morning, Jesus retired to a deserted place, but the people came in search of him, beseeching him to remain with them. Jesus told them that he must proclaim the gospel to others because that was why he had been sent.
TO LOVE: Do I know someone who needs Jesus' healing touch?
TO SERVE: Lord Jesus, I pray for all those in need of your healing word.​


THURSDAY, SEPTEMBER 6, LUKE 5:1-11
Weekday
(1 Corinthians 3:18-23; Psalm 24)
KEY VERSE: "Do not be afraid; from now on you will be catching men" (v. 10).
TO KNOW: As Jesus preached along the shore of Lake Gennesaret (Sea of Galilee), the crowds pressed in on him in such numbers that he was forced to get into a boat belonging to Simon Peter, who was cleaning his nets. Jesus told Simon to put out into the deep waters and prepare for a great catch. Simon protested that they had fished all night (the usual time for fishing) and caught nothing. But on the authority of Jesus' word he obeyed. Upon seeing the abundant catch, Simon was overcome by the power of Jesus' words, and he confessed his sinfulness. Simon is called Peter for the first time, "the Rock," the name he will later have as the leader of the church. When the fishermen brought their boats ashore, they left everything behind and followed Jesus. This miraculous catch of fish signified the future mission of the Church. From earliest times, the Church has been called the "Bark of Peter. The disciples' efforts to bring souls to Christ would be successful if they obeyed him and remained true to his words.
TO LOVE: Do I cooperate with Jesus when he asks me to go into "deep waters"?
TO SERVE: Lord Jesus, give me the courage to trust you when I am afraid.
​​​
FRIDAY, SEPTEMBER 7, LUKE 5:33-39
Weekday
(1 Corinthians 4:1-5; Psalm 37)
KEY VERSE: "Rather, new wine must be poured into fresh wineskins" (v. 38).
TO KNOW: Jesus had come to establish a new covenant between God and his people. When the religious leaders complained that Jesus and his disciples did not fast as they and John's disciples did, Jesus compared his relationship with his followers to a marriage. He said that when the bridegroom was present, it was a time for rejoicing. When Jesus returned to his Father, the Church would mourn and fast until they were reunited with him. Jesus used two images to contrast the old and new religion. It was futile to patch an old cloak with new material; likewise, old brittle wineskins could not contain the new fermenting wine of the Spirit that Jesus had come to offer. But many people preferred the old wine of the law.
TO LOVE: Am I content with a status-quo faith?
TO SERVE: Lord Jesus, help me to be open to the new things you are doing in my life.
​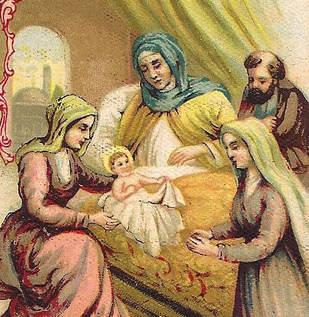 FEAST OF THE NATIVITY OF THE BLESSED VIRGIN MARY
SATURDAY, SEPTEMBER 8, MATTHEW 1:1-16, 18-23 or 1:18-23
(Micah 5:1-4a or Romans 8:28-30; Psalm 13)
KEY VERSE: "For it is through the holy Spirit that this child has been conceived in her" (v.20).
TO KNOW: Matthew constructed his opening genealogy to show that Jesus was the fulfillment of the Hebrew Scriptures concerning the messiah. Except for Mary, the mother of Jesus, the other four women mentioned were all non-Jews: Tamar, Rahab, Ruth, and Bathsheba. Yet each woman played a part in bringing about the birth of the messiah. Mary's virginal conception of Jesus inaugurated the new era of salvation. When Mary was found to be with child, Joseph, a righteous man, was afraid to expose her to the law because the penalty for adultery was death by stoning. An angel appeared to Joseph in a dream and told him not to be afraid to take Mary as his wife, since the child had been conceived through God's Spirit. Joseph was told to name the infant "Jesus" (Hebrew, Yeshua) meaning "Yahweh saves." Jesus was also given the title "Emmanuel," meaning "God is with us." At the end of Matthew's gospel, Jesus told his disciples, "Know that I am with you always, until the end of the world (Matt 28:20).
TO LOVE: Do you turn to Mary to intercede for your needs?
TO SERVE: Mary my mother, pray that I might be faithful to your son all my life.
NOTE: The source for the story of the birth of the Blessed Virgin Mary is the Protoevangelium of James, an apocryphal gospel written about A.D. 150. From it, we learn the names of Mary's parents, Joachim and Anna, as well as the tradition that the couple was childless until an angel appeared to Anna and told her that she would conceive. The traditional date of the feast, September 8, falls exactly nine months after the feast of the Immaculate Conception of Mary, December 8, which declares that Mary was preserved free from all stain of original sin from the moment of her conception in her mother's womb.

---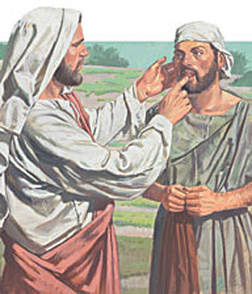 TWENTY-THIRD SUNDAY IN ORDINARY TIME
SUNDAY, SEPTEMBER 9, MARK 7:31-37
(Isaiah 35:4-7a; Psalm 146; James 2:1-5)
KEY VERSE: "He has done all things well. He makes the deaf hear and the mute speak" (v.37).
TO KNOW: Jesus went to the Gentile area of the Decapolis, a league of ten cities in eastern Palestine. There a deaf man with a speech impediment was brought to him for healing. Perhaps it was the man's inability to hear that made his speech unintelligible. The gestures that Jesus used to effect the cure were used by healers of his time. Jesus put his hands in the man's ears and touched his tongue with spittle, which was thought to have curative powers. Then he groaned "Be opened" (Aramaic, "Ephphatha," still used in baptismal ceremonies today). Jesus looked to heaven, the divine source of his healing power, and with a word and touch, the man's hearing and speech were restored. He thus fulfilled the Messianic promise that "the deaf shall hear" and "the mute will sing" (Is 29:18, 35:6). Fearing his deeds might be misinterpreted as mere "wonder-working," Jesus asked the people not to speak of this miracle. But they acted like the deaf, unable to hear his command. Even so, they were not mute in announcing his praises. This miracle performed for a Gentile was another sign that Jesus had come to bring salvation to all peoples.
TO LOVE: Do I fail to listen to the proclamation of the Gospel?
TO SERVE: Lord Jesus, open my ears to your word and loosen my tongue to praise you.​
---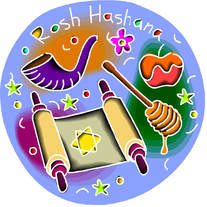 Rosh Hashanah - Jewish New Year -- L'Shana Tova -- "Happy New Year"
Rosh Hashanah occurs on the first and second days of Tishri (September/October). In Hebrew, Rosh Hashanah means "head of the year," and is commonly known as the Jewish New Year, although there is little similarity between Rosh Hashanah and the New Year's festivities, many Americans use the New Year as a time to plan a better life, making "resolutions." Likewise, the Jewish New Year is a time to look back at the mistakes of the past year and plan the changes to make in the New Year. The holiday was instituted in Lev. 23:24-25 and referred to as Yom Ha-Zikkaron, the day of remembrance or Yom Teruah, the day of the sounding of the shofar, a ram's horn which is blown somewhat like a trumpet.

---