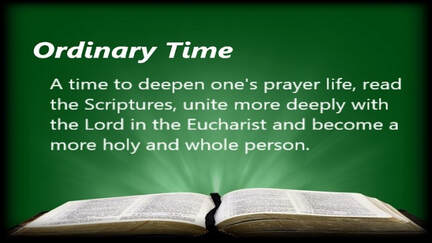 Ordinary Time is called "ordinary" because the weeks are numbered. The Latin word ordinalis, which refers to numbers in a series, stems from the Latin word ordo, from which we get the English word order. Thus, Ordinary Time is in fact the ordered life of the Church—the period in which we live our lives neither in feasting (as in the Christmas and Easter seasons) or in penance (as in Advent and Lent), but in watchfulness and expectation of the Second Coming of Christ There are two times we are in Ordinary Time. There are 28 weeks of Ordinary Time after Easter and 5 weeks of Ordinary Time after Christmas. However, this varies depending upon when Easter falls in a particular year.
​The actual number of weeks of Ordinary Time in any given year can total 33 or 34.
---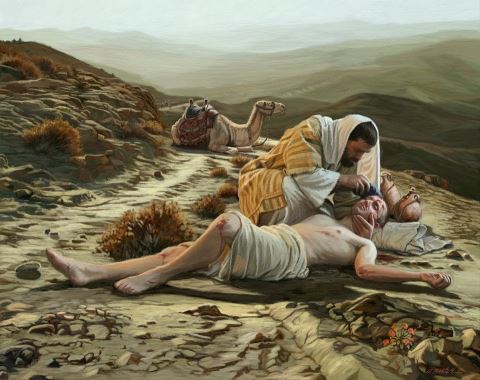 FIFTEENTH SUNDAY IN ORDINARY TIME
SUNDAY, JULY 14, LUKE 10:25-37
(Deuteronomy 30:10-14; Psalm 69; Colossians 1:15-20)
KEY VERSE: "You shall love the Lord, your God, with all your heart, with all your being, with all your strength, and with all your mind, and your neighbor as yourself" (v. 27).
TO KNOW: A scribe (a "lawyer") was one well versed in the Law of Moses. When a scribe asked what he must do to gain eternal life, Jesus told him that the answer was found in the scriptures: to love God wholeheartedly (Dt 6:4-5) and to love one's neighbor as oneself (Lv. 19:18). When the scribe asked, "Who is my neighbor?" Jesus told the parable about a good Samaritan. Since there was deep hostility between Jews and Samaritans, the words "Samaritan" and "neighbor" were generally not used together. Yet it was a Samaritan who took the time to rescue a man who had been beaten and left to die by the side of the road. It would have been just as shocking for Jesus to say that the priests and Levites rescued the man as that would have made these religious people "unclean" from being in contact with blood (Nm 19:16). Jesus said that the priests and Levites went off to do "holy" things in Jerusalem, while the despised Samaritan was moved with God's compassion and treated the wounded man with mercy. Jesus told the scribe, and us as well, to go and do likewise to the "neighbor" we meet along the way.
TO LOVE: In what ways do I show the love of God to others?
TO SERVE: Lord Jesus, reveal your love to all I meet. Help me to love myself.
​
NOVA -- National Organization for Victim Assistance
The National Organization for Victim Assistance is a private, non-profit organization of victim and witness assistance programs and practitioners, criminal justice agencies and professionals, mental health professionals, researchers, former victims and survivors, and others committed to the recognition and implementation of victim rights and services. www.trynova.org
---
MONDAY, JULY 15, MATTHEW 10:34--11:1
(Exodus 1:8-14, 22; Psalm 124)
KEY VERSE: "Whoever does not take up his cross and follow after me is not worthy of me" (v. 39).
TO KNOW: Jesus exhorted the apostles to have courage under persecution. He was aware that his message would not be accepted by everyone, and he warned his followers that members of their own families might be their adversaries. Those who wished to follow in Jesus' footsteps must be willing to put the gospel before all else -- even their own lives. They must be prepared to be treated like the prophets of old who suffered for proclaiming God's word. The apostles were Christian "prophets" who would speak God's saving message of the gospel. Whoever offered hospitality to them received Jesus himself and God who sent him, and they would be rewarded for their kindness.
TO LOVE: Pray for missionaries whose lives may be endangered for preaching the gospel.
TO SERVE: Lord Jesus, give me courage to proclaim your gospel as your apostles did.
​​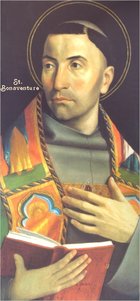 Memorial of Saint Bonaventure, bishop and doctor of the Church
Bonaventure joined the Franciscan Order of Friars Minor at the age of 22. He studied theology and philosophy in Paris. At age thirty-six, Bonaventure was made General of the Franciscan Order. He emphasized the total dependence upon God, and he wrote guides to mystic contemplation. He also wrote the official life of Saint Francis of Assisi. Following St Francis, Bonaventure expressed charity, goodwill and affection toward others. Bonaventure spoke at the Council of Lyons, at which he was a papal legate, but died before its close. On hearing of the death, Pope Gregory X, who had appointed him cardinal bishop of Albano in 1273, declared that Bonaventure was "a man of eminent learning and eloquence, and of outstanding holiness." Bonaventure was known as the Seraphic Doctor of the Church because he revealed a warmth toward others as a divine fire.​​
---
TUESDAY, JULY 16, MATTHEW 11:20-24
Weekday
(Exodus 2:1-15a; Psalm 69)
KEY VERSE: "Then he began to reproach the towns where most of his mighty deeds had been done, since they had not repented" (v. 20).
TO KNOW: The cities, Capernaum, Chorazin and Bethsaida formed what is called the "Evangelical Triangle," the small area where Jesus worked most of his miracles. These "mighty deeds" were manifestations of God's power meant to turn the people away from their sins and point them toward salvation; nevertheless, many people refused to repent (Greek, metanoia; Hebrew, t'shuvah). Jesus grimly reminded the crowds that sin had its consequences. The pagan cites of Tyre and Sidon, port cities on the Mediterranean coast, were denounced by the prophets for their wickedness (Joel 4:4-7). Divine judgment was passed upon Sodom (and its neighboring cities), when it was consumed by fire and brimstone (Gn 19:1-29). If such miracles had been worked in Sodom, the people would have repented and that corrupt city would still be standing. Jesus lamented the fact that the people of Sodom would be judged less severely than his own people because he was in their midst. Yet they closed their eyes and ears to his message.
TO LOVE: In what ways do I need to change my life?
TO SERVE: Lord Jesus, help me to see the miracles that you work in my life.​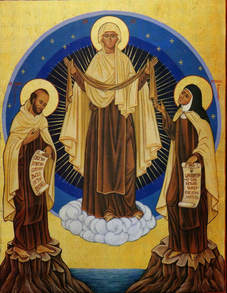 Optional Memorial of Our Lady of Mount Carmel
According to Carmelite chronicles, the Order of Mount Carmel had its origins with the disciples of the prophet Elijah who lived in a cave on Mount Carmel. In the 12th century, a rule was established and the order began to spread to Europe. Amid the many persecutions, Saint Simon Stock, General of the Order, turned with confidence to the Blessed Mother. As he knelt in prayer on July 16, 1251, she appeared before him and presented him with the brown scapular, a loose sleeveless garment reaching from the shoulders to the knees. He was given the assurance of her heavenly protection for all who died wearing it. Devotion spread quickly throughout the Christian world. At Lourdes in 1858, the Virgin chose to make her last apparition on July 16th, feast of Our Lady of Mount Carmel. And at Fatima on October 13, 1917, it was Our Lady of Mount Carmel who appeared to the three children. Throughout the ages, the Queen of Carmel has always kept a faithful watch over her cherished children on earth.

---
WEDNESDAY, JULY 17, MATTHEW 11:25-27
Weekday
(Exodus 3:1-6, 9-12; Psalm 103)
KEY VERSE: "All things have been handed over to me by my Father" (v. 27).
TO KNOW: Jesus said that childlike receptivity and obedience to God's will was the key to entering God's reign (Mt 18:3). He continually praised the poor and lowly (Hebrew:`anav) for their trust in God (Mt 5:3-12). He was not condemning the people's intellectual ability but their pride. True wisdom would not be found by the clever and learned whose minds were closed to God. Jesus demonstrated this in his own relationship with his Father. With simple trust, Jesus received everything from the Father. Only the Father fully understood Jesus' mission, and only Jesus comprehended the Father's saving plan. Jesus broke into a joyful hymn of praise to his Father for having revealed the mysteries of his kingdom to those who came to him with open and simple faith.
TO LOVE: Do I praise God for the faith given to me?
TO SERVE: Lord Jesus, help me to be your Father's faithful child.


THURSDAY, JULY 18, MATTHEW 11:28-30
Weekday
(Exodus 3:13-20; Psalm 105)
KEY VERSE: "Come to me, all you who labor and are burdened, and I will give you rest" (v. 28).
TO KNOW: The prophet Jeremiah told the people that they would find "rest for their souls" if they would follow the straight path to God (Jer 6:16). However, the religious leaders had laid a crushing weight on the people by complicating God's law with numerous legal obligations. They made no effort to lighten the load of those burdened by these regulations, and they often neglected the true purpose of the law -- justice and mercy. Jesus invited all who were weary of trying to fulfill the law to come to him. Obedience to his word would be light in comparison to the religious leader's legalistic requirements. Jesus was the embodiment of God's law of compassion and love, and he made the way to God accessible. By taking on the light yoke of obedience to his word, Jesus' followers would find rest from all that oppressed them (Is 25:4-5).
TO LOVE: How can I help someone carry their burdens today?
TO SERVE: Lord Jesus, help me to find rest in you when life becomes complicated.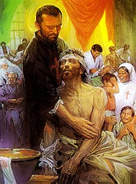 Optional Memorial of Saint Camillus de Lellis, priest
Camillus entered the Capuchin novitiate three times, but each time a nagging leg injury, which he received while fighting the Turks, forced him to give up. He went to Rome for medical treatment where Saint Philip Neri became his priest and confessor. Camillus moved into San Giacomo Hospital for the incurable, and eventually became its administrator. Lacking education, he began to study with children when he was 32 years old. Camillus was ordained in 1584, and in 1586 he obtained approval for the congregation of priests he had founded, devoted to hospital service, the Servants of the Sick (Camellians). Camillus honored the sick as living images of Christ, and hoped that the service he gave them did penance for his wayward youth. He was canonized in 1746, was declared patron of the sick, with St. John of God, by Pope Leo XIII, and patron of nurses and nursing groups by Pope Pius XI.​
---
FRIDAY, JULY 19, MATTHEW 12:1-8
Weekday
(Exodus 11:10 ̶ 12:14; Psalm 116)
KEY VERSE: "For the Son of Man is Lord of the Sabbath" (v. 8).
TO KNOW: As Jesus and his disciples continued their journey, the Pharisees criticized him for allowing his hungry followers to glean grain on the Sabbath, since the law forbade manual labor on the Lord's Day. The religious leaders defined "work" as thirty-nine forbidden actions. Among them were reaping, winnowing, threshing and preparing a meal. By plucking the corn Jesus' disciples were guilty of reaping; by rubbing it in their hands they were guilty of threshing, and by separating the grain from the chaff they were guilty of winnowing. Furthermore, the whole process constituted preparing a meal, another violation of the Sabbath law. In defense of his disciples, Jesus cited the example of David who fed his hungry men with the "bread of offering" usually reserved for priests (1 Sm 21:4-7). And Jesus argued that priests did not incur guilt by preparing the offering of the lambs on the Sabbath (Nm 28:9). He quoted the prophet Hosea who said: "I desire steadfast love and not sacrifice" (Hos 6:6). Jesus was liberating God's people from the burdens of a restrictive law, which they had labored under for so long (Mt 11:28).
TO LOVE: Do I have a legalistic view of God's Law?
TO SERVE: Lord Jesus, teach me to observe the Lord's Day through worship and service to your people.


SATURDAY, JULY 20, MATTHEW 12:14-21
Weekday
​(Exodus 12:37-42; Psalm 136)
KEY VERSE: "Every kingdom divided against itself will be laid waste." (v.25)
TO KNOW: When the religious leaders heard the crowds' acclamation of Jesus, they ascribed his work to "Beelzebul, the prince of demons" ('lord of the lofty dwelling,' the pagan god Baal of Syria, a title appropriate only to Yahweh). Jesus pointed out the absurdity of this by making three comparisons. First, if Satan was working against himself, then his kingdom would surely fall. Second, if exorcists cast out demons, then by whose power did they do so? Lastly, Jesus said that he was the strongman who overpowered evil and pillaged Satan's household. Jesus said that every blasphemy would be forgiven save that of attributing the good works of the Spirit to the Evil One. Such persons could not be forgiven, because they placed themselves outside of the mercy of God.
TO LOVE: Do I work to overcome evil in my household?
TO SERVE: Lord Jesus, forgive me for the times I have doubted your saving work in my life.​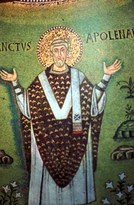 ​Optional Memorial of Saint Apollinaris, bishop and martyr
Apollinaris, bishop of Hierapolis in Phrygia, was one of the most illustrious bishops of the second century. He was renowned for his powers to heal in the name of Christ. Apollinaris addressed an "Apology" (a defense) of the Christian religion to the emperor Marcus Aurelius. It was to protect his flock against persecution that Apollinaris reminded the Emperor of the favor he had received from God through the prayers of the Christians. Apollinaris and his flock were exiled from Ravenna by the emperor Vespasian. On his way out of the city, Apollinaris was arrested, tortured and martyred, run through with a sword. The date of the death is not known, but it probably occurred about the year 175. Saint Apollinaris' relics are at Ravenna, Italy. ​
---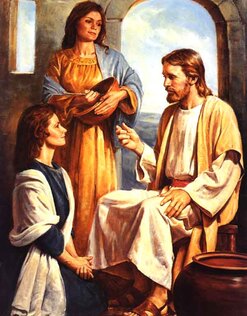 SIXTEENTH SUNDAY IN ORDINARY TIME
SUNDAY, JULY 21, LUKE 10:38-42
(Genesis 18:1-10a; Psalm 15; Colossians 1:24-28)
KEY VERSE: "Mary has chosen the better part and it will not be taken from her" (v. 42).
TO KNOW: As Jesus journeyed toward Jerusalem, he stopped at Bethany to rest at the home of his friends Martha and her sister Mary (In John's gospel, their brother Lazarus was raised from the dead by Jesus, Jn 11:1-44). Jesus had been teaching his followers about the privilege of being a disciple (Lk 10:23-24), and now he did something radical for his day -- he taught a woman. When Mary sat at the feet of Jesus, listening to the words of her master, Martha criticized her for neglecting to help her to provide hospitality for their guest. Jesus reminded Martha that she was too anxious about things of little importance. The one thing that should concern her was "to seek God's kingdom before all else" (12:29-31). Mary freely chose to be Jesus' disciple, and she would not be deprived of the opportunity. Her service to others would flow from her single-hearted devotion to the Lord.
TO LOVE: Do I spend time with the Lord so that I can serve others with love?
TO SERVE: Lord Jesus, help me to welcome you into my home so that I might listen to your words. ​
---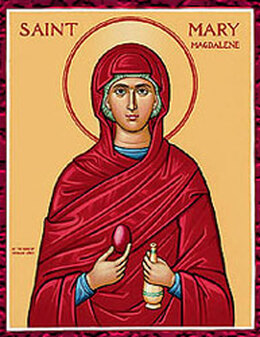 FEAST OF SAINT MARY MAGDALENE
MONDAY, JULY 22, JOHN 20:1-2, 11-18
(Songs 3:1-4a or 2 Corinthians 5:14-17; Psalm 63)
KEY VERSE: "I have seen the Lord" (v.18).
TO KNOW: Mary Magdalene came from the town of "Magdala" on the western shore of the Sea of Galilee. She was a devoted disciple of Jesus, and one of the women who ministered to him "out of their resources" (Lk 8:2). Luke tells the story of an exorcism performed on Mary, which cast out seven demons (perhaps physical, mental or spiritual maladies). Mary accompanied Jesus on his last journey to Jerusalem (Matt 27:55; Mk 15:41; Lk 23:55), witnessed the crucifixion, and was the first witness of his resurrection. John tells us that Mary came to the tomb on the first day of the week (Sunday) while it was still dark. At the beginning of time God said, "Let there be light." Jesus said, "I am the light of the world (Jn 8:12). In him a new creation is about to appear. Mary found the sepulcher empty, and ran to tell Peter and John. Then she returned to the tomb and remained there weeping. When Jesus appeared to her she did not recognize him, but when he spoke her name she cried, "Rabboni" (Hebrew, "Master" or "Teacher"). She wanted to cling to Jesus but he forbade her, telling her to go to his brothers and say to them that he was "ascending to my Father and your Father, to my God and your God" (Jn 20:17). After Jesus' ascension (Acts 1:14), she returned to Jerusalem, and was probably among the group of women who joined the Apostles in the Upper Room. Pope Francis raised the July 22 memorial of St. Mary Magdalene to a Feast on the Church's liturgical calendar.
TO LOVE: Do I give testimony to the Risen Lord in my life?
TO SERVE: St. Mary of Magdalene, help me to recognize our Savior in my sorrows and in my joys.​
---
FEAST OF SAINT MARY MAGDALENE
Mary Magdalene was a significant leader of early Christianity, but many false ideas about her persist today. Early church fathers incorrectly identified her with the sinful woman who anointed Christ's feet at the house of Simon the Pharisee, but there is nothing in the Bible to support this view and much to dispute it. The Bible gives us clues about her importance. According to the Gospel of John, after Jesus' resurrection, he first appeared to Mary Magdalene and not to Peter. In other scriptures, her name is first in the list of witnesses (Mk. 16:1-11; Mt. 28:1; Lk. 24:10; Jn. 20:11-18; 1 Cor. 15:5-8). One tradition concerning Mary Magdalene says that following the death and resurrection of Jesus, she used her position to gain an invitation to a banquet given by Emperor Tiberius Caesar. When she met him, she held a plain egg in her hand and exclaimed "Christ is risen!" Caesar laughed, and said that Christ rising from the dead was as likely as the egg in her hand turning red. Before he finished speaking, the egg turned a bright red, and she continued proclaiming the Gospel to the entire imperial house.
​

TUESDAY, JULY 23, MATTHEW 12:46-50
Weekday
(Exodus 14:21 ̶ 15:1; Psalm: Exodus 15)
KEY VERSE: "For whoever does the will of my heavenly Father is my brother, and sister, and mother" (v. 50).
TO KNOW: Jesus' opponents stubbornly refused to believe in him. While addressing the crowds, his mother and brothers came to see him. The word "brothers" does not imply that Mary had other children. The Hebrew word 'ach, (brother,) can mean "kinsmen," varying degrees of blood relationship (see Gn 13:8; Lv 10:4); persons of common ancestry; members of the same tribe or clan (Nm 16:10), or of the same nation (Dt 15:12). The Greek word adelphos has a similar connotation. Jesus used this opportunity to declare who were the true members of his spiritual family. It was not their physical relationship that made one a "brother" or "sister" of Jesus, but doing God's will. Jesus was the "firstborn of many brothers" who have become children of God by faith (Ro 8:29). In Luke's gospel, Jesus' mother Mary was extolled as a true disciple, not because of blood relationship, but because she heard and kept God's word (Lk 11:28).
TO LOVE: How do I serve my brothers and sisters in Christ?
TO SERVE: Lord Jesus, thank you for allowing me to belong to your family.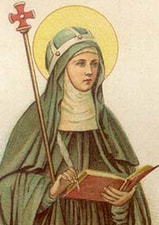 Optional Memorial of Saint Bridget, religious
St. Bridget of Sweden began receiving visions at age seven, mostly of Jesus' crucifixion. In 1316, at age thirteen, she wed Prince Ulfo of Nercia in an arranged marriage. She was the mother of eight children including St. Catherine of Sweden. After her husband's death in 1344, Bridget pursued a religious life, for which she was harassed by others at the royal court. She eventually renounced her title of princess, and founded the Order of the Most Holy Savior (Bridgettines) at Vadstena in 1346. The order received confirmation by Pope Urban V in 1370, and survives today. She chastened and counseled kings and Popes Clement VI, Urban VI, and Gregory XI, urging them to return to Rome from Avignon. She encouraged all to meditate on Jesus Crucified. Bridget recorded the revelations given in her visions, and these became hugely popular in the Middle Ages.

---
WEDNESDAY, JULY 24, MATTHEW 13:1-9
Weekday
(Exodus 16:1-5, 9-15; Psalm 78)
KEY VERSE: "But some seed fell on rich soil, and produced fruit, a hundred or sixty or thirtyfold" (v. 8).
TO KNOW: Chapter 13 of Matthew's gospel is Jesus' third sermon, consisting almost entirely of parables (Hebrew, mashal). Jesus' parables were primarily stories that invited the hearer to search for the meaning of Christian truths that he was teaching, and put them into action. In the parable of the sower, Jesus referred to the planting methods employed in Palestine of his day. Since the seed was sown on rocky and unproductive soil, a great deal of the farmer's efforts were wasted and the crop was only moderately successful. Jesus compared this to his task of proclaiming God's word. Although it was arduous work, Jesus' followers were privileged to have heard his words. They were the "rich soil" that would produce abundant fruit. He encouraged them to persevere in their task no matter how many accepted their message or rewarded them for their labor.
TO LOVE: Do I persist in proclaiming the gospel when I am discouraged?
TO SERVE: Lord Jesus, open my ears to your revealed truth.
​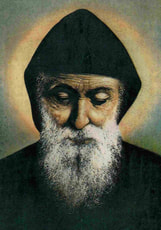 Optional Memorial of Saint Sharbel Makhlūf, priest
Joseph Zaroun Makhlūf, was born in Northern Lebanon and raised by an uncle who opposed the boy's youthful piety. At age 23 Joseph snuck away to join the Baladite monastery of Saint Maron at Annaya where he took the name Sharbel in memory of a 2nd century martyr. He became a hermit from 1875 until his death 23 years later. He gained a reputation for holiness, and was sought after for counseling. Sharbel had a great devotion to the Blessed Sacrament, and was known to levitate during his prayers. He was briefly paralyzed for unknown reasons just before his death. There were several post-mortem miracles attributed to him, including periods in 1927 and 1950 when a bloody "sweat" flowed from his corpse. His tomb has become a place of pilgrimage for Lebanese and non-Lebanese, Christian and non-Christian alike. He was canonized 9 October 1977 by Pope Paul VI.

---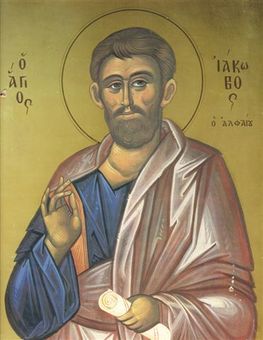 FEAST OF SAINT JAMES, APOSTLE
THURSDAY, JULY 25, MATTHEW 20:20-28
(2 Corinthians 4:7-15; Psalm 126)
KEY VERSE: "Whoever wishes to be great among you shall be your servant" (v. 26).
TO KNOW: For the third time in Matthew's gospel, Jesus taught his disciples about his coming passion and death; yet they still did not comprehend the reality of his words. A woman approached Jesus with the request that her sons, James and John, receive special honor in his kingdom. Her misconception was that Jesus' reign was an earthly rule with temporal authority. The other disciples were indignant over this (did they wish that they had thought of it first?). Jesus reminded them that the way to the kingdom was not the path to glory. Being a disciple meant humble submission to the will of God. Jesus did not come to be served, but to offer his life as a ransom for those who were held captive to sin. James would share Jesus' suffering. He was the first apostle to be martyred (Acts 12:2).
TO LOVE: Do I hand on the faith that I have received, just as the apostles did in their time?
TO SERVE: St. James, pray for me that I might courageously serve Christ as you did.

---
FEAST OF SAINT JAMES, APOSTLE
Jesus nicknamed James and his younger brother John, the sons of Zebedee, Boanerges, meaning "sons of thunder" (Mk 3:17). They were natives of Galilee and fishermen when Jesus called them to follow him. James, John and Peter belonged to what seems to have been an inner circle of three. They were privileged witnesses when Jesus cured Peter's mother-in-law; at the raising of Jairus' daughter; at the Transfiguration; and at Jesus' agony in the garden. James was "killed with the sword," probably beheaded by the order of King Herod Agrippa I (Acts 12:1-2). Most modern scholars hold that James was not the author of the epistle by that name. Among the reasons cited is that that the author does not identify himself as an Apostle. Another reason is the elegant Greek literary style used, which is unlikely that of a Galilean peasant.


FRIDAY, JULY 26, MATTHEW 13:18-23
(Exodus 20:1-17; Psalm 19)
KEY VERSE: "But the seed sown on rich soil is the one who hears the word and understands it" (v. 23).
TO KNOW: Jesus explained the parable of the sower to his disciples. The different types of soil in the parable depicted various responses to the proclamation of God's reign. The seed, the Word of God, sown on the pathway represented those who heard the message, but never accepted it in their hearts, and the evil one robbed them of what was sown. The seed sown on rocky ground were those who heard the word with enthusiasm, but quickly fell away when persecution or trials occurred. The seed sown among thorns were those who believed for a while, but the lure of riches and worldly concerns choked out the life of faith. The seed that was sown on fertile soil were those who heard and responded to the message with faith. Their lives would yield abundant fruit.
TO LOVE: What seeds of faith have I planted in the hearts of others?
TO SERVE: Lord Jesus, prepare my heart so that your words will take root and grow.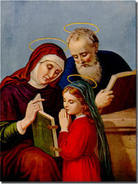 Memorial of Saints Joachim and Anne, parents of the Blessed Virgin Mary
Joachim was the husband of Anne, father of the Blessed Virgin Mary, and grandfather of Jesus Christ. There is no mention of them in the New Testament. What we know comes from Catholic legend and the Gospel of James, which is an apocryphal writing from the second century AD. Tradition says that while Joachim was away from home, he and Anne each received a message from an angel that she was pregnant. It is believed that Joachim and Anne offered Mary to the service of the Temple when the girl was three years old. Joaquin and Anne serve as role models for parents and grandparents and deserve to be honored and emulated for their devotion to God and to their daughter, Mary, the Mother of Jesus.

---
SATURDAY, JULY 27, MATTHEW 13:24-30
Weekday
(Exodus 24:3-8; Psalm 50)
KEY VERSE: "Let them grow together until harvest" (v. 30).
TO KNOW: The parable of the weeds among the wheat is a story of good and evil, which will exist together until the end of the world. The image in this parable would be familiar to the farmers in Jesus' audience. At times, an underhanded man deliberately sowed bad seed in someone else's field. The weed in the story was darnel, a poisonous plant that looked very much like wheat when it was young. So it is with evil; it is difficult to detect in its early stages until it grows strong and destroys what is good. But to pull up the weeds before the wheat matured would endanger its immature roots. When the wheat ripened it grew taller and stronger than the weeds. Then the experienced eye could distinguish the two and easily separate them. Jesus said that it was not the work of God's servants to make this judgment. The Church will always be a place of saints and sinners. But the weeds and the wheat should be allowed to flourish until the harvest when God would separate error from truth.
TO LOVE: Do I tend to be judgmental toward others?
TO SERVE: Lord Jesus, help me to refrain from judging the actions of others until I know the truth.​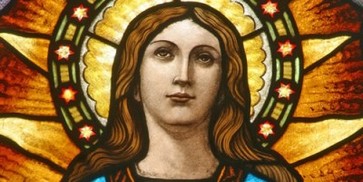 OPTIONAL MEMORIAL OF THE BLESSED VIRGIN MARY
Chapter V of the Directory on Popular Piety and the Liturgy, issued by the Holy See in December 2001, describes the Church's traditional dedication of Saturday to the Virgin Mary. "Saturdays stand out among those days dedicated to the Virgin Mary. These are designated as memorials of the Blessed Virgin Mary" (218). The chapter also describes the importance of Mary, the Mother of Jesus, in Catholic devotional life, in the Liturgy, and reflections on popular devotions to Mary, her feast days, and the Rosary.
​
---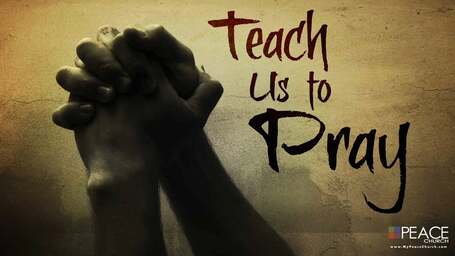 SEVENTEENTH SUNDAY IN ORDINARY TIME
SUNDAY, JULY 28, LUKE 11:1-13
(Genesis 18:20-32; Psalm 138; Colossians 2:12-14)
KEY VERSE: "Lord, teach us to pray" (v. 1).
TO KNOW: Throughout Luke's gospel, Jesus is shown praying at every important moment of his life. It was in observing Jesus at prayer that moved his disciples to ask him to teach them how to pray, and he gave them the "Lord's Prayer" (Lk 11:1-4). In Matthew's gospel, the Lord's Prayer begins with "Our Father" (Matt 6:9). We experience God's fatherhood not as isolated individuals but as members of the Church. By contrast, Luke's gospel simply says, "Father" (Lk 11:2), which expresses Jesus' unique relationship with God whom he called "Abba, Father." Spend time meditating on each line of the Lord's Prayer in Luke's gospel, making it your own: "Father" ... Do I live like a son or daughter of God? ... "Hallowed be your name"... Do I respect the Lord's name? ... "Your Kingdom come"... Do I work to bring about the reign of God? ... "Your will be done" . . . Do I pray for God's will or my will to be done? . . . "Give us each day our daily bread" ... Do I trust God to provide for my daily needs? ... "Forgive us our sins" ... Do I believe that God can absolve me of my sins? ..."As we forgive everyone who trespasses against us" ... Am I willing to forgive and forget the sins of others? ... "Deliver us from evil" ... What is the greatest evil that I need to resist? Pray that you will not fail God in times of trial.
TO LOVE: Do I teach others how to pray?
TO SERVE: Lord Jesus, teach me how to pray. ​
---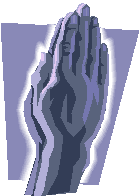 PRAYING THE LORD'S PRAY BACKWARDS:
A Journey to Freedom through the EXODUS by Kay Murdy
Unpack the Lord's Prayer and experience the Exodus. It's true. If you meditate on the Lord's Prayer - beginning with the last phrase and going backwards to the first phrase - you move from the world of evil to the world of the Father. You recreate, in effect, the journey of the Israelites out of Egypt. Kay Murdy builds her provocative book on this insight, moving in eight steps from an all-too real world to intimacy with the Holy One. Along the way, she builds powerful connections between Scripture and Tradition and the Old and New Testaments. Discussion questions make this a useful tool for introducing catechumens to the Lord's Prayer. Paper, $10.00, (USA). You can order my book by contacting me at: murdyk@netscape.net​
---
MONDAY, JULY 29, LUKE 10:28-32
(Exodus 32:15-24, 30-34; Psalm 34)
KEY VERSE: "I have come to believe that you are the Messiah, the Son of God" (v.27).
TO KNOW: Martha, Mary and their brother Lazarus were good friends of Jesus. When Jesus heard that Lazarus was gravely ill, he made plans to go to their home in Bethany (near Jerusalem where his passion and death awaited him). Jesus was delayed in coming, and upon his arrival, Martha told Jesus that he was too late; her brother had already died. Although she reproached Jesus for not coming sooner, she declared her faith in him that God would give him whatever she asked. Jesus told Martha that he was the "resurrection and the life" (v.25), and all who believed in him would share eternal life with him. Jesus asked Martha if she believed his words, and she responded with the same profession of faith that Peter spoke at Caesarea Philippi: "You are the Messiah, the Son of God" (Mt 16:16).
TO LOVE: In what ways can I help others cope with their grief?
TO SERVE: Lord Jesus, give me the faith to believe in the resurrection of the dead, and the life of the world to come.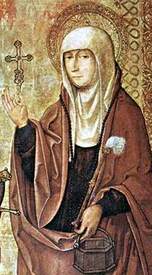 Memorial of Saint Martha
Martha was the sister of Mary and Lazarus were friends of Jesus. In the famous incident in Luke's gospel (10:38-42), Martha was hostess to Jesus in her house. She demanded that Jesus tell her sister Mary to help her. Jesus commended Mary as choosing the better part, sitting at his feet and listening to his word (singular in the Greek). Martha and her sister Mary were not only related by blood but also by religious aspirations. Christian discipleship is first and foremost devotion to Jesus, the "one thing required" (Lk 10:42). This relationship shows itself in loving service, but without prayer, care for others' needs may not be love. Martha may have been part of an early mission to France. She is known as the "Wonder Worker of Gaul."
Do not grieve or complain that you were born in a time when you can no longer see God in the flesh. He did not in fact take this privilege from you. As he says, "Whatever you have done to the least of my brothers, you did to me."-- Saint Augustine

---
TUESDAY, JULY 30, MATTHEW 13:36-43
Weekday
(Exodus 33:7-11, 34:5b-9, 28; Psalm 103)
KEY VERSE: "He who sows good seed is the Son of Man" (v. 37).
TO KNOW: When the people refused to believe his words, Jesus left them and addressed his instruction to his disciples. To them alone, he explained the parable of the weeds among the wheat. He told them that he was the sower, the one who sowed the good seed of the gospel in the world. The ones who heard and acted on his words were children of the kingdom, while the weeds represented the offspring of the evil one. Jesus told them that God was patient and allowed good and evil to exist side by side until the harvest on the Day of Judgment. At the end of the age, all evildoers who caused others to sin would be cast into perdition. The righteous would reign in the everlasting light of God's glory (Dn 12:3).
TO LOVE: Do I plant good or bad seed in my community?
TO SERVE: Lord Jesus, I pray that you will uproot the bitter weeds in my life.​



Optional Memorial of Saint Peter Chrysologus, bishop and doctor of the Church
Peter was an adult convert who became a Deacon, a Priest, and in 433, Bishop of Ravenna, Italy. He fought paganism and the Monophysite heresy, enforced reforms, and built several churches. Peter was a preacher with such language skills, that he merited the title Chrysologus, referring to his "Golden Word." One hundred and seventy six of his sermons have survived. The strength of his beautiful explanations such as the Incarnation, the Creed, the place of Mary and John the Baptist in the great plan of salvation, led to his being proclaimed a Doctor of the Church in 1729 by Pope Benedict XIII.
NOTE: Monophysitism is a heretical view concerning the nature of Jesus Christ. Its name comes from a combination of the Greek words monos, meaning "one" and physis, meaning "nature." According to this view, Christ had only a single Divine nature instead of two natures, one Divine and one human, as set forth in the Council of Chalcedon in 451 (the Fourth Ecumenical Council).

---
WEDNESDAY, JULY 31, MATTHEW 13:44-46
​(Exodus 34:29-35, Psalm 99)
KEY VERSE: "The kingdom of heaven is like a treasure buried in a field" (v. 44).
TO KNOW: Jesus told his disciples parables to help them understand the meaning of God's reign and the zeal with which it must be pursued. In the parable of the buried treasure, there was great joy in the man's discovery, which made him willing to give up everything to make the treasure his own. Nothing else really mattered. The irony was that the treasure was found unexpectedly when he was going about his daily business. In the parable of the priceless pearl, Jesus' point was that the effort to search for and attain the kingdom of God was of inestimable worth and nothing could be compared to it. Jesus' followers had come to value the kingdom as a precious treasure that would last for all eternity. Because they discovered its true worth, they willingly sacrificed everything for its attainment.
TO LOVE: Is my sight set on the treasure of the kingdom or the riches that the world offers?
TO SERVE: Lord Jesus, help me to value your kingdom above all else.​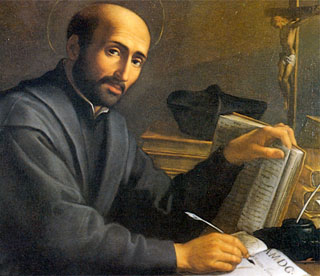 Memorial of Saint Ignatius of Loyola, priest
Born in 1491 at Loyola, Spain, Ignatius was wounded in the leg by a cannonball at the siege of Pampeluna in 1521, an injury that left him partially crippled for life. During his recuperation the only books he had access to were The Golden Legend, a collection of The Lives of the Saints, and The Life of Christ. These books, and the time spent in contemplation, changed him. Upon his recovery he took a vow of chastity, hung his sword before the altar of the Virgin of Montserrat, and donned a pilgrim's robe. He journeyed to Rome and the Holy Land where he worked to convert Muslims. His meditations, prayers, visions and insights led to forming the Constitutions of the Society of Jesus (Jesuits) on 15 August 1534. He then settled in Rome to direct the Jesuit order. His health suffered in later years, and he was nearly blind at death. The Jesuits today have over 500 universities and colleges, 30,000 members, and teach over 200,000 students each year.
"Teach us to be generous, good Lord; teach us to serve You as You deserve; to give and not to count the cost, to fight and not to heed the wounds, to toil and not to seek for rest, to labor and not to ask for any reward save that of knowing we do Your will." - St. Ignatius of Loyola

---
THURSDAY, AUGUST 1, MATTHEW 13:47-53
(Exodus 40:16-21, 34-38; Psalm 84)
KEY VERSE: "Then every scribe who has been instructed in the kingdom of heaven is like the head of a household who brings from his storeroom both the new and the old" (v. 52).
TO KNOW: In Jesus' day, one method of fishing was with a dragnet, a large square net that was weighted and hung from the side of a boat. The net was drawn into the shape of a cone and the fish were swept into it. The net was then pulled to land, and the worthwhile fish were separated from the useless. Like the story of the weeds among the wheat (Mt. 13:24-30), it was not the responsibility of Jesus' disciples to judge the actions of others. God would ultimately reveal what was good and what was evil in the world. Jesus' disciples must be like wise scribes who were able to understand things both "new and old." (Some scholars see this as Matthew's personal signature, v 52). As future leaders of the Church, Jesus' disciples must be able to interpret the ancient truths in the light of the gospel. When Jesus was assured that they understood his message, he was ready to move on in his journey.
TO LOVE: Do I submit myself to the teachings of Jesus and the Church?
TO SERVE: Lord Jesus, help me to discern your truth in everything I hear.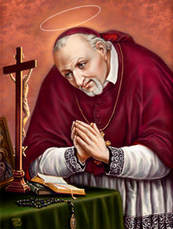 Memorial of Alphonsus Liguori, bishop and doctor of the Church
Alphonsus Liguori was ordained at age 29. He was noted for his simple, clear style of preaching, and his understanding manner in the confessional. He was often opposed by Church officials for a perceived laxity toward sinners. He founded the Congregation of the Most Holy Redeemer (Liguorians or Redemptorists). Alphonsus was appointed bishop in 1762, and worked to reform the clergy and revitalize the faithful in the diocese. In 1775 he resigned his office due to his health, and went into what he thought was a prayerful retirement. In 1777 the royal government threatened to disband his Redemptorists. Calling on his knowledge of theology, and his skills as a lawyer, Alphonsus defended the Redemptorists so well that they obtained the king's approval. Alphonsus was declared a Doctor of the Church by Pope Pius IX in 1871.

---
FRIDAY, AUGUST 2, MATTHEW 13:54-58
Weekday
​(Leviticus 23:1, 4-11, 15-16, 27, 34b-37; Psalm 81)
KEY VERSE: "A prophet is not without honor except in his native place and in his own house" (v. 57).
TO KNOW: Chapters 13:54 ̶ 17:27 of Matthew's gospel have been given the title: "The Kingdom of God and the Church." God's kingdom was clearly visible in the person of Jesus Christ, Son of God and Son of Man. When Jesus finished his teachings in the towns around the Lake of Galilee, he returned to Nazareth where he was raised. His neighbors were astonished by his teaching and mighty deeds, but they were also skeptical. Jesus was a "hometown boy," whose family were known to them, and they took offense at his presumption in telling them how to live their lives. Like the prophets before him, Jesus faced opposition and rejection. Because his neighbors lacked faith in him, he was unable to perform many miracles there.
TO LOVE: Am I able to see God at work among my friends and neighbors?
TO SERVE: Lord Jesus, help me to be open to hearing truth in the teachings of the Church.
​
Optional Memorial of Saint Eusebius of Vercelli, bishop
Eusebius was made lector in Rome, where he lived for some time, probably as a member or head of a religious community. Later he came to Vercelli, and in 340 was unanimously elected bishop of that city by the clergy and the people. He received episcopal consecration at the hands of Pope Julius I on 15 December, of the same year. According to the testimony of Saint Ambrose, Eusebius was the first bishop of the West who united monastic with clerical life. He led a common life with the clergy of his city modeled upon that of the Eastern cenobites (a monastic tradition that stresses community life). For this reason the Canons Regular of Saint Augustine honor him along with Saint Augustine as their founder.

---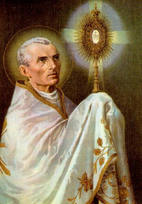 Optional Memorial of Saint Peter Julian Eymard, priest
Peter Julian Eymard had a strong Eucharistic devotion. On the feast of Corpus Christi, 1845, he had a powerful experience that changed the course of his life. While carrying the Blessed Sacrament in Lyons, he felt an intense attraction to Christ in the Eucharist and resolved to "bring all the world to the knowledge and love of our Lord; to preach nothing but Jesus Christ, and Jesus Christ eucharistic." He founded the Congregation of the Blessed Sacrament in 1856, and the lay Servants of the Blessed Sacrament in 1858, and a sister congregation for women. Although Peter's work encountered a series of setbacks, his vision of priests, deacons, sisters, and lay people dedicated to spiritual values anticipated many of the renewals brought about by Vatican Councils I and II.

---
SATURDAY, AUGUST 3, MATTHEW 14:1-12
Weekday
(Leviticus 25:1, 8-17; Psalm 67)
KEY VERSE: "This man is John the Baptist, raised from the dead; that is why mighty powers are at work in him" (v. 2).
TO KNOW: As Jesus' reputation spread, Herod Antipas, son of Herod the Great and the ruler of Galilee, heard of the marvelous deeds that Jesus had performed. Herod feared that Jesus was John the Baptist raised from the dead. The king had imprisoned the prophet because of his courageous stance against the ruler's illicit marriage (Lv 18:16, 20:21). Herod wanted to kill the popular prophet, but he was afraid that his death would cause the people to revolt. At Herod's birthday party, he promised his step-daughter that he would grant her any request if she would dance for his guests. Prompted by her mother, Herodias, the girl asked for John's head as her reward. Like the prophets before him, John was murdered for proclaiming the truth of God.
TO LOVE: What are today's important issues for which I need to take a stand?
TO SERVE: Lord Jesus, help me to speak out against the injustices that I see.​
​


OPTIONAL MEMORIAL OF THE BLESSED VIRGIN MARY
Chapter V of the Directory on Popular Piety and the Liturgy, issued by the Holy See in December 2001, describes the Church's traditional dedication of Saturday to the Virgin Mary. "Saturdays stand out among those days dedicated to the Virgin Mary. These are designated as memorials of the Blessed Virgin Mary" (218). The chapter also describes the importance of Mary, the Mother of Jesus, in Catholic devotional life, in the Liturgy, and reflections on popular devotions to Mary, her feast days, and the Rosary.


---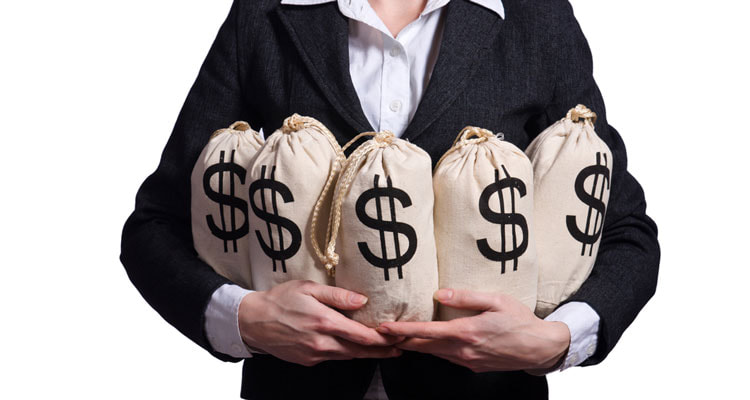 EIGHTEENTH SUNDAY IN ORDINARY TIME
SUNDAY, LUKE 12:13-21
(Ecclesiastes 1:2, 2:21-23; Psalm 90; Colossians 3:1-5, 9-11)
KEY VERSE: "Take care to guard against all greed, for though one may be rich, one's life does not consist of possessions" (v. 15).
TO KNOW: In Jesus' time, respected Rabbis were often called upon to settle disputes. When a man approached Jesus regarding a quarrel over the family inheritance, Jesus asked, "Friend, who set me to be a judge or arbitrator over you?" (Lk 12:14). Jesus refused to intervene in this shameless argument about money. He then began a long discourse on the nature of material possessions. Jesus warned his disciples to be on guard against greed, since one's life did not consist in an abundance of possessions (Lk 12:15). Jesus told a parable about the folly of focusing on material wealth. In the story, a rich man's barns were full, so he made plans to build even larger ones to store his harvest. He never saw beyond this world; all his plans were made on the basis of his life on earth. The man presumed that he would have many years to enjoy his prosperity, but he gave no thought to God's plans. Nor did he give any thought to sharing his wealth. When death came unexpectedly, the man's earthly riches counted for nothing. He was a "fool" who was so absorbed in his worldly goods, that he lost sight of God's eternal treasures.
TO LOVE: What are the "barns" I am building to hold my earthly treasures?
TO SERVE: Lord Jesus, help me to realize that you are more precious than any wealth I might possess.
---