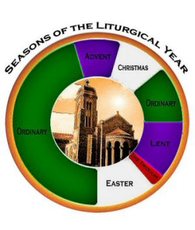 ORDINARY TIME
Ordinary Time is called "ordinary" because the weeks are numbered. The Latin word ordinalis, which refers to numbers in a series, stems from the Latin word ordo, from which we get the English word order. Thus, Ordinary Time is in fact the ordered life of the Church—the period in which we live our lives neither in feasting (as in the Christmas and Easter seasons) or in penance (as in Advent and Lent), but in watchfulness and expectation of the Second Coming of Christ. There are two times of Ordinary Time -- 28 weeks after Easter and 5 weeks after Christmas. However, this varies depending upon when Easter falls in a particular year. The actual number of weeks of Ordinary Time in any given year can total 33 or 34. Green is the color of Ordinary Time.
---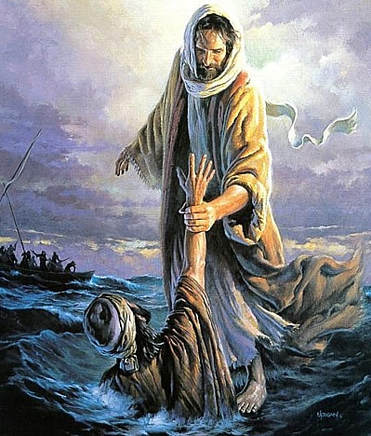 NINETEENTH SUNDAY IN ORDINARY TIME
SUNDAY, AUGUST 13, MATTHEW 14:22-33
(1 Kings 19:9a,11-13a; Psalms 85; Romans 9:1-5)
KEY VERSE: "O you of little faith, why did you doubt" (v 31).
TO KNOW: After Jesus revealed himself as the one who nourished his people with the miraculous multiplication of loaves (Mt 14:13-20), he demonstrated that he was victorious over the destructive powers of evil. Jesus had sent his disciples in a boat ahead of him while he went up a hill to pray. When it grew late, a turbulent storm arose on the lake. Jesus saw his disciples struggling against the winds and the waves, making little progress. As the night wore on, Jesus came toward his terrified disciples, walking on the sea, evoking the victory that enabled Israel to cross the sea into the Promised Land (Ps 77:20). Jesus told his disciples to take courage; he was with them ("Emmanuel"). Peter, the leader of the struggling community, tried to come to the Lord, but he was overwhelmed by fear. At Jesus' command, Peter stepped forward in faith, but when he took his eyes off Jesus, he began to sink beneath the waves and cried out, "Lord, save me!" (v 30b). Grasping Peter by the hand Jesus asked, "Why did you doubt?" (v 31b). Those who lacked faith now declared Jesus to be the "Son of God" (v 33b). Matthew intended his readers to see the storm-tossed boat as a symbol of the Church contesting the forces that threatened to engulf them.
TO LOVE: What is it that "drowns" me in fear, discouragement or sadness today?
TO SERVE: Lord Jesus, help me to keep my eyes on you in all the storms of life.​
---
MONDAY, AUGUST 14, MATTHEW 17:22-27
(Deuteronomy 10:12-22; Psalm 147)
KEY VERSE: "The Son of Man is to be handed over to men" (v 22).
TO KNOW: Following Jesus' glorious manifestation on the Mountain of the Transfiguration, he and his disciples arrived in Capernaum where they were met with opposition. The tax collectors came to Peter and asked why Jesus had not paid the annual tax for the upkeep of the temple (Ex 30:11-16). Jesus used this incident as an analogy of the spiritual realm. If the kings of the earth demanded tolls from foreigners, then the "sons" of the kingdom should be exempt. Yet to avoid scandal, Jesus told Peter that he would find a coin worth twice the tax in the mouth of the first fish he caught. (The Musht fish is popularly known as "St. Peter's fish." The parent fish keeps the eggs of their young in their mouths until they are hatched. Then it takes in pebbles and possibly a coin to prevent their offspring from entering the mouth again. This may have happened when Peter found a coin in the fish's mouth to pay the tax). A fish is the oldest Christian symbol. The Greek word for fish, Ichthus, is used as an acrostic for the words that translate "Jesus Christ Son of God Savior" [Iesous (Jesus) Christos (Christ) Theou (God) Uiou (Son) Soter (Savior)].
TO LOVE: Do I protest when tax dollars are used for things that conflict with our Christian values?
TO SERVE: Lord Jesus, thank you for making us sons and daughters of your kingdom.​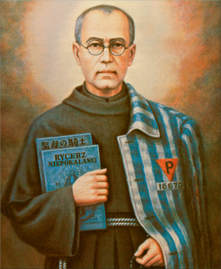 Optional of Saint Maximilian Kolbe, priest and martyr
Maximilian Kolbe was ordained in 1918 in Rome, and returned to Poland to teach history in the Crakow seminary. He founded a new monastery of Niepokalanow. By 1939 the monastery housed a religious community of nearly 800 men, the largest in the world in its day, and was completely self-sufficient including medical facilities. During World War II, Maximilian Kolbe and his brothers housed 3,000 Polish refugees, two-thirds Jewish. Their publications included materials considered anti-Nazi, and the congregation suppressed, and the brothers dispersed. Maximilian was imprisoned in Warsaw, Poland. On 28 May 1941 he was transferred to Auschwitz and branded as prisoner 16670. He was assigned to a group staffed by priests and supervised by especially abusive guards. His calm dedication to the faith brought him the worst jobs available, and more beatings than anyone else. In July 1941 there was an escape from the camp, and ten men were to be slaughtered in retribution for each escaped prisoner. Francis Gajowniczek, a married man with young children was one of the ten chosen to die. Maximilian volunteered to take his place, and died as he had always wished - in service of Jesus Christ. Maximilian Kolbe was canonized by Pope John Paul II on October 10, 1982. "Greater love has no man than this, that a man lay down his life for his friends" (John 15:13).​
---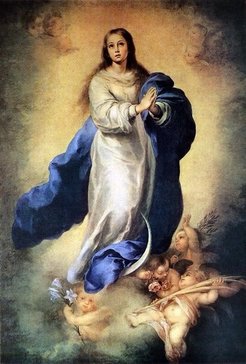 SOLEMNITY OF THE ASSUMPTION OF THE BLESSED VIRGIN MARY
TUESDAY, AUGUST 15, LUKE 1:39-56
Holy Day of Obligation
(Revelation 11:19a, 12:1-6a, 10ab; Psalm 45; 1 Corinthians 15:20-27)
KEY VERSE: "He has thrown down the rulers from their thrones but lifted up the lowly" (v 52).
TO KNOW: When Mary visited her kinswoman Elizabeth, the infant John leaped for joy in his mother's womb before the divine presence within Mary's womb. Similarly, King David danced in jubilation before the presence of God when he brought the Ark of the Covenant to Jerusalem (2 Sm 6:14). Elizabeth was overwhelmed that Mary, the mother of her Lord, should come to her. She proclaimed that Mary was "blessed among women" for trusting that the Lord's promises to her would be fulfilled (Luke 1:42, 45). In an exultant hymn of praise, Mary rejoiced in the saving promises of her Mighty God. Through Mary's son, the meek and poor would be exalted, and the proud and powerful would be cast down. Mary recognized her own lowliness before God. She was God's humble handmaid, "servant Israel" (v 54), obedient to the Lord's command. It is our hope as Christians that one day we will be raised by God to join Mary and her son in heaven.
TO LOVE: Does Mary's assumption offer me hope in my own union with God?
TO SERVE: Mary my mother, pray for me now and at the hour of my death. ​
---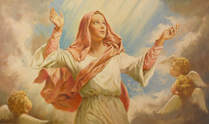 NOTE: DOGMA OF THE ASSUMPTION OF THE BLESSED VIRGIN MARY
The Feast of the Assumption of Mary is a centuries-old tradition in the Church. Although its origin is unknown, it was celebrated in Palestine before 500. The Dogma of the Assumption was officially defined by Pope Pius XII in 1950 who declared that Mary was "full of grace" (Lk1:28) from the time of her conception, and was thus preserved from the consequences of sin and corruption after death (Munificentissimus Deus). As an infallible pronouncement, the Dogma of the Assumption is thus a mandatory belief for Roman Catholics. The Catechism of the Catholic Church states that "The Assumption of the Blessed Virgin is a singular participation in her Son's Resurrection and an anticipation of the resurrection of other Christians" [# 966]. The Feast of the Assumption is commemorated on August 15 as a holy day of obligation. "Everything we affirm about Mary, we affirm for the sake of her Son. Every grace we ascribe to Mary, we ascribe as coming from her Son. Every privilege we acknowledge in Mary, we acknowledge as granted by her Son. Exalting the Mother does not diminish the Son in any way --- any more than the moon detracts from the sun by reflecting its light. Rather, the moon reflects the light of the sun and magnifies its radiant glory." --- The Catholic Answer Book of Mary by Rev. Peter M. Stravinskas ​​
---
WEDNESDAY, AUGUST 16, MATTHEW 18:15-20
Weekday
(Deuteronomy 34:1-12; Psalm 66)
KEY VERSE: "Where two or three are gathered together in my name, there am I in the midst of them" (v 20).
TO KNOW: The Jews were called by God to form a worshiping and believing community (Hebrew, Qahal Yahweh). Christians are also called to be a People of God, the Church (Greek, Ekklesia). Matthew is the only evangelist to use this term (Mt 16:18; 18:17). In this second instance, the word "church" dealt with members of the community who sinned, yet remained obstinate despite fraternal correction. If the person continued to be unrepentant, the case was referred to the whole church, and, if all else failed, excommunication might be prescribed (1 Cor 4:9-11). Jesus used hyperbole, exaggerated speech, when he said that they should be treated as "tax-collectors and Gentiles." Jesus himself was accused of being the friend of sinners. The church should never see people as hopeless sinners, but always treat those who have fallen with sympathy and love as Jesus did. He is eternally present in the church as it exercises his divine authority of forgiveness in his name (Mt 28:20).
TO LOVE: Pray for Church leaders to use their authority with justice and compassion.
TO SERVE: Lord Jesus, help me to follow your example of kindness and care for those who have strayed.​
​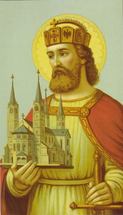 Optional Memorial of Saint Stephen of Hungary
Stephen, the first Christian King of Hungary, was born in 975 AD and died in 1038. He was a son of the Hungarian chief Géza and was baptized, together with his father, by Archbishop Saint Adalbert of Prague in 985. On this occasion, he changed his pagan name Vajk to Stephen. In 995, Stephen married Gisela, a sister of Duke Henry of Bavaria, the future Emperor Saint Henry II, and in 997 succeeded to the throne of Hungary. In order to make Hungary a Christian nation and to establish himself more firmly as ruler, he sent Abbot Astricus to Rome to petition Pope Sylvester II for the royal dignity and the power to establish episcopal sees. The pope acceded to his wishes and, in addition, crowned him as king on August 17, 1001. In 1031, his only son, Emeric, lost his life on a boar hunt. Thus, Stephen's cherished hope of transferring the reins of government into the hands of a pious Christian prince was shattered. At Stephen's death, he was buried beside his son and both were canonized together in 1083. The Holy Crown of Saint Stephen and other Coronation Jewels are considered national relics, currently on display in the Parliament of Hungary, in Budapest.
---
THURSDAY, AUGUST 17, MATTHEW 18:21--19:1
Weekday
(Joshua 3:7-10a, 11, 13-17; Psalm 114)
KEY VERSE: "Should you not have had pity on your fellow servant, as I had pity on you?" (v 33).
TO KNOW: Jesus gave the Church the power to exercise divine authority in his name. But this authority had to be tempered by compassion. As a leader of the Christian community, Peter asked Jesus how often he must forgive a fellow disciple. In the Old Testament, Lamech, a descendant of Cain, exacted a "seventy-sevenfold" vengeance, or unlimited retaliation for injury (Gn 4:23-24). The rabbis of Jesus' time taught that forgiveness should be offered another person at least three times as it was better to err on the side of mercy than judgment. Peter increased the number to seven. However, Jesus told him that Christian forgiveness must be "seventy-seven times" (Matt 18:22). Jesus is not saying that we should forgive 490 times. In the Bible, the number "7" symbolizes completeness, while the number "70" signifies 'perfect.' Therefore, 70 x 7, signifies perfection and completeness. Jesus illustrated this with a parable in which a master forgave his servant a staggering debt. Yet the same servant refused to forgive a much smaller amount owed by a fellow servant. When the master heard this, he had his hardhearted servant punished until he agreed to pay the debt. At the final judgment, God's compassion will be withheld from those who have not forgiven the offenses of others.
TO LOVE: Who have I offended? Am I willing to ask their forgiveness?
TO SERVE: Lord Jesus, grant me the grace to forgive those who have offended me.


FRIDAY, AUGUST 18, MATTHEW 19:3-12
Weekday
(Joshua 24:1-13; Psalm 136)
KEY VERSE: "So they are no longer two, but one flesh" (v 6).
TO KNOW: The Pharisees deliberately tried to involve Jesus in controversy in order to entrap him. At one point they questioned him about his views on the grounds for divorce. In effect, the Pharisees asked Jesus whether he favored the strict view of the school of Shammai, which held that a man could divorce his wife if he found "some indecency in her" (Deut 24:1). Shammai made it clear that "indecency" meant fornication, and a wife could be put away for no other cause. Or did Jesus favor the laxer view of the school of Hillel that divorce could be obtained on the most trivial of grounds? Jesus said, although Moses permitted divorce in certain instances, this was not God's original purpose when man and woman were joined into "one body" (Gn 2:24). What God united, no one should divide. The disciples were astonished by Jesus' strict interpretation of the law, and they asked if it was better to remain celibate. Jesus replied that not everyone had been given this special "gift from God" (1 Cor 7:7). While some embraced celibacy "for the sake of the kingdom" (v 12), each person should serve God by following his or her unique call.
TO LOVE: Do I live my vocation as a sign of Christ's commitment to his Church?
TO SERVE: Lord Jesus, help me to be faithful to my call.
​
SATURDAY, AUGUST 19, MATTHEW 19:13-15
Weekday
(Joshua 24:14-29; Psalm 16)
KEY VERSE: "Let the children come to me, and do not prevent them" (v 14).
TO KNOW: Jesus taught his disciples about the necessity of serving God "for the sake of the kingdom" (Mt 19:12). When some parents brought their children to be blessed by Jesus, his disciples scolded them. Jesus told them not to prevent these little ones from coming to him. Jesus was never too tired or too busy to give of himself to the humblest person or the smallest child. These little ones exemplified the attitude needed to enter God's reign. They were simple and trusting, and more open to God's revelation than those who were sophisticated and wise (Matt 11:25). This account of Jesus blessing the children is understood by the Church as justifying the practice of infant baptism. In the earliest baptismal liturgies, the people were warned not to "hinder" anyone from coming to the Lord (Acts 8:36).
TO LOVE: In what ways do I need to become more child-like?
TO SERVE: Lord Jesus, thank you for blessing my family in so many ways.
​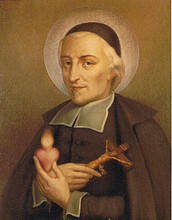 Optional Memorial of Saint John Eudes, priest
John Eudes was a farmer's son who joined the Congregation of the Oratory of France and was ordained a priest at age 24. During severe plagues in 1627 and 1631, he volunteered to care for the stricken in his own diocese. At age 32, John became a parish missionary. His gifts as preacher and confessor won him great popularity. In his concern with the spiritual improvement of the clergy, he realized that the greatest need was for seminaries. He had permission from his general superior and the bishop to begin this work. The same year he founded a new religious community called the Eudists (Congregation of Jesus and Mary), devoted to the formation of the clergy by conducting diocesan seminaries. In his parish mission work, John was disturbed by the sad condition of prostitutes who sought to escape their miserable life. The result was another new religious community, called the Sisters of Charity of the Refuge. His devotion to the Sacred Heart and to the Immaculate Heart of Mary led Pius XI to declare him the father of the liturgical cult of the Hearts of Jesus and Mary.​
---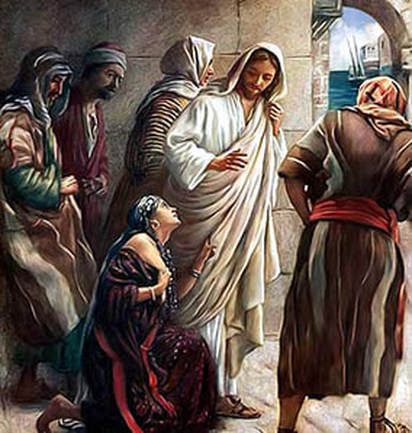 TWENTIETH SUNDAY IN ORDINARY TIME
SUNDAY, AUGUST 20, MATTHEW 15:21-28
(Isaiah 56:1, 6-7; Psalm 67; Romans 11:13-15, 29-32)
KEY VERSE: "My mission is only to the lost sheep of the house of Israel" (v 24).
TO KNOW: Although Matthew emphasized Jesus' mission as primarily to the "lost sheep of the house of Israel" (v 24), he intended to show that God's call had widened to include all people. In anticipation of the Church's mission to the gentiles, Matthew showed Jesus breaking with his custom of ministering only to his own people. In the pagan area of Phoenicia, Jesus met a woman whose faith contrasted with that of the Pharisees and Scribes who opposed him. Matthew called her a Canaanite to remind his readers that these people had occupied the Promised Land before the Hebrew people settled it. The woman addressed Jesus by the messianic titles "Lord" and "Son of God" as she pleaded with him to heal her tormented daughter. When the disciples tried to get rid of her, the woman persisted, saying she was willing to take the crumbs that fell from the master's table. Impressed by this woman's great faith, Jesus healed her daughter that very moment. The Second Vatican Council's Declaration on the Relationship of the Church to Non-Christians (Nostra Aetate, "In this Age of Ours") states: "The Church awaits that day, known to God alone, on which all people will address the Lord in a single voice and serve him with one accord" (# 4).
TO LOVE: Do I respect the beliefs of those outside my community of faith?
TO SERVE: Lord Jesus, help me to imitate your example of listening to other people's views.
​
---
MONDAY, AUGUST 21, MATTHEW 19:16-22
​(Judges 2:11-19; Psalm 106)
KEY VERSE: "Give to the poor, and you will have treasure in heaven" (v 21).
TO KNOW: On his journey toward his destiny in Jerusalem, Jesus' left Galilee and went south to the region of Judea beyond the Jordan. Large crowds followed him, and he cured many. A young man approached him and asked what he might do to inherit eternal life. The man was thinking in terms of keeping rules and regulations. So Jesus tried to correct his view. He told him that righteousness flows from a personal relationship with God. It is lived out by obeying the commandments, which reflect divine goodness. The man remarked that he had observed the entire law, yet still felt there was something more that he could do. Jesus told him that if he wished to be 'perfect' (In Greek, teleios means 'reaching a goal'), he should share his wealth with the poor and commit himself totally to God's service. The young man went away sad because he was unable to relinquish his many possessions. Obeying God's commands is a step on the road to perfection, but following Jesus demands total commitment of one's life.
TO LOVE: Do I use my gifts for the sake of God's kingdom?
TO SERVE: Lord Jesus, help me to let go of anything that stands in the way of following you.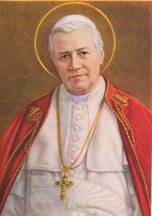 Memorial of Saint Pius X, pope
Giuseppe Melchore Sarto was born in 1835, in Riese near Venice. He entered the seminary in Padua, and was ordained at the age of 23. Due to his pastoral and administrative abilities, his bishop named him spiritual director of the diocesan major seminary and chancellor of the archdiocese. After nine years as bishop he was transferred to Venice as the city's patriarch and cardinal. After the death of Leo XIII the conclave of 1903 elected Cardinal Sarto pope despite his own hesitancy to accept the office. The new pope assumed the name Pius X taking as his motto the passage from Paul, "To restore all things in Christ, that Christ might be all and in all" (I Cor. 15:28), a goal which was particularly important during that period of the Church's emergence into the modern world. His profound devotion to the Blessed Sacrament prompted a universal appeal to all Catholics to a frequent and fervent reception of Holy Communion. He also exhorted catechists to prepare the young for an early, knowledgeable reception of the Eucharist. It was his love for the liturgy which caused him to be remembered as the pope who began modern liturgical reform. Pius was also instrumental in urging sound Biblical scholarship, which led him to found the Pontifical Biblical Institute in Rome which, to this day, is an important source of scholarship. His sorrow over the international conflict that led to Word War I led to his death on August 20, 1914, at the age of 79. He was canonized Saint Pius X on May 31, 1954. He was the first pope in modern times to be canonized. His will read: "I was born poor; I lived poor; I wish to die poor."

---
TUESDAY, AUGUST 22, MATTHEW 19:23-30
(Judges 6:11-24a; Psalm 85)
KEY VERSE: "Amen, I say to you, it will be hard for one who is rich to enter the kingdom of heaven" (v 23).
TO KNOW: Jesus told a wealthy man that to follow the path to perfection, it was necessary to surrender his material possessions and give to the poor. When the young man was unable to do this, it provided Jesus with an opportunity to teach his disciples about wealth. He said that riches could be an obstacle to entering the reign of God. He used the humorous metaphor of a camel trying to pass through the narrow eye of a needle to illustrate the difficulty of this task. The disciples were overwhelmed by what seemed an impossibility and cried out, "Who then can be saved?" (v 25b). Jesus answered that nothing was impossible with God. Peter boasted that he and the disciples had given up everything to follow Jesus, and asked how they would be rewarded. Jesus explained that the reign of God was freely given; it was a gift that could not be earned. But he promised them that in the age to come they would share his authority and sit with him in judgment of God's people.
TO LOVE: Is there anything I am unwilling to relinquish for the sake of God's reign?
TO SERVE: Lord Jesus, you are more precious than any earthly possession I have.
​​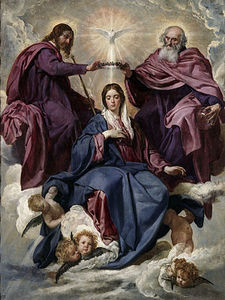 Memorial of the Queenship of the Blessed Virgin Mary
On October 11, 1954, four years after he declared the dogma of the Assumption of Mary, Pope Pius XII, in an encyclical letter, Ad Caeli Reginam, decreed and instituted the feast of the Queenship of the Blessed Virgin Mary. He formalized the Church's tradition from the earliest centuries, which rested on both Holy Scripture and tradition - "All glorious is the king's daughter as she enters, her raiment threaded with gold; in embroidered apparel she is led to the king" (Ps 45:14). The coronation of Mary as Queen of Heaven fulfilled her own prophecy that "all generations will call me blessed." On another level, it prophesizes the triumph of Mary yet to come. The Book of Revelation states that, at the end of the world, Mary, crowned with twelve stars, will crush the head of the serpent beneath her feet [Rev 12:1-18]. Pope Paul VI wrote, "The Solemnity of the Assumption is prolonged in the celebration of the Queenship of the Blessed Virgin Mary, which occurs seven days later. On this occasion we contemplate her who, seated beside the King of ages, shines forth as Queen and intercedes as Mother" (Marialis Cultus - For the Right Ordering and Development of Devotion to the Blessed Virgin Mary - 2 February 1974).


---
WEDNESDAY, AUGUST 23, MATTHEW 20:1-16
Weekday
(Judges 9:6-15; Psalm 21)
KEY VERSE: "Thus, the last will be first, and the first will be last" (v 16).
TO KNOW: Jesus told his disciples a parable about divine justice for all who labored in God's service. God was compared to a landowner who called forth workers for his vineyard. The first to respond were promised the expected day's wages. Those who came later were only promised what was 'just.' When it was time to pay the workers, the owner began with the last and paid them a full day's wages. When those who worked all day were paid the same as those who worked only a few hours, they complained that they were being treated unfairly. The vineyard owner told them that he had done them no injustice by paying them equally. Whether a person responds first or last to God's call, the reward is identical. It is freely given and not merited by the laborer in God's service.
TO LOVE: Do I support justice in the marketplace?
TO SERVE: Lord Jesus, help me to follow your example of generosity toward all.​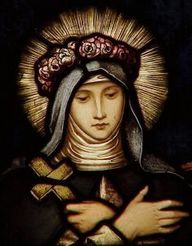 Optional Memorial of Saint Rose of Lima, virgin
Rose was born in Peru to Spanish immigrants to the New World. Her real name was Isabel, but she was such a beautiful baby that she was called Rose. As she grew older, she became more and more beautiful, and one day, her mother put a wreath of flowers on her head to show off her loveliness to friends. But Rose had no desire to be admired, for her heart had been given to Jesus. Rose worked hard to support her poor parents and she humbly obeyed them, except when they tried to get her to marry as she was devoted to her vow of chastity. Rose was a mystic, visionary, and received an invisible stigmata. She had many temptations and there were times when she suffered loneliness and sadness, for God seemed far away. Yet she cheerfully offered all these troubles to God. Many miracles followed her death. She was a lay member of the Dominican Order, and was canonized in 1671 by Clement X, the first person born in the Americas to be so honored by the Catholic Church. Rose of Lima is the patroness of Latin America and the Philippines and is represented wearing a crown of roses. ​
---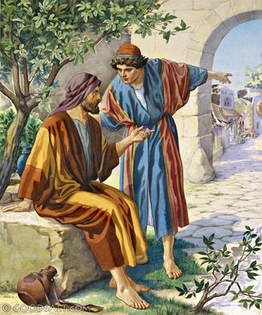 FEAST OF SAINT BARTHOLOMEW, APOSTLE
THURSDAY, AUGUST 24, JOHN 1:45-51
(Revelation 21:9b-14; Psalm 145)
KEY VERSE: "Philip said to him, 'Come and see.'" (Jn 1:46).
TO KNOW: Nathanael (called "Bartholomew" in the synoptic gospels) was skeptical when Philip told him that Jesus was the promised Messiah of God. The scriptures said that the messiah would come from David's city, Bethlehem in Judah (Mi 5:1), not from a lowly place like Nazareth in Galilee. Philip invited Nathanael to come and judge for himself. Jesus overcame Nathanael's doubts by a demonstration of supernatural knowledge: "Before Philip called you, I saw you under the fig tree" (v.48). Jesus said that Nathanael was guileless, a "true Israelite" like Jacob, the first to bear the name "Israel" (Gn 32:29). Even though Jacob was a man of deception, he witnessed angelic beings ascending and descending to heaven (Gn 28:12). Nathanael would see even greater things in the death and resurrection of Jesus.
TO LOVE: Have I responded to Jesus' invitation to follow him today?
TO SERVE: St. Bartholomew, help me to overcome any doubts that I might have.​
---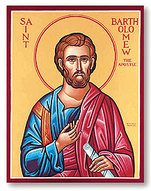 SAINT BARTHOLOMEW, APOSTLE
In the Gospel of John, Bartholomew is not mentioned in the list of the Apostles. In the other gospels, Nathanael is not mentioned, but the place after Philip is accorded to Bartholomew. Hence, many Scripture scholars believe Bartholomew is the Nathanael in question. Nathanael bar Tolomai (or Bartholomew) was probably a close friend of Philip as his name is always mentioned in the Gospels in connection with him, and it was Philip who brought Bartholomew to Jesus. Nathanael may have written a gospel, now lost, as it is mentioned in other writings of the time. He may have preached in Asia Minor, Ethiopia, India, and Armenia where local tradition says that he was flayed and beheaded.


---
FRIDAY, AUGUST 25, MATTHEW 22:34-40
Weekday
​(Ruth 1:1, 3-6, 14b-16, 22; Psalm 146)
KEY VERSE: "The whole law and the prophets depend on these two commandments" (v 40).
TO KNOW: The Pharisees believed in the divine authority of the written Hebrew Scriptures ("the law and the prophets," v. 40) as well as the oral interpretations of the law. These included 613 precepts that were divided into categories of greater or lesser importance. The Sadducees, on the other hand, accepted only the first five books of the law (the Pentateuch) and rejected oral tradition, including the belief in angels and bodily resurrection. Both groups were opposed to Jesus. A scribe, an expert in the law, challenged Jesus by asking which law was greater than the others. Jesus summed up the entire law with two commands upon which the whole law was based: "You must love the Lord your God with all your heart, with all your soul, and with all your mind" (Dt 6:5) and "You must love your neighbor as yourself" (Lv 19:18). Jesus thereby put the love of God on a par with love of neighbor. Only by loving oneself, will we be able to start loving God and other people as the Lord commanded. Jesus perfectly fulfilled this law of love in his words and deeds.
TO LOVE: Do I have a healthy self-love?
TO SERVE: Lord Jesus, fill me with love for you so that it will overflow to others.
​​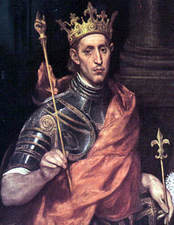 Optional Memorial of Saint Louis of France
At age 12, Louis IX was crowned as the King of France. Louis bound himself by oath to behave as God's anointed, as the father of his people and feudal lord of the King of Peace. His mother ruled as regent until he reached age 22. Married at age 19, he was the father of 11 children. Louis was devoted to his people, founding hospitals, visiting the sick and, like his patron Saint Francis, caring even for people with leprosy (He is one of the patrons of the Secular Franciscan Order). Louis united France—lords and peasants, priests and knights—by the force of his personality and holiness. For many years the nation was at peace. Louis "took the cross" for a Crusade when he was 30, but perhaps he deserves greater credit for his extending justice in civil administration. Louis died on foreign soil at the age of 44. He was canonized 27 years later.​
---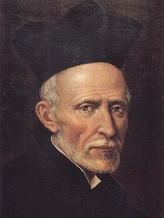 Optional Memorial of Saint Joseph Calasanz, priest
Joseph Calasanz, a member of the Confraternity for Christian Doctrine, opened a small, free school for poor children, many of them orphans and/or homeless. In 1621 the community was recognized as a religious order called Le Sciole Pie (Religious Schools), also known as the Piarists. Some of the ruling class objected that educating the poor would cause social unrest. Other Orders that worked with the poor were afraid they would be absorbed by the Piarists. In his old age, Joseph saw his Order torn apart. When eighty years old, he was led as a criminal through the streets of Rome by the Inquisition. A papal commission charged with examining the Order acquitted Joseph of all accusations, and in 1645, returned him as superior of the Order. When the struggle within the institute persisted, the Piarists were suppressed. Only after Joseph's death were they formally recognized as a religious community. The Piarists were restored as a religious order in 1669, and continue their good work today.​
---
SATURDAY, AUGUST 26, MATTHEW 23:1-12eekday
(Ruth 2:1-3, 8-11, 4:13-17; Psalm 128)
KEY VERSE: "Whoever exalts himself will be humbled; but whoever humbles himself will be exalted" (v 12).
TO KNOW: Jesus denounced the hypocritical behavior of the scribes and Pharisees. Although he acknowledged that their teaching authority rested on the "chair of Moses" (the "chair of Peter" is a similar term for Church authority), he warned his disciples not to follow the example of those religious leaders. The Pharisees enjoyed their titles of honor, and they liked to call attention to their phylacteries (Hebrew: tefillin) as evidence of their piety. These small leather boxes contained essential passages of the Torah, and were worn on the forehead and on the left arm (closest to the heart) during prayer. The tassels sewn on the corners of their garments (Hebrew: tzi-tzit) were a symbolic reminder to keep the Law of Moses. While the religious leaders demanded obedience to the minute details of the law, their deeds did not always correspond to their words. In contrast, Jesus was a humble servant and faithful teacher of the law of God's love and mercy.
TO LOVE: Are my religious practices motivated by piety or a desire for admiration?
TO SERVE: Lord Jesus, teach me to imitate your humility as I strive to serve your people.​
​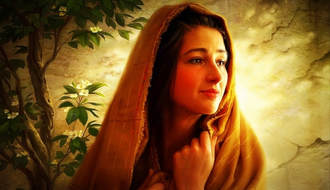 OPTIONAL MEMORIAL OF THE BLESSED VIRGIN MARY
Chapter V of the Directory on Popular Piety and the Liturgy, issued by the Holy See in December 2001, describes the Church's traditional dedication of Saturday to the Virgin Mary. "Saturdays stand out among those days dedicated to the Virgin Mary. These are designated as memorials of the Blessed Virgin Mary" (218). The chapter also describes the importance of Mary, the Mother of Jesus, in Catholic devotional life, in the Liturgy, and reflections on popular devotions to Mary, her feast days, and the Rosary. ​
---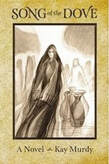 SONG OF THE DOVE
A novel of Mary of Nazareth by Kay Murdy
Here is the story of a Jewish woman of the first century, Miryam of Nazareth, who lived in a tiny village nestled in the hills of Israel. She had parents, friends, a husband, a son, and she struggled to understand the strange things happening to her in a time and a place with more than its share of turmoil, both political and religious. What happened tested both her faith and courage. ACTA Publications. Order: http://www.actapublications.com or at www.amazon.com, paperback or Kindle versions.​
---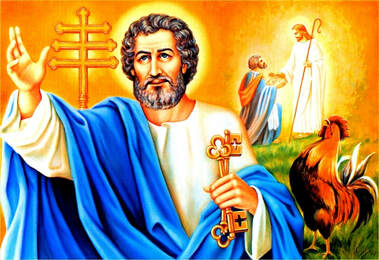 TWENTY-FIRST SUNDAY IN ORDINARY TIME
SUNDAY, AUGUST 27, MATTHEW 16:13-20
​(Isaiah 22:19-23; Psalm 138; Romans 11:33-36)
KEY VERSE: "And I say to you, you are Peter, and upon this rock I will build my Church" (v 19).
TO KNOW: Jesus went to the region of Caesarea Philippi, about 20 miles north of the Sea of Galilee. This territory was ruled by Philip, a son of Herod the Great. Philip named the place for himself and in honor of the emperor of Rome. In this non-Jewish area, Jesus questioned his disciples as to the people's understanding of his role and mission. They answered with the commonly held view that Jesus was a prophet like John the Baptist, Jeremiah or even Elijah. Jesus then asked who they personally believed him to be. Simon Peter spoke for the Twelve, proclaiming Jesus as the "Messiah, the Son of the living God" (v 16). Because Peter understood this revelation from God, Jesus gave him the "keys to the kingdom," a metaphor for the authority Peter would exercise in the Church (Ekklesia, used only here and in Mt 18:17). The name that Jesus conferred on Peter, "rock," indicated his role as the firm foundation upon which Jesus would establish his Church. Peter's strong faith enabled him to follow Jesus right up to his death as a martyr.
TO LOVE: How would you explain Jesus to a person who had not heard of him?
TO SERVE: Lord Jesus, help me serve your people with love and justice as you did.
​
NOTE: Peter's original name was Simon, but Jesus gave him the name "Peter" ("Petros", the Greek masculine for petra, "rock") or "Cephas" (Aramaic, the language Jesus spoke, and the name by which Paul usually addressed him, Gal 1:18). What made this name distinctive was that neither Peter nor Cephas had been used before as a man's name. Peter's name always appears first in the listing of the Apostles (see Mark 3:16), and he acted as the Apostles' spokesman whenever Jesus questioned them (Mt 16:16). Peter was present at the Transfiguration (Mt 17:1-8), when Jesus raised Jairus' daughter (Lk 8:51), and at Gethsemane (Mk 14:33). At the Resurrection the angel announced: "Go tell the disciples and Peter" (Mk 16:7). After the resurrection, Peter directed the selection of a successor to Judas (Acts 1:15-26), and he presided at the first council in Jerusalem (Acts 15:6-12). The Catholic Church regards Peter as the chief apostle and first leader of the Church.
---