NOTE: During this Covid Vidus Pandemic, those who are unable to attend Mass are encouraged to make an Act of Spiritual Communion by St. Alphonsus Liguori: My Jesus, I believe that you are present in the most Blessed Sacrament. I love You above all things and I desire to receive You into my soul. Since I cannot now receive You sacramentally, come at least spiritually into my heart. I embrace You as if You were already there, and unite myself wholly to You. Never permit me to be separated from You. Amen.

---


In an Apostolic Letter, Patris Corde ("With a Father's Heart"), Pope Francis marks the 150th anniversary of Blessed Pope Pius IX's declaration of St Joseph as Patron of the Universal Church. To celebrate the anniversary, Pope Francis has proclaimed a "Year of St Joseph," beginning on the Solemnity of the Immaculate Conception 2020 and extending to the same feast in 2021.

---









​The Season of Lent is a Catholic liturgical season consisting of forty days beginning on Ash Wednesday and concluding at sundown on Holy Thursday. The official liturgical color for the season of Lent is violet. Throughout history, Jews and Christians have found prayer, fasting, and alms-giving to be an important part of repentance and renewal. Rather than giving up something, many Catholics address personal habits that need to be changed, or perform some outreach to others in need. Ash Wednesday and Good Friday are obligatory days of universal fast and abstinence. Fasting allows a person to eat one full meal a day and is mandatory for all who have completed their 18th year and have not yet reached their 60th year. Two smaller meals may be taken, which are not to equal one full meal. Abstinence (from meat) is required of all who have reached their 14th year. Drinking of ordinary liquids does not break the fast.
---
SECOND SUNDAY OF LENT
SUNDAY, FEBRUARY 28, MARK 9:2-10
(Genesis 22:1-2,9a, 10-13, 15-18; Psalm 116; Romans 8:31b-34)
KEY VERSE: "This is my beloved Son. Listen to him" (v 7).
TO KNOW: Soon after Jesus' first prediction of his passion and death (Mk 8:31), he took three of his disciples up a mountain to give them a glimpse of his future glory. It was on a mountain that God was revealed to Moses, the liberator and Law-giver, (Ex 19:3) and to Elijah, the great prophet (1 Kgs 19:8). The appearance of Moses and Elijah on the Mount of the Transfiguration was a revelation that Jesus was the new liberator and prophet, showing the unity and continuity of God's redeeming work. Peter was awestruck and proposed to set up three tents ("booths," such as those in which the Israelites lived on their journey to the Promised Land). A cloud overshadowed them all, reminiscent of the shekinah glory of God that filled the wilderness tent (Ex 40:35). The voice of God confirmed Jesus' divine authority. His words must be heard and obeyed (Dt 18:15). Jesus' crucifixion was the opening up of the divine heart so that we could see that no sin of ours could finally separate us from the love of God.
TO LOVE: Does the way I live reveal God's kingdom to others?
TO SERVE: Lord Jesus, help me to listen to your voice in the readings at Mass.

---
MONDAY, MARCH 1, LUKE 6:36-38
Lenten Weekday
(Daniel 9:4b-10; Psalm 79)
KEY VERSE: "Be merciful, just as your Father is merciful" (v. 36).
TO KNOW: In Matthew's gospel, Jesus told his followers that they must be "perfect" in imitation of God who is perfect (Mt 5:48). This might be intimidating for all of us imperfect human beings. In Luke's gospel, instead of perfection, God's "mercy" is stressed (Hebrew, 'rachamim,' the love of a mother toward her unborn child). The word 'mercy' appears over 250 times in the Old Testament and is usually translated as "loving-kindness" (Hebrew, hesed). God's steadfast love is demonstrated by his covenant of faithfulness to his chosen people. God's provisions are limitless; God's grace is endless; God's love is boundless. God cannot be outdone in generosity. God will shower down immeasurable blessings upon those who are generous to others. As long as we share the things that God has given to us, we will never lack what we need for ourselves. Jesus said that his loving Father will absolve our sins at the last judgment if we pardon the wrongdoings of others.
TO LOVE: Loving Father, thank you for showing mercy and compassion to me, a sinner.
TO SERVE: Is there someone I need to forgive this Lent?


TUESDAY, MARCH 2, MATTHEW 23:1-12
Lenten Weekday
(Isaiah 1:10, 16-20; Psalm 50)
KEY VERSE: "Whoever exalts himself will be humbled; but whoever humbles himself will be exalted" (v. 12).
TO KNOW: Jesus denounced the hypocritical behavior of the scribes and Pharisees. Although he acknowledged that their teaching authority rested on the "chair of Moses" (the "chair of Peter" is a similar term for Church authority), he warned his disciples not to follow the example of the religious leaders. The Pharisees enjoyed their titles of honor, and they liked to call attention to their phylacteries (Hebrew: tefillin) as evidence of their piety. These small leather boxes contained essential passages of the Torah, and were worn on the forehead and on the left arm (closest to the heart) during prayer. The tassels sewn on the corners of their garments (Hebrew: tzi-tzit) were a symbolic reminder to keep the Law of Moses. While the religious leaders demanded obedience to the minute details of the law, their deeds did not always correspond to their words. In contrast, Jesus was a faithful teacher of the law of God's justice and mercy.
TO LOVE: Are my religious practices motivated by piety or a desire for admiration?
TO SERVE: Lord Jesus, teach me to imitate your humility as I strive to serve your people.


WEDNESDAY, MARCH 3, MATTHEW 20:17-28
Lenten Weekday
(Jeremiah 18:18-20; Psalm 31)
KEY VERSE: "Whoever wishes to be great among you shall be your servant" (v. 26).
TO KNOW: For the third time in Matthew's gospel, Jesus taught his disciples about his coming passion and death, yet they still did not comprehend the reality of his words. A woman (Zebedee's wife in Mt 4:21) approached Jesus with the request for recognition for her sons James and John. She wanted them to receive a special honor in Jesus' kingdom. Her misconception was that Jesus' reign was an earthly rule with temporal authority. The other disciples were indignant (perhaps they wished that they had thought of it first). Jesus reminded them that the way to the kingdom was not the path to glory. Being a disciple meant humble submission to the will of God. Jesus did not come to be served, but to offer his life as a ransom for those held captive to sin – the way of the cross.
TO LOVE: Are my motives for Christian service self-giving or self-serving?
TO SERVE: Lord Jesus, teach me to follow your example of humble service.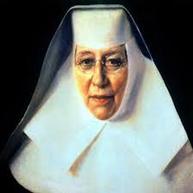 Optional Memorial of Saint Katharine Drexel, virgin
Katharine Drexel was the daughter of a wealthy railroad entrepreneur and philanthropist. She was taught from an early age to use her wealth for the benefit of others. Interested in the condition of Native Americans, she asked Pope Leo XIII to send more missionaries to Wyoming for her friend, Bishop James O'Connor. The pope replied, "Why don't you become a missionary?" Katharine visited the Dakotas, met the Sioux chief, and spent millions of the family fortunes to aid Indian missions. She entered the novitiate of the Sisters of Mercy and later founded the Sisters of the Blessed Sacrament for Indians and Colored, now known simply as the Sisters of the Blessed Sacrament in Santa Fe, New Mexico, USA. By 1942 she had a system of Catholic schools for African Americans in 13 states, 40 mission centers, 23 rural schools, 50 Indian missions, and Xavier University in New Orleans, Louisiana, USA, the first United States University for blacks. Following a heart attack, she spent her last twenty years in prayer and meditation. The Shrine of Saint Katharine is located at the motherhouse of the Sisters of the Blessed Sacrament, Pennsylvania, USA.

---
THURSDAY, MARCH 4, LUKE 16:19-31
Lenten Weekday
(Jeremiah 17:5-10; Psalm 1)
KEY VERSE: 'If they do not listen to Moses and the prophets, neither will they be convinced even if someone rises from the dead" (v. 31).
TO KNOW: In Jesus' day, it was believed that prosperity was a sign of God's favor and suffering a sign of God's displeasure. Jesus told a parable that was counter-cultural to this idea. In the story, a rich man feasted in sumptuous luxury while Lazarus, a poor man, suffered from disease and starvation at the rich man's gates. When the rich man died he ended up in Sheol, the abode of the dead where the wicked were consigned. When Lazarus died he was escorted to the bosom of Abraham, a metaphor for the resting place of the righteous. The irony was that in their lifetimes, a chasm of poverty and wealth existed between Lazarus and the rich man, whereas in death there was an abyss of punishment and reward between them. The rich man begged Abraham to send Lazarus to warn his family so that they might avoid his fate. Abraham replied that Moses and the prophets had already proclaimed God's word, and if the rich man's family failed to listen to the warnings in Scripture, they would not be convinced even if someone rose from the dead (an allusion to Jesus' own resurrection).
TO LOVE: Lord Jesus, open my eyes to see the suffering people at my doorstep.
TO SERVE: What is my parish doing for the poor? Do I help?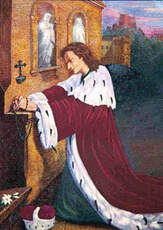 Optional Memorial of Saint Casimir
Casimir was a Fifteenth Century Polish prince and Grand Duke of Lithuania. Third in line for the throne, he lived a highly disciplined life, spending a great part of the night in prayer, and dedicating himself to lifelong celibacy. He had a great devotion to Mary, supported the poor, and lived a virtuous life amid the dissolute court. His father sent Casimir as head of an army to take over the throne of Hungary at the request of some nobles there. Casimir obeyed, even though he felt disobedient to his Heavenly Father. Casimir's army was outnumbered, and his troops deserted because they were not paid. Casimir returned home, and was a conscientious objector from that time on. He returned to prayer and study, and maintained his decision to remain celibate even under pressure to marry the emperor's daughter. He died in 1484 in Lithuania of tuberculosis. Casimir was canonized in 1521. He is the patron saint of Poland and Lithuania.

---
FRIDAY, MARCH 5, MATTHEW 21:33-43, 45-46
Lenten Weekday: Day of Abstinence
(Genesis 37:3-4, 12-13a, 17b-28a; Psalm 105)
KEY VERSE: "The stone that the builders rejected has become the cornerstone" (v. 42).
TO KNOW: Jesus used Isaiah's imagery of Israel as a vineyard (Is 5:1-7). In this parable, which becomes an allegory, the owner (God) lovingly cared for his vineyard (Israel), and in his absence he placed the tenants (the religious leaders) in charge. When vintage time came (the messianic age), the owner sent his servants (the prophets) to gather the fruit of the harvest, but the tenants treated them shamefully. Finally, the owner sent his own son (Jesus), but they dragged him "outside the vineyard" (Hb 13:12) and killed him. Because Israel had rejected the one who God had sent, others (the Gentiles) would benefit from God's mercy, and they would be the ones to yield an abundant harvest. We are not owners of God's vineyard, the world. We are tenants entrusted with its care. Everything that we have is on loan from God.
TO LOVE: Am I using the gifts that God has given to me? My treasure? My time? My talents?
TO SERVE: Lord Jesus, help me to produce good fruit in this Lenten season.

NOTE: What is the difference between parables and allegories?
The word "parable" (Gk. parabole; Hebrew mashal) is generally used in reference to any short narrative that had symbolic meaning. There are many stories and sayings of Jesus in the New Testament that are identified as parables, but not all of these are parables in the true sense. Allegories are stories with two levels of meaning: human activity and spiritual reality. In an allegory virtually every person, thing, place and event has a symbolic meaning. Examples of allegories in the Old Testament are the visions in Daniel 8:1-11, and Ezekiel 1. In the New Testament, nearly every chapter of the Book of Revelation contains allegorical visions.


WORLD DAY OF PRAYER
World Day of prayer is a worldwide ecumenical movement of Christian women who come together in prayer on the first Friday of March in more than 170 countries and regions of various races, cultures and traditions. Through the World Day of Prayer, women affirm that prayer and action are inseparable and that both have immeasurable influence in the world. Women around the world are encouraged:
* to become aware of the whole world and no longer live in isolation
* to be enriched by the faith experience of Christians of other countries and cultures
* to take up the burdens of other people and pray with and for them
* to become aware of their talents and use them in the service of society.

---
SATURDAY, MARCH 6, LUKE 15:1-3, 11-32
Lenten Weekday
KEY VERSE: "But now we must celebrate and rejoice, because your brother was dead and has come to life again" (v. 32).
TO KNOW: The tax collectors and sinners were drawing near to Jesus, while the Pharisees and the scribes were looking for ways to ensnare him (Luke 15:1-2). When the religious leaders complained that Jesus associated with sinners, he reminded them of God's unconditional love by telling them a story, known as the Parable of the Prodigal Son. It might better be called the Parable of the Loving Father. The elder son represented the self-righteous, law-abiding religious leaders, while the younger son signified repentant sinners. When the younger son squandered his father's gifts, he realized the error of his ways and returned home. While he was still a long way off, his father caught sight of him and ran out to meet him. The lad made his confession of sin, but the father welcomed him back with a joyful celebration. The elder son referred to the younger son, not as "my brother," but as "your son" (v. 30). His attitude showed that obedience to his father was nothing more than grim duty and not loving service. We can all apply this story of repentance and reconciliation to our own lives. How often do we waste God's gifts and feel that we have lost God's love? Yet, when we take one step toward God, we discover that our Father is there to meet us at the banquet table of mercy and grace.
TO LOVE: Loving Father, help me to confess my sins and amend my life.
TO SERVE: When will I participate in the Sacrament of Penance this Lent?
​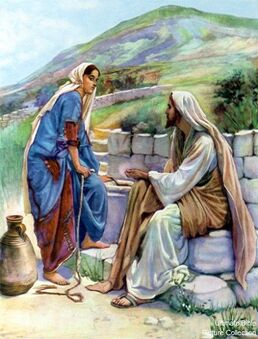 THIRD SUNDAY OF LENT
SUNDAY, MARCH 7, JOHN 4:5-42 or 4:5-15, 19b-26, 39a, 40-42
(Exodus 17:3-7; Psalm 95; Romans 5:1-2, 5-8)
KEY VERSE: "The water that I will give will become in them a spring of water gushing up to eternal life" (v.14).
TO KNOW: The woman who met Jesus at the well was despised as a heretical Samaritan, a descendant of the Assyrian occupation. With their mixed Jewish and pagan beliefs, Samaritans were regarded as unfit to worship in the temple in Jerusalem. Thus, the Samaritans built their own temple on Mount Gerizim. Jesus looked beyond national and religious boundaries to the coming of the Spirit who would unite all believers in worship of one God. At first, the woman was suspicious of Jesus, but as he revealed her inner need, the woman changed her attitude. She addressed him as "sir" then as "prophet." Then she recognized Jesus as the Messiah, and finally as her personal Savior. Leaving her empty water jar behind (a symbol of her arid life), the woman ran off to tell the people in the village that she found the Lord. Many believed on the strength of her testimony. Jesus' disciples had gone to the city to buy food, and when they returned, he asked them to pray for others, who, like the woman, would harvest the ripe field of souls that lay before them. Each of us needs a personal encounter with Jesus. St. Augustine said, "It was for you that Jesus was weary from the journey."
TO LOVE: Have I shared Christ's life-giving water with others this Lent?
TO SERVE: Lord Jesus, increase my thirst for you.

---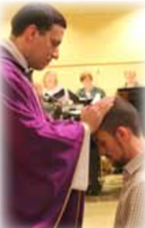 FIRST SCRUTINY FOR THE ELECT
The Scrutiny rites of Lent are communal prayers celebrated to strengthen the elect who are preparing for Baptism to overcome the power of sin in their lives and to grow in the virtues. These ritual celebrations are held on the Third, Fourth and Fifth Sundays of Lent. Where catechumens are present the readings are from the Gospel of John. On the Third Sunday we hear the story of the woman at the well and her thirst for God (Jn 4:4-42). On the Fourth Sunday we hear the story of the man born blind and the healing power of God in his life (Jn 9:1-41). On the Fifth Sunday we hear the story of the raising of Lazarus, reminding us of our own dying and rising with Christ in Baptism (Jn 11:1-45). Since all of us are called to continual conversion throughout our lives, we join with the elect in scrutinizing our own lives and praying to God for the grace to overcome the power of sin that still has a hold on us, and to be strengthened in the virtues.
---
MONDAY, MARCH 8, LUKE 4:24-30
Lenten Weekday
(2 Kings 5:1-15ab; Psalm 42)
KEY VERSE: "Amen, I say to you, no prophet is accepted in his own native place" (v. 24).
TO KNOW: The people of Nazareth were amazed by Jesus' teaching, but they were also skeptical as to where he got his authority. If he performed miracles elsewhere, why had he not worked any in his own hometown? Jesus said that prophets are never accepted by their own people. He compared his ministry to the prophets Elijah and Elisha who were rejected by their own, yet brought healing and hope to the Gentiles (1 Kgs 17; 2 Kgs 5). The people were angered by Jesus' words. Was he saying that the Gentiles were more favored by God than they were? They were certain that they were God's people and believed that the Gentiles were nothing but fuel for the fires of hell. Outraged, they dragged Jesus from the synagogue and attempted to throw him over a cliff. Miraculously, he eluded them. This incident prefigured the persecution that Jesus continually faced until his ultimate fate on Calvary.
TO LOVE: Lord Jesus, help me to listen to your voice today.
TO SERVE: Pray for Christians around the world who face persecution and death for the sake of the gospel.
​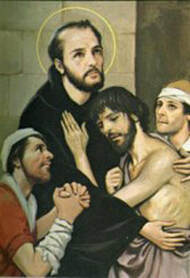 Optional Memorial of Saint John of God, religious
John was born Juan Ciudad in Portugal. The greater part of his life was spent as a wanderer, working as a shepherd, soldier, laborer and a bookseller. When John finally settled in Granada around the age of forty, he underwent a conversion and he decided to devote the rest of his life to caring for those in need. Before he died on March 8th, his fifty-fifth birthday, his selfless dedication to the sick brought him to be known as "John of God". By faithfully following his example, his followers passed on John's way of serving: giving what he had, begging for those who couldn't, carrying those who could not walk, and converting both his patients and those who saw him work with them. This is called "Hospitality" and after five centuries it remains the charism of the Hospitallers, the order of Brothers formed after the death of Saint John of God. John was canonized in 1690 and is the patron saint of the sick, and of hospitals and nurses. His motto is: "Labor without stopping. Do all the good works you can while you still have the time."

---
TUESDAY, MARCH 9, MATTHEW 18:21-35
Lenten Weekday
KEY VERSE: "So will my heavenly Father do to you, unless each of you forgives his brother from his heart" (v. 25).
TO KNOW: As a leader of the Christian community, Peter asked Jesus how often he must forgive a fellow disciple. In the Old Testament, Lamech, a descendant of Cain, exacted a unlimited retaliation for injury ("seventy-sevenfold", Gn 4:23-24). The rabbis of Jesus' time taught that forgiveness should be offered another person at least three times. Peter increased the number to seven. However, Jesus told him that Christian forgiveness must be "seventy-seven times" (Matt 18:22). Jesus is not saying that we should forgive 490 times. In the Bible, the number "7" symbolizes completeness, while the number "70" signifies 'perfection.' Jesus illustrated this with a parable in which a master forgave his servant a huge debt, which he had no way of repaying. But later, when the man met a fellow servant who owed him a much smaller debt, he demanded immediate payment. When the debtor begged for mercy, the servant refused and cast him into prison. Jesus warned his followers that God's compassion toward us would correspond to our own willingness to extend mercy and forgiveness to others (Mt 6:14-15).
TO LOVE: Is there someone I need to forgive this Lent?
TO SERVE: Lord Jesus, grant me the grace to ask for forgiveness of those I have offended.
​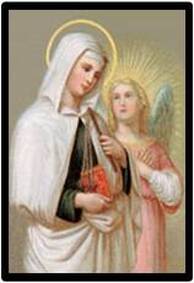 Optional Memorial of Saint Frances of Rome, religious
Frances was born into a noble Roman family in 1384. At the age of 12 she married another Roman noble, Lorenzo Ponziani. She would have preferred to become a nun, but obeyed her father and became an exemplary wife and the mother of three children. In 1433, after Lorenzo's death, Frances and her companions founded a religious community, the Oblates of the Tor de' Specchi (Collatines). Frances spent her life and fortune, both as a laywoman and religious, in the service of the sick and the poor, including the founding of the first home in Rome for abandoned children. Pope Paul V canonized Frances in 1608. Her tomb is beneath the high altar in the crypt of the Roman church which is now called Santa Francesca Romana. She is honored as the principal patron of all Benedictine oblates. On her feast day priests bless cars due to her patronage of cars and drivers. Although Frances never drove, legend says that when she went abroad at night, her guardian angel went before her lighting the road with a lantern, keeping her safe in her travels.

---
WEDNESDAY, MARCH 10, MATTHEW 5:17-19
Lenten Weekday
(Deuteronomy 4:1,5-9; Psalm 147)
KEY VERSE: "But whoever obeys and teaches these commandments will be called greatest in the kingdom of heaven" (v. 19b).
TO KNOW: Like Moses, Jesus taught his followers that the law of God had lasting validity and must be obeyed. Jesus emphasized the permanency of God's law by saying that not even the smallest letter in the Hebrew alphabet (yod; in Greek iota) or the tiniest flourish of the pen would pass from the law until its fulfillment in the final age. Jesus' dispute with the religious leaders was not with the Mosaic Law itself, but with their legalistic interpretation, expanding the law to 613 rules and regulations. Jesus deepened the meaning of the law through his words and works. Those who understood that the true purpose of the law was justice and charity, and practiced it by loving God and one another, would inherit a place in God's kingdom. Those who willfully disregarded God's law would be excluded from God's reign.
TO LOVE: Do I give good example by my respect for God's law?
TO SERVE: Lord Jesus, help me to be guided by your law in all I do.
​
THURSDAY, MARCH 11, LUKE 11:14-23
Lenten Weekday
(Jeremiah 7:23-28; Psalm 95)
KEY VERSE: "Every kingdom divided against itself will be laid waste and house will fall against house" (v. 17).
TO KNOW: Jesus was accused of casting out devils by the power of "Beelzebul" (Satan, a popular name for the master of demons). Jesus pointed out the absurdity of this accusation. He asked the crowd whether their own people performed exorcisms in the name of God or in Satan's name. If Satan ("adversary") used his power to cast out demons, then Satan was working against himself and would eventually be defeated. Jesus was the "one mightier" prophesied by John the Baptist (Lk 3:16). Every word and act of Jesus' ministry was an attack on Satan's stronghold. Like Moses, Jesus power came from the "finger of God" (Ex 8:15). Whoever did not join Jesus in his opposition of evil assisted the adversary in his attempt to destroy God's realm.
TO LOVE: Do I pray for God's power to protect my household from evil?
TO SERVE: Lord Jesus, help me to oppose evil wherever I see it.


FRIDAY, MARCH 12, MARK 12:28-34
Lenten Weekday: Day of Abstinence
(Hosea 14:2-10; Psalm 81)
KEY VERSE: "There is no other commandment greater than these" (v 31).
TO KNOW: The scribes were the learned interpreters of the Law of Moses. They expanded the Law into 613 greater and lesser rules and regulations. One scribe recognized Jesus' skill as a teacher, and asked him which one of the Mosaic Laws was the greatest. Jesus recognized the scribe's sincere search for truth, and summed up the entire Law with two basic decrees that he saw as inseparable. They were the laws upon which all the other commandments were based: to love God with one's entire being (Deut 6:2), and to love one's neighbor as oneself (Lev 19:18). The scribe saw how Jesus has combined two commands given to Israel by Moses, and he declared that the love of God and love of neighbor was worth more than any religious acts that one could perform. Because the scribe understood this principle, he moved a step closer to God's reign.
TO LOVE: Is my love of God demonstrated by the way I love my neighbor? Do I have a healthy self-love?
TO SERVE: Lord God, help me to serve you with all my heart, soul, mind and strength.
​

SATURDAY, MARCH 13, LUKE 18:9-14
Lenten Weekday
(Hosea 6:1-6; Psalm 51)
KEY VERSE: "For everyone who exalts himself will be humbled, and the one who humbles himself will be exalted" (v. 14).
TO KNOW: The Pharisees were a sect within Judaism who carefully observed the written law. In opposition to the Sadducees, the Pharisees also followed the traditional oral law, the 613 decrees beyond the Ten Commandments. Pharisees regarded themselves as the "separated ones" because of their staunch adherence of the law in contrast to, what they assumed, was the sinful behavior of the rest of humanity. Jesus tells the story of two individuals who went to the temple to pray. One was a Pharisee and the other a tax-collector (Publican). The arrogant Pharisee regarded himself as superior to others, especially the tax-collector whom he held in contempt. He smugly stated his virtues and did not ask pardon from God for his sins. The tax-collector, on the other hand, recognized his sinfulness, and humbly prayed that God would forgive him. Jesus pronounced the tax-collector justified before God because he repented of his sins and confessed his need for salvation.
TO LOVE: Does my pride get in the way of acknowledging my sins?
TO SERVE: Pray the ancient Jesus Prayer: Lord Jesus, Son of God, have mercy on me, a sinner. With broken heart and contrite sigh, a trembling sinner, Lord, I cry. Thy pardoning grace is rich and free, O God, be merciful to me!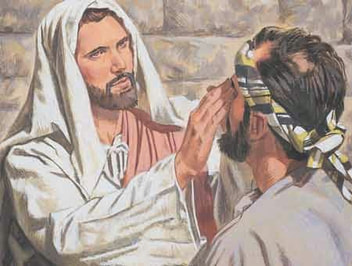 FOURTH SUNDAY OF LENT
SUNDAY, MARCH 14, JOHN 9:1-41 or 9:1, 6-9, 13-17, 34-38
​(1 Samuel 16:1b, 6-7, 10-13a; Psalm 23; Ephesians 5:8-14)
KEY VERSE: "One thing I do know is that I was blind and now I see" (v.25).
TO KNOW: Jesus told his disciples that no follower of his would walk in darkness but would have the "light of life" (Jn 8:12). During the seven day feast of Tabernacles, the temple area was illuminated with torches. On the last day of the festival, water from the pool of Siloam was poured on the altar in thanksgiving for the rain that assured a good harvest. Jesus declared that he was the fountain of "living water" that brought forth new life (7:37-38). Moreover, he was the "light of the world" who enlightened those in darkness (9:4). The story of the man born blind illustrated these two sayings of Jesus. When Jesus' disciples saw the blind man, they asked, "Rabbi, who sinned, this man or his parents that he was born blind?" Jesus answered that it was not due to the sins of the man, nor of his parents. It was so that the works of God might be made visible through him. Then Jesus made a mixture of clay and salvia, put it on the blind man's eyes, and told him to wash in the pool of Siloam (meaning "sent"). When he did so, his blindness was cured. The Pharisees, who were spiritually blind, accused Jesus of breaking the Sabbath law by healing the man. But the man knew that his healing had come from God, and he fell at Jesus' feet and acknowledged him as "Lord." This story was a popular feature of Baptismal ceremonies in the early Church. St. Augustine said, "The blind man is the whole human race."
TO LOVE: Have I been praying for the Elect who are journeying to baptism this Lent?
TO SERVE: Lord Jesus, you are a lamp to my feet, leading me to the waters of your healing grace.
---
SECOND SCRUTINY FOR THE ELECT
On the Fourth Sunday of Lent, we celebrate the Second Scrutiny and Exorcism for the Elect (RCIA, 165). When the elect, catechumens and candidates are present, the story of the Man Born Blind is read (Jn 9). In the Scrutiny Rites, those preparing for baptism at the Easter Vigil as well as the entire assembly are called to examine the areas in their lives that block God's love and blind them to God's healing presence.


MONDAY, MARCH 15, JOHN 4:43-54
Lenten Weekday
(Isaiah 65:17-21; Psalm 30)
KEY VERSE: "Jesus said to him, `Your son will live,' and he and his whole household came to believe" (v.53).
TO KNOW: Jesus returned to Cana in Galilee where he had changed water to wine (Jn 2:1-12), the first "sign," or self-revelation of Jesus. A royal official approached Jesus and begged him to heal his dying son. Jesus was dismayed because the people refused to believe in him unless they witnessed "signs and wonders" (v.48). When the man begged him a second time, Jesus told him that his son would live. On the strength of Jesus' word, the official returned to his home. As he went on his way, his servants met him and announced that the man's son had recovered at the very hour that Jesus declared he would live. The official and his whole household came to believe in Jesus' saving power. This was the second sign that Jesus performed in Cana in Galilee.
TO LOVE: Do I put my trust in the Lord's healing word?
TO SERVE: Lord Jesus, help me to have faith even when I do not see any evidence.​​


TUESDAY, MARCH 16, JOHN 5:1-16
Lenten Weekday
(Ezekiel 47:1-9. 12; Psalm 46)
KEY VERSE: "Rise, take up your mat, and walk" (v.8).
TO KNOW: The third "sign, of God's mighty work in John's gospel was the healing of the paralytic who had been crippled for 38 years. Excavations have uncovered the Bethesda pool with its five porticoes where Jesus healed the man. A popular belief of the time was that when the water became turbulent (caused by a sudden inflow through the drain) the first person to get into the pool would be cured (v.4, the account of an angel stirring up the waters is missing from early Greek manuscripts and is probably a later addition). When Jesus asked the crippled man if he wanted to be healed, the man explained that no one had ever helped him into the water (a baptismal symbol). Jesus' powerful word restored the man to full health. But the healing was surrounded by disbelief and accusations that Jesus violated the law by curing on the Sabbath. Jesus warned them that it was sin, more than physical infirmity, which prevented a person from responding to God's grace.
TO LOVE: In what ways do I need to "rise and walk" this Lent?
TO SERVE: Lord Jesus, heal me of everything that makes me unable to "stand in your grace" (Ro 5:2).
​
WEDNESDAY, MARCH 17, JOHN 5:17-30
Lenten Weekday
(Isaiah 49:8-15; Psalm 145)
KEY VERSE: "My Father is at work until now, so I am at work" (v.17).
TO KNOW: In Jesus' day, a son learned his trade by watching his father at work. Thus, Jesus learned carpentry from his earthly father, Joseph. Similarly, Jesus imitated his heavenly Father's creative and redemptive work. When Jesus was accused of violating the Sabbath law by healing a cripple (Jn 5:1-16), he declared that God's activity was ongoing. Jesus did not act on his own accord; he only did what the Father was doing. Jesus received divine power from the Father to exercise judgment and authority over life and death. Jesus' word brought healing and life to those who believed in the One who sent him, and condemnation to those who did not. At the last judgment, everyone who hears Jesus' voice and obeys his word will be raised to eternal life.
TO LOVE: Do I reveal God's saving work by what I say and do?
TO SERVE: Lord Jesus, help me to be a faithful child of your Father.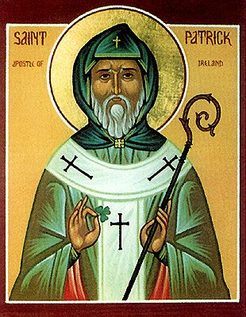 Optional Memorial of Saint Patrick, bishop
Patrick was kidnapped from the British mainland around age 16, and shipped to Ireland as a slave. After six years as a shepherd, he had a dream in which he was commanded to return to Britain, and seeing it as a sign, he escaped. Patrick studied in monasteries, was ordained a Priest, and consecrated as Bishop. Pope Celestine sent him to evangelize England, and then Ireland. Within 33 years he effectively converted Ireland. In the Middle Ages Ireland became known as the Land of Saints, and during the Dark Ages its monasteries were the great repositories of learning in Europe. Some of the Irish folklore that surrounds Saint Patrick includes the belief that he drove all the snakes from Ireland. But no snakes were native to Ireland, and this may be a metaphor for the conversion of the pagans. One traditional image of the day is the shamrock. This stems from a tale of how Patrick used the three-leafed shamrock to explain how the Father, the Son, and the Holy Spirit could all exist as separate elements of the same entity.
Saint Patrick' Breastplate: Christ shield me this day: Christ with me, Christ before me, Christ behind me, Christ in me, Christ beneath me, Christ above me, Christ on my right, Christ on my left, Christ when I lie down, Christ when I arise, Christ in the heart of every person who thinks of me, Christ in every eye that sees me, Christ in the ear that hears me.​
---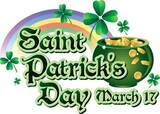 SAINT PATRICK'S DAY -- Though originally a Catholic holy day, Saint Patrick's Day has evolved into more of a secular holiday. Saint Patrick's Day was first publicly celebrated in America in 1737, in Boston, Massachusetts. Today, people celebrate the day with parades and the wearing of the green. One might say it has become the first green of spring. The Irish greeting, Go méadaí Dia thú [guh maydee Jee-ah hoo], means "May God increase you".

---
THURSDAY, MARCH 18, JOHN 5:31-47
Lenten Weekday
(Exodus 32:7-14; Psalm 106)
KEY VERSE: "If I testify on my own behalf, my testimony cannot be verified" (v.31).
TO KNOW: Jewish law prohibited persons from testifying on their own behalf. Two or three witnesses were needed to give evidence regarding any offense that might have been committed (Deut 19:15). Jesus presented four valid witnesses for the truth of his words. First, John the Baptist was a "lamp" who gave witness to the "light" that Jesus came to reveal (Jn 1:7). Second, the works that Jesus accomplished testified that God had sent him. Third, God's Word gave witness to Jesus. Nevertheless, people searched the scriptures to find life, and refused to come to Jesus who was God's life-giving word (Jn 1:1). Finally, God the Father gave the conclusive testimony. No one had ever seen the invisible God, nor heard God's voice, yet God was fully revealed in Jesus Christ, God's Son.
TO KNOW: Do I give testimony to Jesus by what I say and do?
TO SERVE: Lord Jesus, help me to recognize you in your word and in all your works around me.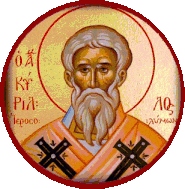 Optional Memorial of Saint Cyril of Jerusalem, bishop and doctor of the Church
Saint Cyril was raised a Christian in Jerusalem. He was well educated, especially in religion. He was ordained a priest and became the Bishop of Jerusalem in 348. Cyril's famous twenty-three catechetical lectures (Gk. Katecheseis), which he delivered while still a presbyter, contain instructions on the principal topics of Christian faith and practice. They are full of a warm pastoral love and care for the catechumens to whom they were directed. These documents are of great importance for they throw light on the method of instruction used in that day, as well as upon the liturgical practices of the period.​
---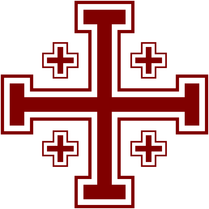 THE JERUSALEM CROSS
The symbolism of the Jerusalem Cross, also known as the Crusaders Cross, has been explained in a variety of ways: The five crosses represent the five wounds Jesus received on the cross. The large center cross stands for the wound in Jesus' side while the four smaller crosses (one in each corner) represent the wounds he received in his hands and feet. The large center cross also represents Jesus and the four smaller crosses signify the four Gospel writers. It also symbolizes the four corners of the earth to which the gospel is preached. In addition, the five crosses represent the five nations who were active in the Crusades: Great Britain, France, Germany, Italy and Spain, and also the five principalities of the Latin Kingdom of Jerusalem.


---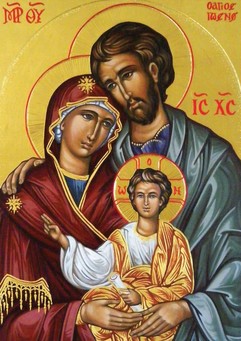 SOLEMNITY OF SAINT JOSEPH, SPOUSE OF THE BLESSED VIRGIN MARY
FRIDAY, MARCH 19, MATTHEW 1:16, 18-21, 24a or LUKE 2:41-51a
(2 Samuel 7:4-5a, 12-14a, 16; Psalm 89; Romans 4:13, 16-18, 22)
KEY VERSE: "When his mother Mary was engaged to Joseph, but before they lived together, she was found with child through the power of the Holy Spirit" (v. 18).
TO KNOW: Luke's gospel narrates the nativity from Mary's perspective; however, Matthew recounts the infancy story from Joseph's point of view. When Joseph discovered that his betrothed wife, Mary, was with child, he decided to divorce her (betrothed couples were considered spouses). Joseph was a righteous man who followed the Mosaic Law, but he was unwilling to subject Mary to the charge of adultery as she would be put to death (Dt 22:23-24). An Angel of the Lord appeared to Joseph in a dream, and told him he should not fear to take Mary as his wife as she had conceived the child through the power of the Holy Spirit. Joseph accepted guardianship for the child who would be named Jesus (Hebrew, Yeshua) meaning "Yahweh saves." Jesus is also "Emmanuel," meaning "God is with us" (Mt 1:23). Joseph responded with faithful obedience and took Mary as his wife.
TO LOVE: Do I seek the Lord's guidance when I have a difficult decision to make?
TO SERVE: St. Joseph, help me to follow your example this Lent by humble obedience to God's Word.
---
Memorare to Saint Joseph: Remember, O most chaste spouse of the Virgin Mary, that never was it known that anyone who implored your help and sought your intercession was left unassisted. Full of confidence in your power I fly unto you and beg your protection. Despise not O Guardian of the Redeemer my humble supplication, but in your bounty, hear and answer me. Amen.
​

SATURDAY, MARCH 20, JOHN 7:4--53
Lenten Weekday
(Jeremiah 11:18-20; Psalm 7)
KEY VERSE: "So a division occurred in the crowd because of him" (v.43).
TO KNOW: The Feast of Tabernacles (Hebrew, Sukkot) was a commemoration of the people of God's journey in the exodus. It was also a festival to thank God for the rain that brought forth the harvest. While Jesus was attending the feast, he proclaimed that he was the source of the "living water" of the Spirit (Jn 4:10; 7:37-38; 1 Cor.10:4). The people were divided in their opinion of Jesus. It was believed that the Messiah would come from David's city of Bethlehem in Judea (Mi 5:1), whereas, Jesus was from Galilee, the region of the gentiles, belittled because of its large Gentile population. However, the temple police were impressed by Jesus' words and did not arrest him. The religious leaders contemptuously retorted that only the unlearned crowd believed in Jesus. Nicodemus, a doctor of the Law who had a personal encounter with Jesus (Jn 3:1-21), defended Jesus. The Pharisees sarcastically told Nicodemus to look in the Scriptures and find out the Messiah's origin for himself. Although they searched the scriptures, they did not realize that God's Word gave testimony to Jesus, the resurrection and the life.
TO LOVE: Do I defend my faith when others demean it?
TO SERVE: Lord Jesus, help me to know you in a personal way as Nicodemus did.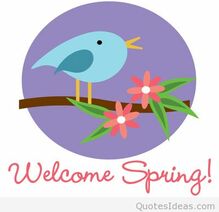 FIRST DAY OF SPRING
Spring is the season between winter and summer, when most plants begin to grow, and usually thought of in the Northern hemisphere as consisting of the months from March to May inclusive, and in the Southern hemisphere as September to November. The liturgical season of Lent coincides with spring. The word "Lent" means springtime, calling to mind the new life and growth, the hope and change that should characterize this time of prayer, penance and conversion. This is the season of initiation into the grace-life of the Church. For 40 days, the Church invites us to start afresh. Just as Nature renews herself every spring, so during the Church's springtime we are encouraged to begin anew.

---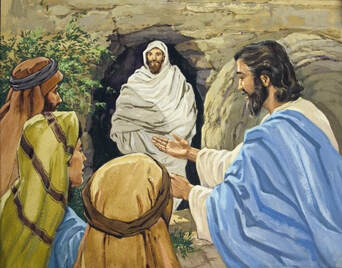 FIFTH SUNDAY OF LENT
SUNDAY, MARCH 21, JOHN 11:1-45 or 11:3-7, 17, 20-27, 33b-45
(Ezekiel 37:12-14; Psalm 130; Romans 8:8-11)
KEY VERSE: "I am the resurrection and the life; whoever believes in me, even if he dies, will live" (v.25).
TO KNOW: Lazarus was dying, and his sisters, Martha and Mary, sent word to Jesus to come immediately to the village of Bethany where they lived. The disciples feared for Jesus' life as the town was near Jerusalem. Knowing his fate awaited him in the Holy City, Jesus declared that God's glory would be revealed so that all might believe. Jesus was delayed in coming, and upon his arrival, Martha told Jesus that he was too late; her brother had already died. Although Martha reproached Jesus for not coming sooner, she was confident that God would grant whatever he asked. Jesus told her that he had power over life and death, and asked her if she believed that his words were true. Like Peter, Martha confessed her faith in Jesus as the "Messiah, the Son of God" (Mt 16:16). With a powerful command, he raised Lazarus to life, a symbol of Christ's own resurrection and our rising to new life with him. Ironically, it was this gift of life that would lead to Jesus' own death, which offered salvation to the whole world.
TO LOVE: Does my parish have a bereavement ministry to assist those grieving loss of a loved one?
TO SERVE: Lord Jesus, raise me to new life in you.
​
THIRD SCRUTINY FOR THE ELECT
On the Fifth Sunday of Lent, we celebrate the Third Scrutiny of the Elect (RCIA, 171). When the elect, catechumens and candidates are present, the story of the Raising of Lazarus is read (Jn 11).In the Scrutiny Rites, those preparing for baptism at the Easter Vigil as well as the entire assembly are called to examine the areas in their lives that block God's love and discover where they are entombed in sin and need to experience the life of the Risen Christ. During this week the Presentation of the Lord's Prayer is celebrated with the elect (RCIA, 178).


---