NOTE: During this Covid Vidus Pandemic, those who are unable to attend Mass are encouraged to make an Act of Spiritual Communion by St. Alphonsus Liguori: My Jesus, I believe that you are present in the most Blessed Sacrament. I love You above all things and I desire to receive You into my soul. Since I cannot now receive You sacramentally, come at least spiritually into my heart. I embrace You as if You were already there, and unite myself wholly to You. Never permit me to be separated from You. Amen.

---


In an Apostolic Letter, Patris Corde ("With a Father's Heart"), Pope Francis marks the 150th anniversary of Blessed Pope Pius IX's declaration of St Joseph as Patron of the Universal Church. To celebrate the anniversary, Pope Francis has proclaimed a "Year of St Joseph," beginning on the Solemnity of the Immaculate Conception 2020 and extending to the same feast in 2021.

---
Memorare to Saint Joseph: Remember, O most chaste spouse of the Virgin Mary, that never was it known that anyone who implored your help and sought your intercession was left unassisted. Full of confidence in your power I fly unto you and beg your protection. Despise not O Guardian of the Redeemer my humble supplication, but in your bounty, hear and answer me. Amen.
​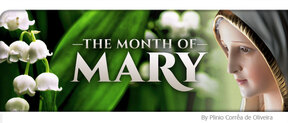 MAY IS MARY'S MONTH
The month of May, with its profusion of blooms, was adopted by the Church in the eighteenth century as a celebration of the flowering of Mary's spirituality. In Isaiah's prophecy of the Virgin birth of the Messiah, the figure of the Blossoming Rod, or Root of Jesse, the flower symbolism of Mary was extended by the Church Fathers, and, in the liturgy, by applying to her the flower figures of the Biblical books of Canticles, Wisdom, Proverbs and Sirach. In the medieval period, the rose was adopted as the flower symbol of the Virgin Birth, as expressed in Dante's phrase, 'The Rose wherein the Divine Word was made flesh,' and depicted in the rose windows of the great gothic cathedrals, from which came the Christmas carol, 'Lo, How a Rose 'ere Blooming.' Also, with the spread of the Franciscan love of nature, the rose of the fields, waysides and gardens, came to be seen as symbols of Mary.
---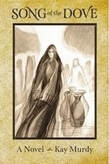 A novel of Mary of Nazareth by Kay Murdy
Kay Murdy writes the story of a Jewish woman of the first century who lived in Nazareth, a tiny village nestled in the hills of Israel. She was betrothed to a young man, and when the Divine Messenger announced that she would have a son, she struggled to understand the strange things happening in a time with more than its share of turmoil, both political and religious. What happened tested both her faith and courage. ACTA Publications. Order: http://www.actapublications.com or contact Kay Murdy murdyk@netscape.net
---
SIXTH SUNDAY OF EASTER
SUNDAY, MAY 9, JOHN 15:9-17
(Acts 10:25-26, 34-35, 44-48; Psalm 98; 1 John 4:7-10)
KEY VERSE: "This is my commandment, that you love one another as I have loved you" (v.12).
TO KNOW: Jesus taught his disciples about the intimate unity that existed between him and his Father. Everything that Jesus said and did was in obedience to his Father's word. The Father's love so filled Jesus that it overflowed to his followers through the Spirit. His disciples would remain in Jesus' love if they were obedient to his "new" command: to love one another as he loved them. Jesus' commandment to love God and to love one's neighbor as oneself fulfilled and summed up all the other commandments. There was no other commandment greater than these (Mk 12:31b). Jesus' disciples were loyal to the mission that he entrusted to them when they revealed his love to the world. They were his "friends" (Jn 15:14) if they demonstrated that love by their readiness to lay down their lives as he did. Jesus did not ask his followers to do anything that he himself was unwilling to do. He would prove his love on Calvary by offering his life for the sake of his friends (John 15:13).
TO LOVE: In what ways have I shown sacrificial love to my friends?
TO SERVE: Risen Lord, help me to love others as you do.

---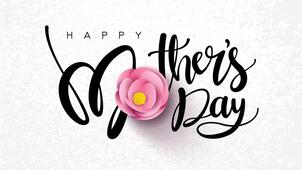 Mother's Day in the United States was first suggested in 1872 by Julia Ward Howe, author of the Battle Hymn of the Republic, as a day dedicated to peace, but Howe died without gaining formal recognition for her vision. In 1907 Ana Jarvis, from Philadelphia, inspired by her own mother in caring for soldiers and their families during the Civil War, was successful in her campaign for a national day of recognition for all mothers to be celebrated on the second anniversary of her mother's death, the 2nd Sunday of May. President Woodrow Wilson, in 1914, made the official announcement proclaiming Mother's Day as a national holiday that was to be held each year on the 2nd Sunday of May. Many countries celebrate Mother's Day at different times throughout the year.

---
MONDAY, MAY 10, JOHN 15:26--16:4a
Easter Weekday
(Acts 16:11-15; Psalm 149)
KEY VERSE: "The hour is coming when everyone who kills you will think he is offering worship to God" (16:2).
TO KNOW: Jesus warned his followers that persecution and suffering awaited those who proclaimed the gospel. He told them that the "Advocate," the "Spirit of truth" (15:26), would bear witness to his words and strengthen them in the coming trials. An age of oppression and, at times, violent persecution of the Church existed from the time of Christ's death until the Edict of Tolerance was issued by the Roman Emperor Constantine (312 CE). The original Greek word martus meant giving one's testimony in court. As so many valiant Christians chose to die rather than renounce their commitment to Christ, the focus changed to mean the "martyrs" who died giving testimony to their faith.
TO LOVE: Do I speak the truth at home and at work?
TO SERVE: Risen Lord, give the Church the courage to be true to your words despite obstacles and suffering.​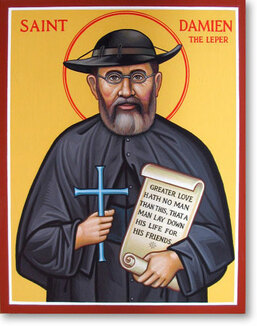 Optional Memorial of Saint Damien Joseph de Veuster of Moloka'i, priest
The "Leper Priest of Moloka'i," named Joseph at birth, received the name Damien in religious life when he joined the Sacred Hearts Fathers in 1860. In 1864, he was sent to Honolulu, Hawaii where he worked in missions. In 1873, he went to the leper colony on Moloka'i, after volunteering for the assignment. Damien cared for lepers of all ages, but was particularly concerned about the children segregated in the colony. Although he contracted leprosy in 1885 he continued to build hospitals, clinics, and churches, and some six hundred coffins. He died on April 15, on Moloka'i. Robert Louis Stevenson defended Damien against a slanderous attack in 1905. Damien was canonized on October 11, 2009 by Pope Benedict XVI. It was during Damien's years at Moloka'i that a Norwegian doctor, Gerhard Hansen, first identified the bacillus of leprosy. Today, Hansen's disease, as leprosy is now called, can be slowed and sometimes totally halted, but it still remains a serious illness. The World Health Organization estimates that there are currently 10-12 million cases of Hansen's disease worldwide. ​
---
TUESDAY, MAY 11, JOHN 16:5-11
Easter Weekday
(Acts 16:22-34; Psalm 138)
KEY VERSE: "For if I do not go, the Advocate will not come to you" (v.7).
TO KNOW: As Jesus prepared for his passion and death, he consoled his grief-stricken disciples. He promised them that when he ascended to the Father, the Spirit would be sent to comfort and empower them. John used legal language to describe the Spirit's work. The Spirit would act as an "advocate" of those who were falsely accused, and would "prosecute" those who refused to believe in Jesus. In the eyes of the world, Jesus was put on trial, found guilty, and sentenced to die in disgrace. But the Spirit proved the world wrong, and the judgment was reversed. The ruler of darkness was the one who was tried, convicted and condemned. Truth triumphed and justice prevailed.
TO LOVE: Do I defend others when they are falsely accused?
TO SERVE: Risen Lord, send your Spirit to help the Church bear witness to your truth.
​​

WEDNESDAY, MAY 12, JOHN 16:12-15
Easter Weekday
(Acts 17:15, 22 -- 18:1; Psalm 148)
KEY VERSE: "But when he comes, the Spirit of truth, he will guide you to all truth" (v.13).
TO KNOW: Jesus had so much to tell his disciples before his passion and death, but he promised them that the Holy Spirit would continue to enlighten their minds after his departure. Those things that confused and perplexed them would be clarified by the Spirit who would be their constant companion and would guide them to all truth. "Revelation" is the word for bringing God's truth to people. The divine revelation of the Father and Son through the Spirit was transmitted by the apostles and the evangelists through their teaching, example, institutions and writings. This "Apostolic Tradition" has been preserved by the Spirit in the doctrine, worship and sacraments of the Church. Divine revelation did not cease with the death of the apostles. The Spirit continues to interpret Christ's eternal message of love and truth for each generation.
TO LOVE: Do I share my faith with others?
TO SERVE: Risen Lord, help the Church to grow in knowledge and wisdom of God's truth.​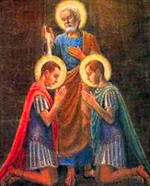 Optional Memorial of Saints Nereus and Achilleus, martyrs, or Saint Pancras, martyr
Nereus was a soldier in the imperial Roman army, and a member of the Praetorian Guard. He was a convert to Christianity, and allegedly baptized by Saint Peter the Apostle. Nereus was exiled for his faith, and was martyred. Pancras, a fourteen year old orphan, was brought to Rome by his uncle, Saint Dionysius. Pancras became a convert to Christianity and was martyred along with Saint Nereus, Saint Achilleus, and Saint Domitilla. Pope Vitalian sent Pancras' relics from Rome to England as part of the evangelization of England. Saint Augustine of Canterbury dedicated the first Church in England to Saint Pancras, and subsequent churches were similarly named for him.

---
THURSDAY, MAY 13, JOHN 16:16-20
Easter Weekday
(Acts 18:1-8; Psalm 98)
KEY VERSE: "But a little while, and you will no longer see me, and again a little while, and you will see me" (v.16).
TO KNOW: Jesus told his disciples of his immanent departure from this world through his passion and death. Just as the Hebrew people passed over from Egypt to the Promised Land, he would pass over from this life to the eternal life with his Father. However, his disciples failed to understand his words. Deeply grieved, they questioned him as to his meaning. Jesus told his disciples that although he would leave them, he would come back. On that day God's kingdom would come in its fullness, and his reign would begin. But before that time, his followers would have many trials, their pain like birth pangs. But if they faithfully endured, even though the world rejoiced in their suffering, their sorrow would turn to joy. The joy that Jesus would bring was independent of anything the world could give them. As a mother forgets her pain when she beholds her child, they will forget their suffering when they gaze upon Christ's glory in heaven.
TO LOVE: Am I a source of joy to others, or do I add to their pain?
TO SERVE: Lord Jesus, help me to keep my eyes upon you so that my sorrow may be transformed into joy.

NOTE: In those places where the solemnity of the Ascension has been transferred to the Seventh Sunday of Easter, the Mass and readings of the Ascension are used: Acts 1:1-11; Ephesians 1:17-23 or 4:1-13, or 4:1-7,11-13; Mark 16:15-20.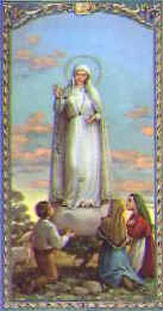 ​Optional Memorial of Our Lady of Fatima
The Blessed Virgin Mary appeared six times in the small village of Fatima in Portugal to three shepherd children: Lucia, 9, and her cousins Francisco, 8, and his sister Jacinta, 6, between May 13, and October 13, 1917. Our Lady repeatedly emphasized the necessity of praying the rosary daily, of wearing the brown scapular of Mount Carmel and of performing acts of reparation and sacrifice on the Five First Saturdays of five consecutive months. Our Lady requested the solemn public consecration of Russia to her Immaculate Heart. In the last apparition she revealed her name: "I am the Lady of the Rosary." That same day, 70,000 people had turned out to witness the apparition. They saw the sun make three circles and move around the sky in an incredible zigzag movement in a manner which left no doubt about the veracity of the apparitions. By 1930 the Church approved the apparitions as authentic. The assassination attempt on Pope John Paul II in 1981 took place on May 13, the 64th anniversary of the apparitions. The Holy Father attributed his escape from certain death to the intervention of Our Lady. Two of the children, Jacinta and Francisco Martos, died shortly after the apparitions. Pope Francis presided over their canonization. Sr. Lucy Dos Santos, the eldest of the three, died after a long illness at the age of 97. On 13 February 2017, Sister Lúcia was accorded the title Servant of God, as the first major step toward her canonization.​
---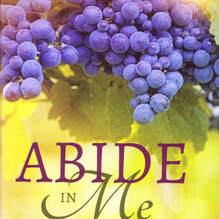 FEAST OF SAINT MATTHIAS, APOSTLE
FRIDAY, MAY 14, JOHN 15:9-17
(Acts 1:15-17, 20-26; Psalm 113)
KEY VERSE: "As the Father has loved me, so I have loved you; abide in my love" (v.9).
TO KNOW: Everything that Jesus said and did was in obedience to his Father's word. This same bond should exist between Jesus and his followers. John used two Greek words to define the meaning of the love that Jesus had for them. In the first instance, the word agape expressed the supernatural love of the Father and the Son. In the second occurrence, the word phileo was used, which referred to human affection and friendship. Jesus' disciples were his friends because he had revealed to them everything he heard from the Father. Servants did not have privileged information of what their master did. Jesus chose his friends to be the instruments of God's revelation to the world. Their task would be fruitful if they obeyed Jesus' command to love.
TO LOVE: How have I demonstrated sacrificial love to my friends?
TO SERVE: Risen Lord, help your Church to hand on the faith that we have received, just as the apostles did in their time.

---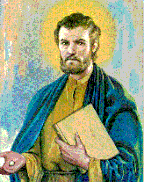 FEAST OF MATTHIAS, APOSTLE
In the Upper Room in Jerusalem where the apostles had gathered to pray, lots were cast to choose the one who would replace Judas Iscariot, the one who betrayed the Lord. Matthias was chosen (Acts 1:24-26). As one of the Twelve he would bear witness to the Risen Christ Tradition says that Matthias preached the Gospel for more than 30 years in Judea, Cappadocia, Egypt and Ethiopia. He is remembered for preaching the need for mortification of the flesh with regard to all its sensual desires (eros). A martyr, Matthias was stoned to death at Colchis in 80 AD. Some relics are in the church of Triers, and others are in Saint Mary Major in Rome.
---
SATURDAY, MAY 15, JOHN 16:23b-26
Easter Weekday
(Acts 18:23-28; Psalm 47)
KEY VERSE: "The hour is coming when I will no longer speak to you in figures but I will tell you clearly about the Father" (v.25).
TO KNOW: Jesus often spoke in parables using images of shepherds, vines and women in childbirth ̶ the language of human experience meant to convey the mystery of the kingdom of God. Though Jesus' disciples were often confused as to the meaning of his words, his passion, death and resurrection would speak clearly to them of God's love. Through the revelation of the Holy Spirit, they would understand everything Jesus told them, and they would have new insights about God's reign. For the seventh time in John's gospel, Jesus said that when he was glorified he would be present to his followers in a new way, and they would be able to pray in the authority of his name. The Father loved them and would grant them whatever they needed in order to do Christ's work on earth.
TO LOVE: For whom do I need to intercede in prayer today?
TO SERVE: Risen Lord, give me what I need to live this day for you.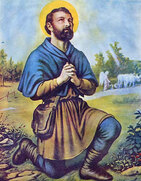 Optional Memorial of Saint Isidore the Farmer
Isidore was a pious farmer, married to Mary de la Cabeza. When their young son died, they were convinced it was the will of God that they not have children, and they lived together celibately, doing good works the rest of their lives. Isidore was accused by fellow workers of shirking his duties by attending Mass each day and taking time out for prayers. Isidore claimed that he had no choice but to follow the highest Master, the Lord. It is said that when his master came to chastise him for skipping work for church, he found angels plowing the fields in place of Isidore. Miracles and cures were reported at his grave, in which his body remains incorrupt.​
---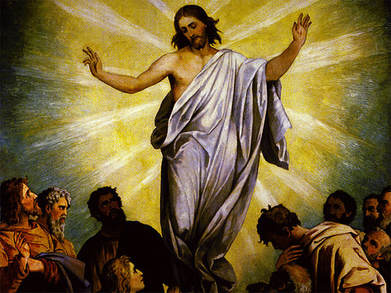 SOLEMNITY OF THE ASCENSION OF THE LORD
SUNDAY, MAY 16, MARK 16:15-20
(Acts 1:1-11; Psalm 47; Ephesians 1:17-23 or 4:1-13 or 4:1-7, 11-13)
KEY VERSE: "So then the Lord Jesus, after he spoke to them, was taken up into heaven and took his seat at the right hand of God" (v 19).
TO KNOW: After his resurrection, Jesus appeared to his disciples and commissioned them to preach the Gospel throughout the world. The disciples were sent forth assured that the Lord would continue to work through them by the power of the Holy Spirit. All who believed the good news would be saved; whoever did not believe in the gospel would bring condemnation upon themselves. Forty days after Easter, Jesus ascended in glory to the "right hand" of the Father (the "right hand" is a symbol of authority and power). The feast of the Ascension commemorates the elevation of Christ's human nature into the condition of divine glory. It is the final act of Christ's work of redemption on earth. Christ's ascension gives us hope in the promise of our own ascension into heaven.
TO LOVE: How did I proclaim the good news today?
TO SERVE: Risen Lord, give me faith that I will be with you in glory one day.*Note: In some dioceses the feast of the Ascension is transferred to the Seventh Sunday of Easter. In that case, the readings for today are Acts 1:15-17, 20a, 20c-26; Psalm 98; John 16:16-20​
---
MONDAY, MAY 17, JOHN 16:29-30
Easter Weekday
(Acts 19:1-8, Psalm 68)
KEY VERSE: "In the world you will have trouble, but take courage, I have conquered the world" (v.33).
TO KNOW: Before Jesus ascended to his Father, he prepared his followers to face his final "hour" in which he would suffer and die. His disciples naively assumed that they had complete faith in Jesus; however, he forewarned them that when the time came for his passion, they would all fail him. They would scatter like frightened sheep who had lost their shepherd (Zec 13:7). In his agony, Jesus would feel as though even his Father had abandoned him (Mk 15:34). Yet Jesus and his Father could never be separated; He and the Father are one. Jesus told his disciples that they should not despair but have confidence in his presence. Although they would suffer greatly in the world, they must take heart. In Jesus' resurrection, he would be victorious over all evil.
TO LOVE: Who do I need to console that feels they have failed the Lord?
TO SERVE: Risen Lord, help the Church to have faith in times of adversity.​
​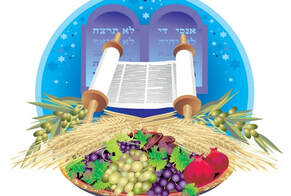 SHAVU'OT BEGINS AT SUNSET (MAY OR JUNE)
Shavu'ot, the Feast of the Weeks, is the second of the three major festivals with both historical and agricultural significance (the other two are Passover and Sukkot). Shavuot tells the story of the yearly harvest when all Jews made a pilgrimage to the Temple in Jerusalem. They brought an offering of the first fruit of the harvest as a gesture of thanksgiving. Shavu'ot also commemorates the giving of the Ten Commandments to Moses and the Israelites on Mount Sinai. While the Passover freed the Jews physically from slavery, the giving of the Torah redeemed them spiritually from bondage to idolatry. Shavuot means "weeks", as it is held seven weeks after Passover. Shavu'ot is also known as Pentecost, because it falls on the 50th day after Passover. The Christian holiday of Pentecost occurs 50 days after Easter.
---
TUESDAY, MAY 18, JOHN 17:1-11a
Easter Weekday
(Acts 20:17-27; Psalm 68)
KEY VERSE: "I glorified you on earth by accomplishing the work that you gave me to do" (v.4).
TO KNOW: Jesus was about to complete the work his Father had given him. His "hour" had come, the moment for him to fulfill his mission on earth through his passion, death and resurrection. Jesus is the High Priest who offered himself as a victim for the salvation of the world. He would bring glory to God through his saving death, and God would in turn glorify him. Jesus had come into the world to reveal the true nature and character of God. He prayed that those who believed that he was the one sent by his Father would share eternal life with him. Jesus asked the Father to protect his followers from all evil. He prayed that the Church would be united in love and demonstrate the oneness that he has with the Father.
TO LOVE: Is there someone who needs my prayers for protection from evil?
TO SERVE: Risen Lord, help me to participate in your work on earth.​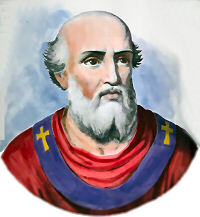 Optional Memorial of Saint John I, pope and martyr
In 523, John was elected Pope while he was still an archdeacon. At that time, the ruler of Italy was Theodoric the Goth who subscribed to the Arian heretical brand of Christianity. For a while, Theodoric let Catholics live in peace, but in later life he became suspicious of everyone, imagining conspiracies to seize his throne. He even tried to involve Pope John in his political machinations. John, the first pope to travel to Constantinople, led a delegation to negotiate with Emperor Justin I who was the first Catholic on the Byzantine throne in fifty years. John's mission was successful, but Theodoric thought John and the Emperor had plotted against him. While returning to Rome, John was kidnapped by Theodoric's soldiers. Pope John died of thirst and starvation in prison in Ravenna, Italy.​
NOTE: The Heresy of Arianism taught that Christ was a creation of the Father, a creature, and not a part of God. Athanasius formulated the doctrine of homoousianism which said that Christ was "consubstantial with the Father," as we pray in the Nicene Creed. ​
---
WEDNESDAY, MAY 19, JOHN 17:11b-19
Easter Weekday
(Acts 20:28-38; Psalm 68)
KEY VERSE: "Consecrate them in truth. Your word is truth" (v.17).
TO KNOW: Poised between heaven and earth, Jesus interceded to the Father on behalf of his disciples whom he called 'friends.' As a good shepherd, Jesus protected the flock that the Father had given him (Jn 10:27-29). The only one lost was Judas, the one who gave himself over to the evil one. Jesus consecrated his faithful disciples, that is, he set them apart from the profane world in order to be holy vessels for God's use. Ironically, Jesus said that he did not pray for the world, and yet he came because God loved the world (Jn 3:16). But in John's gospel the 'world" stands for a human society without God. As the Father sent Jesus into the world to sanctify it, Jesus sent his disciples into the world in order to lead people back to God. The disciples would be a means of holiness for the entire world through their dedicated proclamation of divine truth.
TO LOVE: Am I a sign of holiness for others?
TO SERVE: Risen Lord, help me to be speak your truth to others.
​
THURSDAY, MAY 20, JOHN 17:20-26
Easter Weekday
(Acts 22:30, 23:6-11; Psalm 16)
KEY VERSE: "I gave them the glory you gave me, so that they may be one, as we are one" (v.22).
TO KNOW: As Jesus prepared to return to his Father, he prayed for all those who would come to believe in him through his disciples' proclamation of the gospel. Jesus' followers would continue his work on earth by making God's name known. Jesus prayed for the unity of all believers. He longed for the time when Christians would cease their divisions and be united with him in the unity he shared with the Father. The love that existed between the Father and the Son flowed through the Spirit and would be expressed in the love that Christians have for one another. The Christian community should be a reflection of the oneness of the Triune God: Father, Son and Holy Spirit. When the world saw this, they would be attracted to the gospel and believe in Jesus Christ (Jn 13:35).
TO LOVE: Are people able to "read" the gospel that I proclaim by my life?
TO SERVE: Risen Lord, help me to work for unity in my parish.​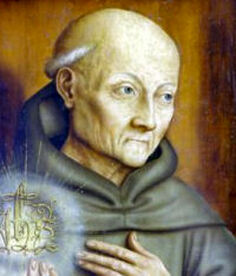 Optional Memorial of Saint Bernardine of Siena, priest
For more than 30 years, Bernardine preached all over Italy and played a great part in the religious revival of the early fifteenth century. Usury, defined as charging interest on loans, was one of the principal objects of his attacks, and he did much to prepare the way for the establishment of the beneficial loan societies. Bernardine's preaching skills were so great that he filled the piazzas of Italian cities. His preaching visits would often culminate in mass reconciliations as listeners were persuaded to exchange the bacio di pace, or kiss of peace. A renowned peacemaker in the Franciscan tradition, he tried to calm feuding clans and factions in the turbulent political world of the Renaissance. He argued that the catalyst of civil discord in the urban setting was malicious gossip, which led, too often, to vendettas by aggressive males. His surprising allies in his peacekeeping mission were the women who comprised the majority of his audience.​
---
FRIDAY, MAY 21, JOHN 21:15-19
Easter Weekday
(Acts 25:13b-21; Psalm 103)
KEY VERSE: Jesus said to him, "Feed my sheep" (v.17).
TO KNOW: For each of Peter's three denials, the Risen Lord gave him three opportunities to profess his devotion to him. There are two Greek words used for love in this passage. Agape love is sacrificial love, the love that God has for the Son and for all created beings. Phileo love has a different connotation, referring to human affection or friendship. Jesus asked Peter twice, "Do you love me?" (Agapas me?). Peter replied, "I love you" (Philo se). The third time, Jesus asked, "Do you love me like a friend?" (Phileis me?). Jesus wanted Peter to know he accepted him in friendship and forgave him for his disavowal of knowing him. To each expression of love, Jesus told Peter to feed his flock. Like Jesus the good Shepherd, Peter would lay down his life for the sake of the sheep (Jn 10:11). He would walk the same road to the cross that Jesus walked.
TO LOVE: In what ways do I feed the Lord's flock?
TO SERVE: Risen Lord, I pray for all the shepherds of the Church, especially Pope Francis I.​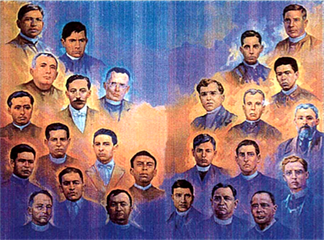 Optional Memorial of Saint Christopher Magallanes, priest, and his companions, martyrs
"Viva Christo Rey!" — "Long Live Christ the King!" was the cry of the Christeros, in response to the anti-Catholic government in Mexico in the 1920s. The government was determined to weaken the Catholic faith of its people. Churches, schools and seminaries were closed; foreign clergy were expelled. Under the Cristero movement, members pledged their allegiance to Christ and to the church that he established to spread the Good News—even if Mexico's leaders had made it a crime to receive baptism or celebrate the Mass. Fr. Christopher Magallanes's last words were: "I am innocent and I die innocent. I forgive with all my heart those responsible for my death, and I ask God that the shedding of my blood serve the peace of our divided Mexico". Fr. Christopher and his companions were beatified in 1992 and canonized eight years later.​
---
SATURDAY, MAY 22, JOHN 21:20-25
Easter Weekday
(Acts 28:16-20, 30-31; Psalm 11)
KEY VERSE: "What if I want him to remain until I come? What concern is it of yours?" (v.23).
TO KNOW: Jesus warned Peter what sort of death awaited him as shepherd of the flock. He then offered Peter another opportunity to follow him (v.19). As they walked along, John, the beloved disciple, followed them. Peter wanted to know about the apostle's fate. Jesus told Peter that it was not his business to know God's plan for someone else. Peter's only concern should be following Jesus. John the evangelist concluded his Gospel by testifying to the truth he had written. Although the whole world could not contain all that might be said about Jesus, we must be content, like Peter, with those things God wishes to reveal to us. Our job is to follow the Lord with our hearts, minds and wills in step with him.
TO LOVE: In what way am I being asked to follow Jesus today?
TO SERVE: Risen Lord, help me to trust in God's plan for my life.
NOTE: According to the apocryphal Acts of Peter, the apostle did not feel he was worthy to die as his Master; therefore, he was crucified head down. Tradition also locates Peter's burial place as directly beneath the high altar where the Basilica of Saint Peter in Rome was later built.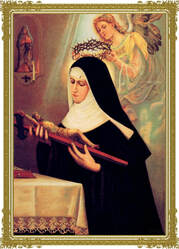 Optional Memorial of Saint Rita of Cascia, religious
From her early youth, Rita showed an interest in a religious life. However, when she was twelve, her parents betrothed her to an ill-tempered, abusive individual. Disappointed but obedient, Rita married him when she was 18, and became the mother of twin sons. She put up with her husband's abuses for eighteen years before he was ambushed and stabbed to death. Her sons swore vengeance on their father's killers, but through Rita's prayers and interventions, they forgave the offenders. Upon the deaths of her sons, Rita again felt the call to religious life, and she was admitted to the Augustine monastery at age 36. Rita lived 40 years in the convent. She was devoted to the Passion of Christ, and in response to a prayer to suffer as he did, she received a chronic head wound that appeared to have been caused by a crown of thorns, and which bled for 15 years. Rita is well-known as a patron of seemingly impossible situations. ​
---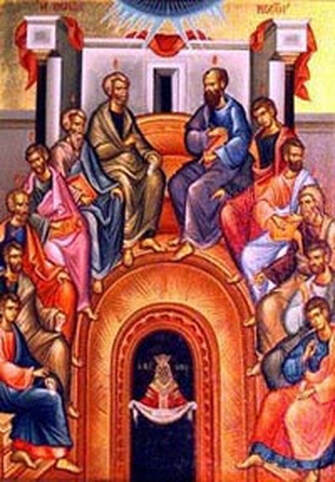 SOLEMNITY OF PENTECOST SUNDAY
SUNDAY, MAY 23, JOHN 20:19-23 or JOHN 15:26-27, 16:12-15
(Acts 2:1-11, Psalm 104; 1 Corinthians 12:3b-7, 12-13 or Galatians 5:16-25)
KEY VERSE: He breathed on them and said to them, "Receive the Holy Spirit" (v.22).
TO KNOW: The great harvest that Jesus promised (Lk 10:2) had begun at Pentecost, which the Jews dedicated to the gathering and offering of the first fruits (Hb Shavuot, 50 days after Passover). The Christian feast of Pentecost, which occurs 50 days after Easter, marks the descent of the Holy Spirit on the disciples (Acts 2:1-4). In John's Gospel, the resurrection, ascension and the descent of the Spirit occurred on the same Easter Sunday. It is most likely that the disciples were gathered in the upper room where the Last Supper had been held. But they were fearful that the emissaries of the Sanhedrin would come to arrest them. Upon seeing the Risen Lord, the disciples were overjoyed. Just as the breath of God created Adam, the first human being (Gn 2:7), Jesus breathed forth the Spirit creating the new people of God, the Church. Empowered by the Spirit, Jesus' disciples were sent forth to bring peace through the reconciliation of sinners. Who is the Holy Spirit? He is the third Person of the Holy Trinity, but more specifically, the love shared by the Father and the Son. "Come, Holy Spirit!" is the fundamental prayer of the Church -- in success or failure, whether one is young or old, rich or poor.
TO LOVE: What gift have you received from the Holy Spirit, and how well are you using it?
TO SERVE: Holy Spirit, help me to bring peace and forgiveness to others.
NOTE: The outpouring of the Spirit at Pentecost is called the birthday of the universal Church. Through the Spirit the Church realizes her call to preach the Gospel of Christ to the whole world. The double Alleluia at the end of Mass illustrates that the Easter Season has been brought to a close. The Easter Candle is extinguished and moved to the Baptistery. The 90 Days of Lent (40 days) and Easter (50 days) are over, but our call to Mission is not.

---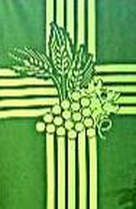 ORDINARY TIME
Ordinary Time is called "ordinary" because the weeks are numbered. The Latin word ordinalis, which refers to numbers in a series, stems from the Latin word ordo, from which we get the English word order. Thus, Ordinary Time is in fact the ordered life of the Church—the period in which we live our lives neither in feasting (as in the Christmas and Easter seasons) or in more severe penance (as in Advent and Lent), but in watchfulness and expectation of the Second Coming of Christ. There are two times we are in Ordinary Time. There are 28 weeks of Ordinary Time after Easter and 5 weeks of Ordinary Time after Christmas. However, this varies depending upon when Easter falls in a particular year. The actual number of weeks of Ordinary Time in any given year can total 33 or 34.
---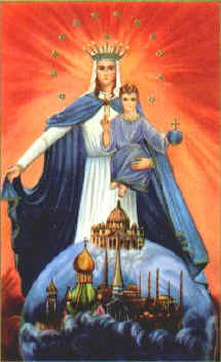 MONDAY, MAY 24, JOHN 19:25-34
Memorial of The Blessed Virgin Mary, Mother of the Church
(Eighth Week in Ordinary Time)
(Genesis 3:9-15, 20; or Acts 1:12-14; Psalm 87)
KEY VERSE: "Woman, behold your son" (v.26).
TO KNOW: For the second time in John's gospel Jesus addressed his mother as "woman" (see Wedding at Cana, John 2:4). This unusual title goes back to the first promise of redemption to Eve: "I will put enmity between you (Satan) and the woman" (Gn 3:15). John sees Mary as the "new Eve" whose obedience to God reversed the penalty of death due to sin, and her son as the "new Adam" who opened wide the gates of salvation by his saving death. On Calvary, Satan was crushed through the death of Mary's offspring. When Jesus gave his life for us, he also gave us his mother. Mary stood at the cross with John, the beloved disciple, who represents all Christians who seek salvation in Christ. Simeon's prophecy that Mary would "be pierced with a sword so that the thoughts of many hearts may be laid bare" (Lk 2:35) was fulfilled on Calvary. She was the suffering Mother of the Church that was about to be born. Mary is the role-model for all believers. Imitating her dispositions for humility, faithfulness, and praise equip all Christians for full ministry in the Church.
TO LOVE: Have I made a home in my heart for Mary?
TO SERVE: Mary my mother, help me to be a dutiful son or daughter of the Church.
​
NOTE: In 2018. Pope Francis decreed that the ancient devotion to the Blessed Virgin Mary, under the title of 'Mother of the Church,' be inserted into the Roman calendar as a Memorial on the day after Pentecost. Pope Pius XII perceptively noted Mary's dual maternity in his encyclical on the Church: "It was she who was there to tend the mystical body of Christ, born of the Savior's pierced heart, with the same motherly care that she spent on the child Jesus in the crib." In the words of Saint Augustine: "What (God) has bestowed on Mary in the flesh, He has bestowed on the Church in the spirit; Mary gave birth to the One, and the Church gives birth to the many, who through the One become one." ​
---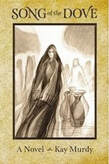 SONG OF THE DOVE, a novel of Mary of Nazareth by Kay Murdy
Kay Murdy writes the story of a Jewish woman of the first century who lived in Nazareth, a tiny village nestled in the hills of Israel. She was betrothed to a young man, and when the Divine Messenger announced that she would have a son, she struggled to understand the strange things happening in a time with more than its share of turmoil, both political and religious. What happened tested both her faith and courage. ACTA Publications. Order: http://www.actapublications.com or contact Kay Murdy murdyk@netscape.net
​
---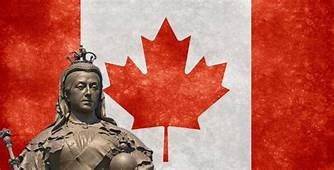 VICTORIA DAY, CANADA (Monday, Prior to May 25)
In Canada, the celebration of Victoria Day is the official celebration in Canada of the birthdays of Queen Victoria and Queen Elizabeth II. Victoria Day was established as a holiday in Canada West (Now Ontario) in 1845, and became a national holiday in 1901. Before Victoria Day became a national Holiday, people had celebrated Empire Day, beginning in the 1890s as Victoria approached her Diamond jubilee in 1897. Victoria, queen of the United Kingdom of Great Britain and Ireland and empress of India was born on 24 May 1819. She ascended the throne after the death of her uncle George IV in 1837 when she was only 18. She ruled until her death in 1901 when her son Edward the VII became king of England.
---
TUESDAY, MAY 25, MARK 10:28-31
Weekday
(Sirach 35:1-12; Psalm 50)
KEY VERSE: "But many that are first will be last, and the last will be first" (v 31).
TO KNOW: Jesus instructed his disciples that they could not enter heaven by their own merits, nor could wealth or power gain them entry. The astonished disciples asked who then could be saved. Jesus told them that salvation could only be achieved by God's grace. Peter protested that he and the other disciples had given up everything to follow Jesus. While Jesus acknowledged their tremendous sacrifices, he added that God would return a "hundredfold" what they had renounced. Though they would suffer persecution in the "present age," nothing could compare with God's gift of eternal life in the "age to come" (v 30). Although the world regarded the disciples as being in the lowest place, in God's reign they would be first.
TO LOVE: Do I strive to be first according to the world's standards?
TO SERVE: Lord Jesus, help me to let go of those things that keep me from your kingdom.
​​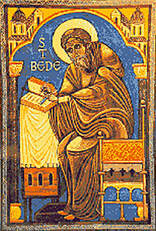 Optional Memorial of Saint Bede the Venerable, priest and doctor of the Church
Bede was born around the time England was Christianized. Raised from age seven in the abbey of Saints Peter and Paul at Wearmouth-Jarrow, Bede lived there his whole life. A Benedictine monk, Bede was the most learned man of his day, and his writings began the idea of using the Latin phrase: Anno Domini ("in the year of the Lord"—the year Jesus was born). He was a teacher and author, writing about history, mathematics, music, astronomy, poetry, grammar, philosophy, homiletics, the Saints, and a Bible commentary. The central theme of Bede's Historia Ecclesiastica was of the Church using the power of its spiritual, doctrinal, and cultural unity to stamp out violence and barbarism. Our knowledge of England before the 8th century is mainly the result of Bede's writing. He was declared a Doctor of the Church on 13 November 1899 by Pope Leo XIII.

---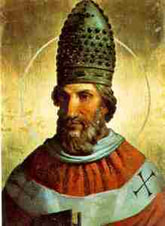 Optional Memorial of Saint Gregory VII, pope
One of the great reforming popes, Gregory VII took the throne of the papacy in 1073. At that time, a corrupt clergy threatened to destroy faith in the Church. Pope Gregory suspended all clerics who had purchased their position, and ordered the return of all church property (simony). The corrupt clergy rebelled; The Emperor, Henry IV, who promised to support him, broke his promise, and promoted the rebels. Pope Gregory responded by excommunicating anyone involved in lay investiture, the appointment of religious officials (commonly bishops) by secular subjects (commonly kings or nobles). Pope Gregory summoned Henry to Rome, but the emperor's supporters drove the pope into exile. Henry installed the anti-pope Guibert of Ravenna. Pope Gregory retreated to Salerno where he spent the remainder of his papacy until his death in 1085.

---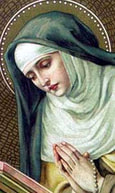 Optional Memorial of Saint Mary Magdalene de' Pazzi
Born in Florence in 1566, Catherine de' Pazzi was sent to a convent at age 14, but was brought home by her family who opposed her religious vocation and wanted her to marry well. They eventually gave in to her desires. She wanted to enter a contemplative monastery of the Carmelite Order at age 16, taking the name Sister Mary Magdalene. She entered the monastery of St. Mary's of the Angels because the nuns took daily Communion, which was unusual at the time. A mystic, she led a hidden life of prayer and self-denial, praying particularly for the renewal of the Church and encouraging the sisters in holiness. Her life was marked by many extraordinary graces. She was canonized in 1669 by Pope Clement IX.

---
WEDNESDAY, MAY 26, MARK 10:32-45
Memorial of Saint Philip Neri, priest
(Sirach 36:1, 4-5a, 10-17; Psalm 79)
KEY VERSE: "Whoever wishes to be great among you will be your servant" (v 43).
TO KNOW: For the third time, Jesus told his disciples of his coming passion and death, yet they still did not fully comprehend his words. Two brothers, James and John, told Jesus that they would do whatever he asked if he would guarantee them a place of honor in the kingdom. Jesus asked them if they were as willing to share his suffering as they were his glory. Jesus must drink the bitter cup of his destiny in Jerusalem and be immersed in the bath of pain (Eucharist and Baptism, sacramental symbols of Christ's dying and rising). It was not Jesus' place to assign positions of authority and respect. All who aspired to greatness should imitate Jesus who served others and offered himself for the sake of all.
TO LOVE: Is achieving recognition my greatest ambition?
TO SERVE: Lord Jesus, help me to become a servant like you. ​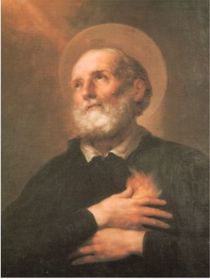 Memorial of Saint Philip Neri, priest
Philip Neri founded the Confraternity of the Most Holy Trinity. When he began to preach, he had many converts. In 1550 he considered retiring to the life of a solitary hermit, but he received visions that told him his mission was in Rome. He entered the priesthood in 1551. He heard confessions by the hour and could tell penitents their sins before they confessed them. Pope Gregory XIV tried to make him a cardinal, but Philip declined. His popularity was such that he was accused of forming his own sect, but he was cleared of this baseless charge. He founded the Congregation of the Oratory, a group of priests dedicated to preaching and teaching, but suffered from accusations of heresy because of the involvement of laymen as preachers. In later years he was beset by several illnesses, each of which was cured through prayer. In 1594, when he was in an agony of pain, the Blessed Virgin appeared to him, and he was cured. Philip died in 1595 and was canonized by Gregory XV in 1622.

---
THURSDAY, MAY 27, MARK 10:46-52
Weekday
(Sirach 42:15-25; Psalm 33)
KEY VERSE: "Go your way; your faith has saved you" (v 52).
TO KNOW: Jesus passed through Jericho, which was about 15 miles from Jerusalem, and the end of the road for Jesus. As they traveled along, they encountered a blind beggar named Bartimaeus sitting by the roadside. Hearing that it was Jesus going by, the blind man cried out for pity, calling Jesus by the Messianic title "Son of David" (opening the eyes of the blind was one of the miracles expected of the Messiah, Is 29:18). This man had great insight into Jesus' true nature, while Jesus' disciples were often blind and deaf to his message and mission. They were blinded by his powerful deeds and could not perceive him as the obedient son of God who would suffer and die. Although many tried to prevent Bartimaeus from coming to Jesus, he was rewarded for his faith. His sight restored, Bartimaeus followed Jesus as a disciple on "the way" (v 52, an early name for the Christian faith).
TO LOVE: What prevents me from seeing Jesus today?
TO SERVE: Lord Jesus, open my eyes to your presence all around me. ​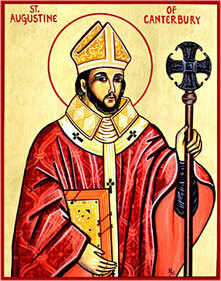 ​Optional Memorial of Saint Augustine of Canterbury
Augustine of Canterbury was a monk and abbot of Saint Andrew's abbey in Rome. He was sent by Pope Gregory the Great with 40 brother monks, including Saint Lawrence of Canterbury, to evangelize the British Isles in 597. One of Augustine's earliest converts was King Ethelberht who brought 10,000 of his people into the Church. Ordained a bishop in Gaul (modern France) by the archbishop of Arles, Augustine became the Bishop of the first Archbishop of Canterbury. He helped re-establish contact between the Celtic and Latin churches, though he could not bring about his desired uniformity of liturgy and practices between them. The limited success Augustine achieved in England before his death in 605, a short eight years after he arrived in England, would eventually bear fruit long afterward in the conversion of England. Augustine of Canterbury can truly be called the "Apostle of England." Anglican Archbishops of Canterbury are still referred to as occupying the Chair of Augustine.

---
FRIDAY, MAY 28, MARK 11:11-26
Weekday
(Sirach 44:1, 9-13; Psalm 149)
KEY VERSE: "My house shall be called a house of prayer for all peoples" (v 17).
TO KNOW: Jesus entered Jerusalem, the messianic city of King David, and took possession of the city, not as a military leader, but as a meek servant, riding on a colt (Zec 9: 9). The people cried "Hosanna!" meaning "Heaven help us!" When Jesus spied a barren fig tree, he perceived this as a symbol of fruitless Israel. Jesus entered the Temple and was incensed by the people's lack of respect and worship in his "Father's house," and he cast out the merchants and money-changers. The cursing of the fig tree was a sign that God's judgment was upon those who had not taught the people the true meaning of worship. Jesus came as the authoritative teacher of true faith, prayer and forgiveness.
TO LOVE: Do I take part in the liturgy with "full, conscious and active participation"? (Vatican II, Sacrosanctum Concilium, 14)
TO SERVE: Lord Jesus, help me to see where I fail to offer true worship.
​​

SATURDAY, MAY 29, MARK 11:27-33
Weekday
(Sirach 51:12cd-20; Psalm 19)
KEY VERSE: "Neither shall I tell you by what authority I do these things" (v 33).
TO KNOW: The prophet Malachi foretold the arrival of God's messenger who would purify the Temple restoring it as a suitable place of worship, a "house of prayer for all peoples" (Mk 22: 17). The temple was the political, economic, cultural, and religious center of the nation. When Jesus overturned the tables of the money-changers and drove out the merchants, he incurred the wrath of the religious leaders. They demanded to know by whose authority he was acting. Jesus counter-questioned his adversaries asking them whether John's baptism was of divine or human origin. Because of John's popularity, the religious leaders feared that they might antagonize the people. Since they refused to answer Jesus, he did not answer their question.
TO LOVE: Do I pray for secular as well as religious authorities?
TO SERVE: Lord Jesus, help me to obey your authority in all matters of faith and morals.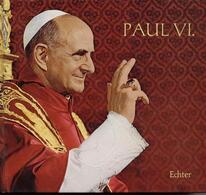 Optional Memorial, Saint Paul VI, pope
St. Paul VI was born Giovanni Battista Montini, September 26, 1897, Concesio, near Brescia, Italy. In his early years he was educated at home because of frail health. Later he studied in Brescia. Ordained a priest on May 29, 1920, he was sent by his bishop to Rome for higher studies and was eventually recruited for the Vatican diplomatic service, and resumed work at the Vatican Secretariat of State, where he remained in posts for more than 30 years. In the beginning of November 1954, Pope Pius XII appointed him archbishop of Milan, and Pope John XXIII named him a cardinal in 1958. He was elected pope on June 21, 1963, to be known as Paul VI. His pontificate began in the period following the difficult first session of the Second Vatican Council. From the very outset of his years as pope, Paul VI gave clear evidence of the importance he attached to the study and the solution of social problems and to their impact on world peace. In 2012 Pope Benedict XVI declared that Paul had lived "a life of heroic virtue." Two years later he was beatified by Benedict's successor, Francis. He was canonized by Pope Francis in October 2018.

---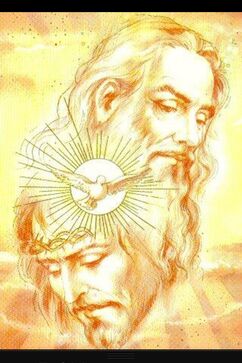 SOLEMNITY OF THE HOLY TRINITY
SUNDAY, MAY 30, MATTHEW 28:16-30
(Deuteronomy 4:32-34, 39-40; Psalm 33; Romans 8:14-17)
KEY VERSE: "Go therefore, and make disciples of all nations, baptizing them in the name of the Father, and of the Son, and of the Holy Spirit" (v. 19).
TO KNOW: The so-called "Great Commission" in Matthew's Gospel is Christ's command to his disciples to baptize disciples in the name of Father, Son and Holy Spirit. Thus it summarizes the three major themes of Matthew's Gospel: (1) Supreme and universal authority has been given to Jesus by his heavenly Father; therefore he far surpasses every other human being and deserves the exalted titles given to him. (2) The disciples are to share their faith with all people, including non-Jews. (3) The promise of Jesus' continuing presence with the disciples and their successors brings to fulfillment the name "Emmanuel" ("God is with us") given to Jesus at conception (Matt 1:23; Isaiah 7:14). Jesus reassured his disciples that he would sustain them in their mission to preach the gospel to all nations. The Father and the Son are united in love, and this love is itself the divine life of the Spirit, who continues to guide and protect the Church until the end of time.
TO LOVE: How is the Trinitarian love of God manifested in my life?
TO SERVE: Father, Son and Spirit, help me to reverence your Holy Name.

NOTE: Matthew wrote that Jesus commissioned his apostles to baptize in the name of the Father, Son and Holy Spirit, yet nowhere is the "Trinity" so-named in scripture. Since the beginning of the third century the doctrine of the Trinity has been stated as the One God who exists in Three Persons: "Father, Son, and Holy Spirit." The doctrine of the Trinity was later explained to us by the Church. The Trinity exists as three persons (in Greek: hypostases), but one being. Each of the persons is understood as having the one identical essence or nature. The political milieu that developed between the Council of Nicea in AD 325 and the Council of Constantinople in AD 381 had much to do with the development and acceptance of Trinitarian orthodoxy. Nicea's primary concern was the relationship of Jesus to the Father, but Constantinople added to its creed the full, coequal, coeternal, consubstantial deity of the Holy Spirit. For this reason it is regarded as the first, truly Trinitarian creed. Who can fathom this deep mystery of God? Human words are inadequate to express the divine reality of the Father who loves us equally with the Son, and who shares this divine love through the Holy Spirit who dwells within us through baptism. A Christian's life should be identified with the Blessed Trinity.

---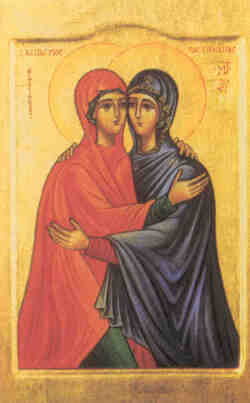 FEAST OF THE VISITATION OF THE BLESSED VIRGIN MARY
MONDAY, MAY 31, LUKE 1:29-56
(Zephaniah 3:14-18a or Romans 12:9-16; Psalm 33)
KEY VERSE: "Blessed are you who believed that what was spoken to you by the Lord would be fulfilled" (v. 45).
TO KNOW: Mary was accorded the greatest honor and privilege given to a Jewish woman, that of being the mother of the long-awaited Messiah (Jesus). The sign of God's promise was that her barren kinswoman Elizabeth had conceived a son in her old age (John the Baptist). Mary was the obedient servant of the Lord, and she traveled the four day journey to the hill country of Judah (traditionally Ein Karem) to assist her kinswoman Elizabeth "in the hill country of Judah," where David found the Ark of the Covenant. To that same hill country comes Mary, the definitive Ark, the bearer of God's presence. Upon hearing Mary's greeting, the babe within Elizabeth's womb leaped for joy. Elizabeth was astonished that Mary, the mother of her Lord, should come to her. Her words echoed King David's wonderment when the Arc of the Covenant was brought to Jerusalem: "How can the ark of the Lord come to me?" (2 Sm 6:9, 14). Mary was the Arc of the New Covenant bearing her divine son in her womb. Elizabeth proclaimed that Mary was blessed because she trusted that the Lord's words to her would be fulfilled.
TO LOVE: In what ways can I follow Mary's example of joyful obedience?
TO SERVE: Mary my mother, help me to have faith in God's promises to me.
---